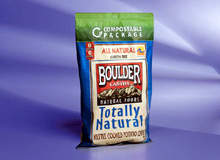 With a number of new materials and production processes available to suppliers, a variety of packaging opportunities are now available to food production companies. American snack maker Frito-Lay recently switched back to its old-style packaging made from conventional plastics for the SunChips range, following complaints that its new biodegradable bags were stiff and noisy. Only the original plain flavour has stuck with the new plant-based packs, which launched in 2009.
However, a new, compostable pack that is claimed to look, feel and sound the same as the traditional one has been brought to market by Boulder Canyon Natural Foods. The company has avoided upsetting its consumers thanks to Innovia Films. The bag for all-natural kettle-cooked potato chips is said to be the first of its kind on the market to be made from a structure that incorporates Innovia's metallised NatureFlex NKM film.
The development manager of Canadian packaging converter Genpak, Bill Reilly says: "The film performs well technically and has excellent moisture, gas and light barrier properties that enhance shelf life and protect the product." NatureFlex cellulose-based film contains over 90% renewable content as measured by ASTM 6866 and is compostable in home and industrial settings, according to ASTM D6400 and EN13432 standards.
Boulder Canyon's senior vice-president of marketing, Steve Sklar, adds: "Our new packaging ensures that we set a positive example for the industry by diverting waste away from landfills."
Function over fashion
The concept of environmentally friendly flexible retail packaging will gain even greater appeal in the eyes of brands and retailers when it can compete with traditional material in terms of colour and functionality. How much of a difference this in fact will make will be put to the test by users of Clariant's new compostable and eco-safe master batches that are designed to allow for more colourful bioplastics and performance-enhancing additives in biopolymers.
Renol colours and Cesa additive master batches incorporate conventional additives and pigments in a biopolymer carrier resin that meet standards for compostability and ecotoxicity, says Clariant.
"New packaging sets a positive example for the industry by diverting waste away from landfills."
"Until recently, companies developing products from biopolymers such as PLA and mater-bi had a difficult decision," explains Clariant global head of segment additives Hendrik Kammler. "They could use all-natural master batches and accept that the range of colours and additives was limited, expensive and not very process or light stable. Or, they could use conventional pigments and functional ingredients and compromise on the environmental friendliness of their product. Now, we can provide them with a very attractive third alternative."
Save film with sealing
International Food Partners (IFP)'s sealing technology for flexible packaging is believed to be a way for food manufacturers to save "thousands of tons of film a year". Global frozen food company McCain Foods has installed integrity seal on all filling machines across its three factories in the UK. Integrity Seal is a retrofit system for use on vertical form / fill / seal and horizontal flow wrap machines.
It uses new-generation weld technology to produce very narrow bead seals that are 1mm wide compared with conventional crimp seals that are typically 15mm wide. This can save 10% in the length of the pack as well as improve product quality and give longer shelf life, according to IFP.
"The food industry was in need of a superior seal system on packaging that uses flexible films, and I am confident that we can make a significant impact on reducing film packaging," says IFP director Graham Clough.
Convenience is one of the major innovation drivers in food packaging and the origin for the development of the Zip&Valve pouch, states Mondi consumer bags and films director Christian Kolarik.
The retortable PET/CPP stand-up pouch for cooking in the microwave is said to offer shelf life, reclosability and nutritional benefits, while also proving suitable for rice, popcorn, cereals, sauces and fresh vegetables The PP zipper lets the user season the food to taste, add the liquid as required, and divide the contents into portions. Opening a fresh-made popcorn pouch is easier and safer because the steam has already escaped through the valves.
"New sealing technologies for flexible packaging can help food manufacturers to save thousands of tons of film a year."
Confidence in brand colours
A brand colour makes a product instantly identifiable among the many competing products on the store shelf, but to deliver this can be challenging. It is not uncommon for the accuracy of the brand colour to get lost in the maze of processes between initial creative design and final production printing. Variants of the target colour can arise across the different packaging types on a variety of substrates and constructions.
Sun Chemical's Smart Colour promises to come to the rescue. The system captures the knowledge of how brand colours are reproduced and supplies the information upstream to the brand owner and design teams from the outset.
Colour standards are created on print-specific substrate structures on the correct print process and with the correct ink technologies.
When Sun Chemical is the ink supplier for production, it can complete the loop by ensuring that accurately matched inks are issued to presses anywhere in the world so that time and costs incurred in packaging development are minimised.
A further development by Sun Chemical involves taking accurate colour measurements of the "print realistic" colours. The Smart Colour engine is a central digital library of Sun Chemical brand spot colours across flexo, gravure and litho, capturing the solid and also the full tonal vignette of the colour. The goal is to enable designers and prepress operators to be able to develop designs for the brand owner that are known to be achievable from the outset of the project.
A version of this article appeared on our sister website Packaging Today.