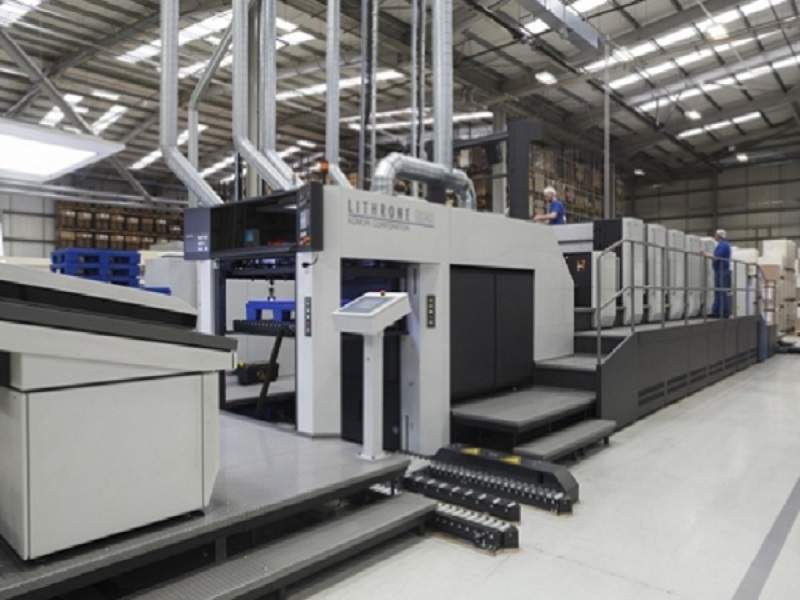 KOMORI -800×450.jpg" />
UK-based Firstan Quality Packaging invested £6m to procure two Komori 18,000sph presses.
A six-colour Lithrone GX40 system was installed last December, while a multi-unit Lithrone GX40RP with reverse printing and coating press will be installed by the end of May.
The presses included the inline Komori PDF Comparator, which checks every element of the printed sheet against the proof automatically.
METALVUOTO and NatureWorks introduced new high-barrier biobased flexible substrates that are designed to help keep processed foods fresh for longer.
The new dual-function film, Ingeo Propylester, was created by integrating Metalvuoto's coating technology with NatureWorks' Ingeo films.
Metalvuoto executive director Gianni Costanzo said: "Until now, the flexible packaging industry has grown up around the use of multi-material laminates because no one material was able to provide multiple functionality.
Australian packaging firm Amcor entered an agreement to acquire South American flexible packaging manufacturer Alusa for $435m.
Under the terms of the deal, Amcor was set to acquire four plants in South America, including Alusa in Chile, Peruplast in Peru, Aluflex in Argentina and Flexa in Colombia.
Alusa generated around $375m in annual sales by supplying flexible packaging for food, personal care and pet food products.
UK-based Parkside developed a new self-venting steam bag for frozen vegetables.
The new Parkscribe Steam bag is said to provide a more flexible, microwavable solution than existing food packaging applications.
Parkside sales head Paula Birch said: "More consumers shop 'for tonight' or for the next couple of days, which has created a clear demand for portion-sized, fast and convenient home cooking solutions.
Swedish pulp and paper manufacturer BillerudKorsnäs and Bosch Packaging Technology developed a sealed paper packaging solution for dry foods.
The solution is designed to replace traditional dry foods containers with all-paper packaging produced on vertical form, fill and seal (VFFS) lines.
Brand owners will be able to reduce their environmental footprint with the new packaging, which is renewable, recyclable, biodegradable, dust-tight and insect-proof.
India-based specialty packaging company Essel Propack opened a new plant in Cali, Colombia, to manufacture laminated tubes for the cosmetics, pharmaceutical and food sectors.
Equipped with a pharma clean room, the new facility will allow the company to meet growing demand in the South American market with enhanced capabilities.
The plant has the capacity to manufacture 180 million tubes per year, and provides an opportunity to export laminated tubes in the nearby Andean markets of Ecuador, Peru, Bolivia, Venezuela and Chile.
Plastic packaging provider RPC Sæplast launched a new reusable polyethylene (PE) container for food processing.
Available with a 750l capacity, the new solution was offered in several colours, with or without a drain plug and lid.
The container was an addition to RPC's existing 630l and 875l options, and will provide more variety and flexibility in food transportation and storage to the customers.
India-based Dr. Reddy's Laboratories unveiled a new line of packaging solutions for its syrup bottles and blister packs in a bid to make them more convenient for patients.
Launched as part of its Purple Health initiative, the company redesigned its blister packs and syrup bottles, which will be used for five of its brands.
The new packaging solutions were the result of a partnership with US-based design and consulting firm IDEO.
France-based flexible packaging group UNI Packaging produced digitally printed bags for Bensdorp's new Barista range of cocoa and chocolate drink powders.
Bensdorp was a part of chocolate products maker Barry Callebaut's B2B beverage division, Barry Callebaut Beverages UK.
The new Barista range offers three different drink powders packed in a 750g vertical form filled seal, 3-ply laminated stand-up bag.
US-based containers and closures provider Berlin Packaging was planning to open a new, integrated warehouse and assembly facility at Clinton Commerce Park, Pittsburgh, Pennsylvania.
The new facility will triple the size of Berlin Packaging's Pittsburgh operations, as well as increase the capacity of the company's Qorpak and dangerous goods material packaging divisions.
To be spread across an area of around 300,000ft², the new facility will feature warehouse, kitting and assembly and office spaces.