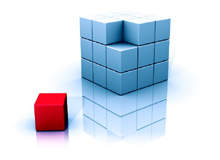 Lucy Schwerdtfeger: What is the major cause for the innovative process?
Vincent Ferry: To be successful. To create innovation we should detect the potential for improvement. You need to be frustrated, but positively frustrated. This means that innovation comes from the need to change. The other important factor is the belief that it's possible to do something new and beneficial, and the desire for success.
You also need to understand what your competitors offer, and the different options you can offer the consumer, as the difference is what is important.
Any problems with the packaging also need to be analysed from all angles to attempt to find a solution.
The journey really begins the moment you find that solution; from there it's all about exploration and development. Teamwork and trust are essential – working in a team or network is important because the process is so complex you can't succeed on your own. You need the different skills from various departments and suppliers. You also need to promote ideas to top management. The project should contain a certain amount of enthusiasm, so that people recognise it and get on board.
The creative part is always a challenge; do you think getting the ball rolling is particularly hard?
"It's not a case of finding lots of ideas, but a question of being clever enough to see where the market is."
I would say so. Finding a problem to solve isn't the hard part, neither is finding ideas. But most of the time people are frustrated because they have so many ideas, but we are not able to implement them all. In fact, it's harder if ideas come from below, not coming from the traditional channels like higher in the company or through marketing. But if you take the initiative to set the ball rolling on the project, then there is a whole business to impress.
Do you find that the whole company has to be frustrated before a solution will be sought? Do you think that if sales are doing well it makes it harder to tell the company that there is a problem?
It's also hard when the climate is as it is today. We have less money and less time. It's funny, the mindset is that to innovate, you have to be supported; it's never the right time to innovate.
It's always a risk.
Yes. 90% of innovations fail, so it doesn't help the company to take risks. Two years ago, a skincare product for use in addition to beauty cream was developed; it was a huge investment in research and development, but we stopped it two years later. This is the case for many innovation products.
What is the biggest issue when repackaging a product?
It's a question of mindset, a lack of motivation to innovate and change the market. I look to innovate all the time but the organisers put a stop to it. Most companies are just looking for short-term solutions.
Companies can change the innovation process; what they need to understand is that it's not a case of finding lots of ideas, but a question of being clever enough to see where the market is. It's all about understanding the market.
So, it's quality rather than quantity of ideas?
Exactly and it's a question of vision, anticipation and understanding the issue before the competition. You need to be able imagine the product and to sell it with conviction to colleagues who are only interested in the short term.
If you look at the recession, and the focus on the short term, will packaging innovation decline?
Of course, because when you innovate it costs money. Failure gives you the feeling that money has been wasted, so it doesn't encourage people to take risks. It seems to me that it's because people don't know how to innovate – it costs a lot due to the fact that there's a lot of failure. If there were a more robust process, you can bet on it working, then of course people would allocate more resources to innovation.
Do you think it's easier for smaller or larger brand owners to innovate?
It's very easy for small companies to create ideas and to innovate.
It automatically costs less money for small companies to change?
Innovation shouldn't be a question of money; if you create a product such as the iPhone there's a lot of money behind that. The real problem for small companies is protecting their identity, the branding, the product or invention and being able to sell it, because it's easy for another company to copy or imitate the idea. Due to size, a bigger company would sell it better and then they lead the market. Additionally, bigger companies have more of a chance to lead the market, but for small companies it's easier to innovate, although security is harder to manage. And of course, this is where the game becomes more complicated – if a big company is leading the market, they don't want to risk losing that position.
It's almost as if their brands aren't individually recognised, but the brand owner is more recognised.
There isn't much innovation in the dairy market, it's my belief and conviction to change that, I want Danone to be the leading company in term of packaging innovation, because I'm frustrated.