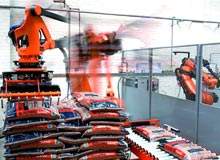 In the past, the use of robots had been viewed by sceptics as expensive and unreliable, however, with increasing cost pressures, packaging manufacturers are turning to robotics to automate some of their most time-consuming processes.
Tighter legislative and hygienic demands and a greater accuracy in robotic technology are proving a heady combination as robots go from strength to strength. Technological advancements such as vision systems and greater flexibility of use mean that for some the allure is proving irresistible.
Profitable partnerships
To combat cost pressures and to share expertise a number of partnerships are taking shape and pushing forward robotic technology. Sigpack Systems has joined forces with CFS to develop the RobotLoader and corrugated machine specialist Smurfit Kappa Machine Systems has coupled with Fanuc Robotics.
"Packaging manufacturers are turning to robotics to automate some of their most time-consuming processes."
RobotLoader has been designed to ease the time-consuming process of loading products into packs and the Smurfit / Fanuc partnership has the aim of reducing time to market by deploying multi-tasking and flexible machines. As a strategic partner to Fanuc Robotics, Smurfit's engineers have access to advanced programming training and support, together with the company's Roboguide bespoke simulation software to prove proposed systems. Programmes generated by Roboguide are said to help reduce installation and commissioning time, together with increasing customer confidence by providing proof of achievable cycle times and capabilities.
Although automated processing and packaging machinery for the protein industry has existed for some time, the loading of products into packs has remained labour intensive – a fact RobotLoader hopes to change.
The system automatically loads fresh meat, poultry, processed meat, cheese and sliced products into preformed trays or thermoformed packs. It is based on Sigpack's Delta robot technology, which employs sophisticated vision systems to guide the robots and has been used for a wide range of applications, including picking and placing of confectionery and biscuits, and top-loading in the pharmaceutical and cosmetics industries.
The Delta has also been in use in the chilled and frozen foods industry for some time. The frozen foods manufacturing environment presents several specific challenges for robots: the electronics had to be specially insulated within the machine and new types of grippers were developed. But, most importantly, the hygiene requirements are stringent: the robot cannot have any surfaces where detritus can collect, and must be easily washed with minimal downtime. The frames and drives are thus made from stainless steel.
Keeping focus
Deploying a vision system, such as the one showcased in the Delta robot technology, is also gaining momentum in this sector. Most recently, packaging provider for the food, beverage and healthcare industry, Schubert, has employed sight technology to conduct a wide range of quality control checks.
"Schubert has employed robotic sight technology to conduct a wide range of quality control checks."
In addition to its established vision technology for inspecting product height and position, Schubert UK managing director Alan Law says the company has developed scanners that can verify the pattern, colour and surface decoration of products.
"This means our automated packaging machines can offer even higher levels of precision and flexibility," says Law. "Image data can be processed in milliseconds, ensuring that the system's robots can evaluate the quality of products precisely, based on a range of criteria such as position, orientation, shape, colour and texture."
The vibration-resistant incident light scanners provide a colour image of the product that is then communicated to the packaging line's pick-and-place robots, ensuring that only product of the correct quality is packed. The scanners have telecentric lenses and high-intensity LEDs that produce images with a resolution up to 0.125mm a pixel. They are also designed to handle belt conveyor speeds of more than 30m a minute.
In one application, Burton's Foods has installed a Schubert automated packaging system for Jammie Dodgers biscuits at its Llantarnam bakery in Wales. The line boasts 16 robots that pick and place more than 1,700 biscuits a minute in a round-the-clock operation, five days a week, according to the company. The robots pack eight Jammie Dodgers into each tray and can fill up to 220 trays a minute from the system's 1.6m conveyor, one of the widest ever built by Schubert.
The line also incorporates the new vision system, which checks the biscuits for surface decoration, pattern and colour. The incident light scanner takes a colour image of the product and communicates it to the system's robots so that only product of the correct quality is packed. Potential problems such as broken, displaced or missing shells are also identified.
"Jammie Dodgers were previously packed by hand and it was a monotonous, labour-intensive operation," says Ian Brisco, the factory's general manager. "The Schubert system has exceeded all expectations."
Packing cases small and large
Sigpack Systems and CFS are not the only companies to have been successful with robotic technology for the packing of products. At PackExpo at the end of 2008, Bradman Lake showcased its new range of robotic case-packing machines. Its proprietary AX case packer has a compact footprint and, the makers claim, will eliminate the need for multiple machines. It automatically forms, top-loads, fills and closes RSC and HSC-style corrugated cases within one frame.
"Robotic scanners can verify the pattern, colour and surface decoration of products."
It performs at a maximum output of 120 cartons a minute and 12 cases a minute, depending upon the shape and size of the products involved. Tape, glue or a combination of both can be provided for case sealing. On the palletising front, Kuka has introduced a high-speed system that uses a standard robot, said to be capable of packing 25kg sacks at 24 units a minute. The KR 180PA robot features a lightweight, yet robust carbon-fibre arm and specially designed gripper for palletising a wide variety of bulk products, such as food processing ingredients, aggregates and chemicals.
Offering versatility, the four-axis robot has a working envelope of 3.2m and is capable of stacking Euro pallets up to 3m high. Kuka says it can operate for 20,000 working hours before requiring a service which typically only takes around three hours. The new palletiser could also be adapted at a later date by fitting a multiple gripper, facilitating the handling of even more bags. It is also said to be suitable for depalletising tasks involving mixed or unmixed pallets, cartonboard or plastic containers.
Robot sales specialist, Tony Dowling says Kuka has been 'inundated with enquiries' from the food, chemicals and plastics sectors. "More companies are beginning to recognise the advantages of automation," he says. "Not only because of the benefits of better productivity, but also from a health and safety perspective, as robots can perform a variety of heavy and hazardous tasks."
Supply chain success
Having great technology is one thing but forming a water-tight supply chain is critical to the success of the business. For Turpin's Packaging Systems choosing the right supplier with the right ideas, technology and empathy proved hugely beneficial. In a very short time, the Clacton-based manufacturer of Sleevit sleeve-labelling equipment says it saw a machine performance increase of nearly 60%.
"More and more companies are beginning to recognise the advantages of automation."
The company had been approached by a US labelling equipment company requesting the supply of a sleeving machine for sale into the North American market. Turpin's turned to Rockwell Automation, whose integrated architecture for automation and information facilitates realisation of the full range of automation disciplines, including sequential, motion, process / batch control, drive control and safety. Rockwell claims it reduces total cost to design, developing and delivering machines by using a single control platform for the entire range of factory automation applications, whether large or small.
Rockwell OEM sales manager Kevin Wright says: "Often customers do not believe that a change in the control system can result in such a staggering increase in machine performance."
He says: "In this type of application, throughput is vital, and is often measured in hundreds of sleeves a minute. The previous system had been tuned over the last few years and was offering a maximum throughput of 300 cycles a minute. Within 14 days of our hardware being installed, we had this figure up to 400, and within 30 days it was up to 475 cycles a minute – an increase of nearly 60%."
This article first appeared on our sister website: www.packagingtoday.co.uk.