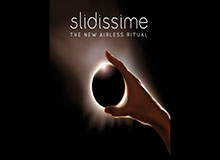 To stand out in the cosmetic industry a set of criteria must be met. Cosmetic packaging not only has to showcase and contain the product safely; it also has to be aesthetically pleasing, and in a world where technology has advanced to a level where touch screens have become the norm, forward-thinking inventions which combine this – packaging, modernisation and preservation – could prove to be a lucrative model.
As trends are further pushed to their limits, leading global plastics manufacturer Promens have recently launched their new concept – a premium airless jar called Slidissime. The selling point of this innovation is that a different type of gesture is needed to activate the airless jar – the touch and slide pump – allowing for a fresh and hygienic application of the cream product. Innovation and marketing director at Promens Personal and Healthcare Packaging, Isabelle Orhan, says: "We decided to come up with a new gesture and technology on the jar market to propose something that can protect the formula."
Airless technology: touch and slide pump
To ensure that the new technology protects the formula in addition to being a premium airless jar, Promens combined the airless technology with their ergonomic and modern 'touch and slide' pump. The crucial point of this technology is that it offers the consumer a new gesture experience through the 'pouch'.
Orhan states: "What is very interesting is what we have developed inside, which is what we call a pouch. We have created an injected piece of plastic, it is extremely smart because by this special blend of plastic and different thickness of material we are able to develop, by injection, a flexible pouch that is extremely compact and the benefit of it is not only that it is compact but it is a closed system."
She continues: "A piston is an open system by definition because you have a cylinder that moves inside another cylinder so it's open and doesn't protect the formula perfectly. In the case of a pouch, you have a closed system because it is a bag that will collapse during the usage so it is more sustainable, more protective and more compact."
Touch sensation: enhanced experience and fluid gestures
The new ritual of the Slidissime means that the consumer has an enhanced experience of the airless jar due to the gesture. A quick and light slide allows the cream to be released and also has many other advantages.
As Orhan explains: "The benefits are its hygienic, clean and convenient in terms of the gesture you do to slide, it is something that seems easy and modern."
The Slidissime gesture has been compared to the soft, natural movement of a caress which furthers their aim in giving the consumer a luxury product combined with usual beauty rituals. The added protection of the formula by encasing it so that it only comes into contact with the finger means that there is a higher level of protection. This is because the jar does not need to be opened in the traditionally manner, which means air will not contaminate the cream.
After usage, the hole that produces the dosages automatically closes, preventing any air-intake or possible oxidisation of the product. Orhan states that the Slidissime "is really addressed to the formulas that need protection or to decrease the role of preservatives."
Addressing the market: complementing existing technology
Since the product was launched in October 2013 in the US, there has been an increased interest in Europe; however some of the products are still in testing. Isabelle believes that once it has been completely unveiled it will be complementary addition to the existing cosmetic technology.
"As for the traditional brand, it will perhaps be a jar you can use for cream that is being positioned on allergic skin. [The] type of formula where you have to decrease the clinical preservatives," says Orhan. "In that case you can use it because you have packaging that is more protective.
"So let's imagine a brand that developed a different range of products, they can have the regular moisturising cream, the BB cream, they can have a line dedicated to sensitive skin and in that case the Slidissime would be the premium solution."
Isabelle identifies that different age groups desire different things from their cosmetic products, and is marketing the Slidissime at women in their thirties. She explains: "What we have discovered with the market survey that we did, is that it is more for a target of a woman over 35 years old when the woman has a baby, children and so on."
She adds: "She is more sensitive to the argument of protection and less preservatives, she wants something safer. She perceives the advantages of the Slidissime because she will say 'it protects my formula well', rather than a 25 year old woman who will want something more prestige, something with more sensuality, they want to touch their cream or perceive the benefits of protection less. They value protection less."
Evidently the Slidissime will not appeal to every demographic but for those concerned with keeping the formula intact and free of any contamination the 'touch and slide' pump has succeeded in fulfilling its main criteria.
Sonia Sharma
Follow Sonia Sharma on Google+