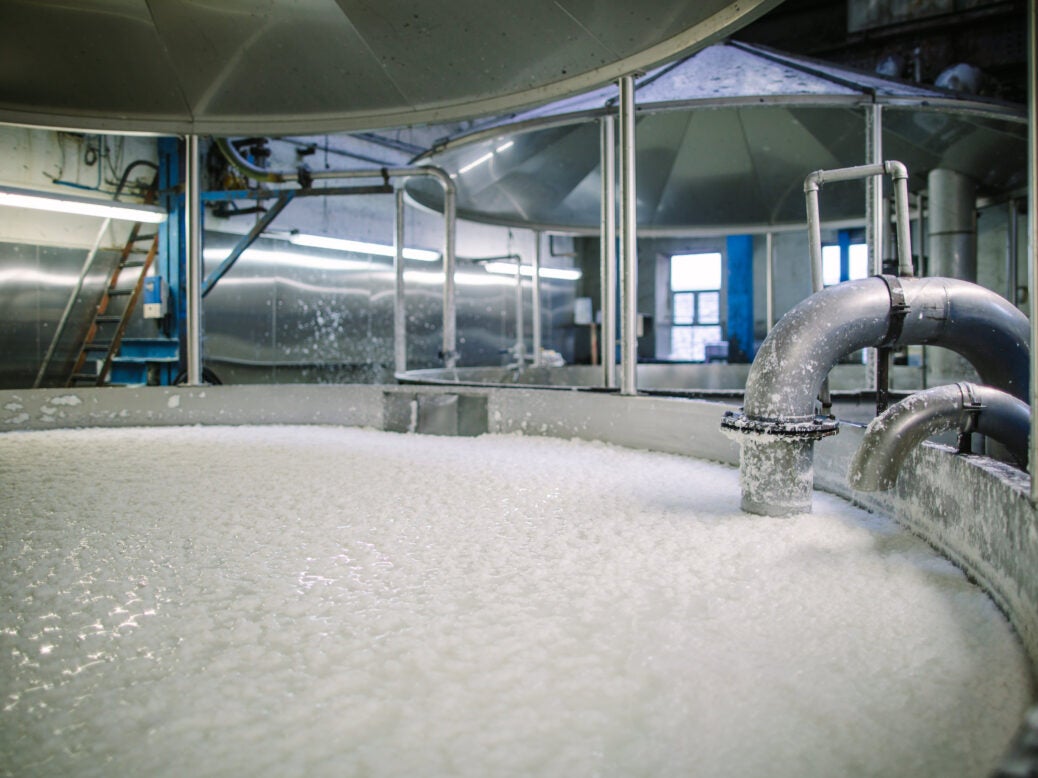 The focus on sustainability in the paper and packaging world is no secret, neither is it exclusive to this industry, but as we all work on ways to leave little to no trace on the planet, the need for performance and beautiful design is still very much present.
There is no compromising on aesthetics and functionality while we work on circularity. If anything, demand for premium papers which deliver functionality for the converter or printer, and brand experience to the end user is only growing.
How do we deliver on the three cornerstones of modern papermaking: performance, appeal, and circularity? It begins and ends with fibre.
Packaging papermaker James Cropper recovered fibre operations manager Richard Burnett tells Packaging Gateway about the ongoing conversation about reclaimed vs. virgin fibre paper and whether it's possible to create paper for packaging which performs well, looks great, and is environmentally friendly.
Giving waste fibre a second life
With increasing legislative and consumer pressure on brands to do more for the environment when it comes to paper and packaging; giving waste fibre a second life is a great story to tell.
However, we know through our own research and leading industry data that if you consider the carbon footprint, energy usage and water usage environmental indicators, there is no clear advantage or disadvantage to using wastepaper fibre feedstock over virgin wood.
In fact, the majority of the impact for both recycled and virgin paper is attributable to the combustion of fuels for pulp and paper production. However, assuming best in class technology is used, the impacts from virgin and recycled paper are broadly similar.
The upside is not only environmental. This is a powerful story for brands to tell their consumers. The concept of circular design is ever present in the consumer mindset; but being able to say that your packaging was once a coffee cup takes it from the conceptual to the tangible. In turn, it garners brand loyalty.
Paper is sustainable by design. With the product cycle for paper encompassing renewable resources and recycling after use, paper truly embraces the principles of the circular economy.
Why virgin fibre is important
However, it's also worth noting that a paper cycle based on waste fibre alone is not a viable option, as the fibres degrade in the recycling process and become unusable in papermaking after multiple uses.
Fresh fibre from responsible sources is a key element of a healthy ecosystem, and a balanced stream of fresh and waste fibre is always required to keep the paper cycle working.
So while the right thing to do is to reclaim waste fibre, virgin fibre is also essential. Perhaps the solution is in variety and fibre blending? And the stats stack up.
A recent independent Life Cycle Analysis report on the James Cropper Rydal Collection showed the environmental impact of each of the fibre options available in the range. These include 100% post-consumer waste recycled, 40% post-consumer waste (PCW) recycled and 100% fresh fibre from responsible forestry sources (FSC).
What became apparent was that the 40% recycled quality demonstrated more of a balance across the key measures:
100% PCW option showed least impact in terms of primary energy demand
The 100% virgin option showed least impact on freshwater consumption
There was no significant difference between the options on carbon footprint
The blended fresh and upcycled quality offers the best balance from an environmental perspective.
What about aesthetics?
But what about the look and feel; the experience of paper which is also crucial to the consumer brand experience?
Many believe that aesthetics and performance are best delivered through fresh fibre, since the paper fibres are cleaner and more consistent in quality; they have an affinity to colour and impart attributes such as stiffness and strength. Does the inclusion of reclaimed fibre sacrifice too much?
With 175 years of premium papermaking knowledge behind us, we know that expertise in fibre selection and colour application, alongside a bespoke approach to each product, allow us to create paper products which give valuable waste streams a second life while maximising performance and aesthetics.
The fibre mix must be totally aligned to the end use, to ensure the paper quality performs well in subsequent print and conversion processes.
For example, choosing only the very highest quality recycled fibre streams minimises issues with cleanliness to the point where we can confidently say that our reclaimed fibre is not just recycled, but upcycled. It is then blended to create something even more beautiful and premium than before.
"A blend is best"
It is true that some strength properties can be affected with the use of reclaimed fibre; however, with 40% inclusion of some carefully selected pre and post-consumer, high strength fibre streams, we have seen excellent performance; further evidence that a blend is best.
A great case study for this is our work with Burberry, which includes 40% CupCycling fibre for their packaging and retail shopping bags. Not only has this partnership seen 58 million coffee cups upcycled, but the end product is luxurious and robust.
Fibre selection, whether virgin or recycled, is crucial in creating premium products, which is why James Cropper develops and invests in world-leading technology to develop our own local source of very high quality pre and post-consumer upcycled fibre streams.
With all the evidence which we have to hand, it's refreshing to conclude that aesthetics and performance need not be sacrificed at the altar of circularity. It's just in the blend.