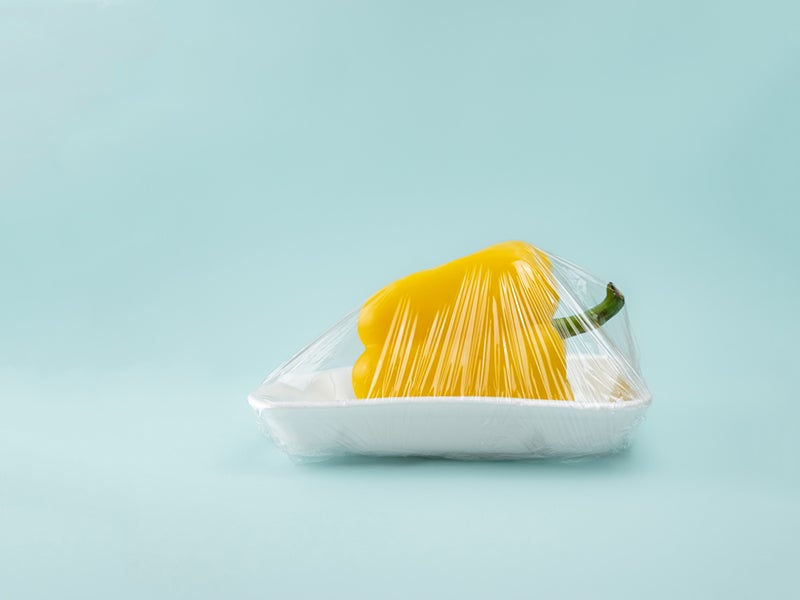 Sustainability is perhaps the predominant issue currently directing change in the packaging industry, with manufacturers across the board having to consider how to increase their levels of reusability and recyclability. Much in the same way the food and drink industries are battling against 'villain' ingredients such as sugar, the conflict in the packaging industry is directed towards the likes of plastic and its dramatically negative environmental impact.  Innovation is being achieved across the industry as brands look to come up with alternative materials that better align with sustainability objectives, but areas such as barrier packaging, which are so typically aligned around plastic, face particular challenges.
Maintaining food safety as the industry pushes for sustainability
One of the principle challenges in adapting packaging formats such as container films to replace plastic and better meet sustainability goals is finding alternative materials that can answer the same rigorous demands as plastic. Food packaging, for example, must be leakproof and resistant to punctures, moisture, as well as the highs and lows of temperature. Vital to prolonging shelf-life, the kind of plastic packaging developed for this area – in which container films play a large role – is not easily replaced given those requirements and the importance of meeting them.
That, however, is not to say the challenge has gone unanswered; in November, it was reported that researchers from The University of Nottingham had developed a fully biodegradable and edible packaging from plant carbohydrates and proteins. The plastic films currently under development come from konjac flour and starch, cellulose or proteins, with the plant carbohydrate and protein macromolecules bonding into a network structure that provides the required mechanical strength and transparency.
According to project leader Professor Saffa Riffat, "In addition to being edible, degradable, strong and transparent, the packaging materials we are working on have low gas permeability, making them more air tight. This feature cuts moisture loss, which slows down spoilage, and seals in the flavour. This is of great importance for the quality, preservation, storage and safety of foods."
Given the rise in prominent food safety scandals and recalls in recent years, the importance of maintaining high safety standards around food & drink packaging is readily apparent. Manufacturers approaching the challenge to sustainably innovate in this area will have to contend with two very different demands of any packaging they produce, namely ensuring that it meets ecological expectations while matching plastic for safety. Developments such as that mentioned above are a strong move forward but will require widespread industry support to commercialise similar products to the point of making a significant dent in the sector's ecological impact.
The changing market: convenience, rising regions, and ageing consumers
Driving the market is not just the shift towards sustainability but increasing consumer demand for convenience. With modern lifestyles founded on a certain heightened busyness, consumers are looking more and more towards on-the-go products that can help them increase efficiency in their lives. In addition, the ageing global population means that convenience of a different kind must be considered. With a survey from market research specialist Which? finding that two thirds of consumers get frustrated trying to get into everyday packaging, it should be considered that container films need to be designed so as not to frustrate a segment of the consumer population that is only likely to continue growing.
Barry Sheehan, director at Livingstone , told us, "The growing consumer demand for away-from-home meals has led to robust growth in innovations which, in particular, prioritise convenience. As a result, there is strong demand for easy-peel and resealable film packaging solutions, which provide convenience and maintain product freshness."
Going forward, manufactures must look to balance several consumer trends that are transforming the consumer industries as a whole. Finding the balance between convenience, safety, and sustainability in the food & beverage sector will certainly be a major challenge, but other sectors will also push the industry to finding new ways to innovate. In the medical market for example, different kinds of safety must be as rigorously applied, if not more so, than with food and finding sustainable alternatives that can consistently meet those standards will likely serve as the sector's principle challenge in the next few years.
Sheehan added, on the future of the market, "Like other areas of packaging, sustainability will be a key question on regulators' agenda across the world – and the market will need to continue to innovate. Buoyed by rising middleclass disposable income, Asian markets such as India and China are likely to deliver the fastest growth over the next 10 years. Given the demographic changes during this period, the use of films in the medical and pharmaceutical industries is also likely to continue to grow faster than other areas."