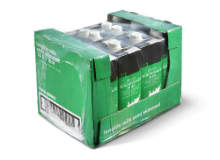 A growing preference for convenience stores has been revealed by a number of sources in recent months. Evidence shows that reliance on the traditional weekly big-shop is diminishing and shoppers are instead making regular visits to smaller convenience stores to meet the demands of increasingly busy lifestyles.
Martin Leeming, CEO of TrakRap finds out more about these challenges and discusses the importance of secondary packaging.
Shopping habits lead to convenience stores rise
Figures from the commercial real estate company CBRE show that the big four grocery retailers run almost 3,500 convenience or small stores such as Tesco Express, Tesco Metro, Sainsbury's Local and M Local. This compares with their 2,500 traditional supermarkets.
It is estimated that as consumers continue to be time-poor, changes to the way they choose to shop will see convenience stores grow by 22% to reach £20.2bn by 2020. Similarly, meal-for-tonight purchases will increase by 50% to 2.7bn. Purchases of often-warm food-to-go is expected to rise by 60% to £8.3bn.
"Evidence shows that reliance on the traditional weekly 'big shop' is diminishing."
Everyone has talked about online shopping as the big disruptor for groceries, but the growth of convenience stores has arguably had a much greater impact. It is enormous and it has encouraged people to fragment their shopping.
Formats of grocery shopping means retail-ready packging pressure
This big change in formats and choice for shopping forces the issue of cost into the supply chain. Discounters continue to limit any potential for price increases by focusing on a limited product range, underpinned by a low cost-to-sell.
Any change to shopping trends also necessitates a change to secondary packaging formats and design. Getting packaging retail-ready for convenience stores creates a very specific set of challenges. For instance, shelf and back-up space is at even more of a premium, so delivering one-way stock and minimising replenishment time becomes much more critical.
It's unlikely that pack sizes that are right for big stores are going to be right for convenience stores. Large pack sizes in fresh food will lead to higher food waste, multiple handling, and space pressure in the back-up areas, whereas small pack sizes lead to increased packaging cost, increased packaging waste, and more packs to handle in the supply chain.
Retail-ready packaging needs to be able to offer solutions to these challenges, whilst simultaneously meeting the demands of large supermarkets, hitting sustainability targets and reducing fresh food waste.
"Retail ready packaging needs to be able to offer solutions to these."
Secondary packaging design and material
It is essential that food producers factor in these new challenges when planning their packaging requirements. The industry needs new innovations that can deliver smaller packs, are lower cost, consume fewer resources, are quicker and easier to prepare for shelving, and maximise brand impact on the shelf.
One of the barriers is the polarisation of packaging material supply chains, whether it is corrugate, recycled polyethylene terephtalate (RPET), cartonboard, or film. Each pack type has worked towards reducing the amount of material and cost.
However, the pace of improvement is slowing and new approaches are required. An appropriate analogy would be the motor industry, which encountered the challenge of reducing emissions and increasing fuel consumption. Would it be the electric motor with its emissions benefits but poor travelling performance, or would it be the old internal combustion engine with the opposite traits?
The answer, of course was neither. Manufacturers realised they both complement each other, so the hybrid was born. The same is proving to be true in the secondary packaging sector, with hybrid packs comprising of corrugate, RPET, thin-film, or a combination of all three proving to be both effective and energy-efficient.
"Secondary packaging will have to take centre stage."
Design innovation is often focused on primary packaging, but secondary packaging also has to be innovative if it is to maximise sales potential. If the product is hidden or there are ripped edges on show, the consumer will not get the best first impression.
Pack sizes for convenience stores
Due to the nature of convenience stores, having the right pack size is crucial. Good design can drive one-way stock and improve speed of opening. Making sure the pack size is not too big will also protect against food waste.
The answers lie in refocusing on secondary packaging and creating efficient solutions that consume fewer resources and use fewer materials. Secondary packaging should offset the impact of smaller pack sizes, with hybrid designs often showing promise.
As shopping patterns shift in favour of convenience, secondary packaging will take centre stage. Reduced space, high relative operating costs, and a broader variety of packaging formats means that much more will be demanded of this type of packaging.