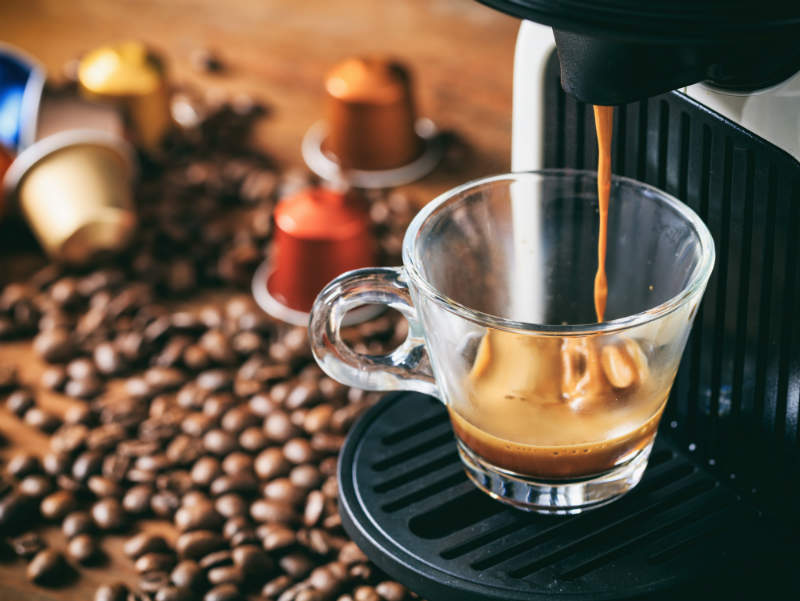 Over the past few years, consumers have become more knowledgeable about their tea and coffee choices. Hot drinks is a busy sector; retail shelves are packed with a vast and varied range of product options for consumers to choose from. With similar pack designs used by both private label brands and brand leaders, it can be difficult to stand out from the crowd and offer something unique that can attract consumers.
Techniques such as surface decoration and tactility can help packaging to exude a luxurious sensory appeal and justify a more premium positioning, but for busy modern consumers, convenience is becoming an increasingly important factor. On-the-go lifestyles require packaging solutions that help users to save time performing everyday tasks, which in turn can enhance the overall drinking experience.
In an upcoming report from GlobalData, titled 'Adding Value through Packaging: Hot Drinks', lead packaging analyst Gemma Hill explores how pack designs can be a valuable asset for brands looking for ways to differentiate their products from others and catch the eye of hot drinks aficionados. Drawing from research detailed in the full report, we examine the key opportunities for packaging manufacturers in the hot drinks industry.
Improving the eco-friendly appeal of coffee capsules
The demand for single-use coffee capsules has grown significantly over the past few years. At the same time, consumers are becoming increasingly conscious of how the products they chose contribute to climate change, environmental deterioration, biodiversity loss and resource shortages. Single-use coffee capsules are not typically known for their 'green' characteristics; in fact, they are notoriously difficult to recycle due to their mixed material content, which often requires users to separate elements of the pack before recycling.
The environmental impact of single-use coffee capsules is likely to increase as demand for the format continues to grow. In response, some brands are actively exploring ways to improve the sustainability credentials of such products, introducing easily recyclable or biodegradable packaging and reducing the amount of plastic used to make the capsules to help consumers to be more eco-friendly and feel less guilty about the products they purchase.
While this area of innovation may help brands to appeal to environmentally conscious consumers, eco-friendly packaging will only make a significant impact if the majority of brands make the switch to sustainable materials.
Using decoration and styling to create packs with sensory appeal
The proliferation of specialist tea and coffee shops has helped to educate consumers about good quality hot drinks varieties. As they become increasingly knowledgeable about ingredients, sourcing and production processes, shoppers have grown more familiar with premium, high-end products. As such, hot drinks connoisseurs now expect higher-quality products for at-home use.
Packaging plays an important role in establishing a perception of high quality. Before a consumer can interact with the product, the look and feel of the pack creates a sensory experience that they may subsequently associate with that specific brand or product. Incorporating unusual pack formats and eye-catching decorative techniques can help brands to upscale the presentation of hot drinks products to convey a more premium image that may appeal to more knowledgeable, experience-driven consumers.
In addition to creating a more premium, indulgent feel, surface textures, attractive print finishes and embossing techniques can also be used to enhance shelf appeal and differentiate hot drinks products from similar offerings, which can be a valuable asset for manufacturers in a competitive market.
Convenience adds consumer appeal for busy shoppers
Many consumers are actively seeking out products that offer visible time-saving benefits that suit their increasingly hectic lifestyles. Convenience is key for these busy modern shoppers, as the rise in the coffee pod market illustrates, and shoppers are willing to pay more for products that can easily be consumed around the demands of their schedules. Consequently, simple solutions such as pre-measured portion packs have gained popularity, as they provide a reliable and foolproof way for consumers to create the perfect drink with little effort.
Convenient formats can enhance the enjoyment of the drinking experience for consumers. Hot beverage drinkers are increasingly spending time on-the-move, giving rise to more consumption occasions in unconventional situations and locations. This enhanced mobility has created opportunities for brands to target time-scarce shoppers with easy-to-consume products, which offer fuss-free drinking on-the-go. Packaging solutions that streamline hot drinks preparations, or that can be easily transported, will appeal to consumers looking for hot drinks products that suit the needs of their busy lifestyles.
Introducing more unusual formats can also serve to create a talking point, while flexible packaging can be used to offer user-friendly alternatives that open opportunities for new consumption occasions.
Creating environmentally responsible packaging solutions
Shoppers are paying closer attention to product sourcing, ethical principles and sustainability credentials when they browse for products. Consequently, brand values and ethical claims have steadily become a highlighted feature of hot drinks packaging. Drawing attention to the use of sustainable packaging materials and product ingredients can boost the credibility and trustworthiness of brands. Packs that spotlight these eco-friendly credentials may be more appealing to consumers who see such claims as reassurance that their product choices can contribute to protecting the environment.
Coffee packaging is a particular area for innovation. Pack designs in this category are largely non-recyclable as a result of multi-layer construction methods that often employ foil or metalised film materials for barrier protection. As brands such as Nespresso have demonstrated with Percol Nespresso-compatible pods, the use of recyclable, biodegradable or compostable materials can help brands to address environmental concerns. Consumers are giving greater consideration to product sourcing, ethical principles and sustainability when looking for products to buy and consequently brands should make an effort to communicate these values through packaging.