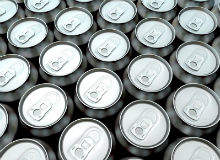 The Can Makers have partnered with the BFI " height="290″ src="https://www.packaging-gateway.com/wp-content/uploads/static-progressive/BFI_Packaging_main_image_can-do.jpg" title="The Can Makers have partnered with the BFI" width="430″ />
Geoff Courtney is chairman of the Can Makers, an organisation committed to promoting the benefits of the beverage can and facilitating communication between the industry and its customers: brewers and soft drinks manufacturers, retailers, the media and consumers. Courtney has more than 20 years' experience in the packaging industry and previously headed the UK and Ireland sales team at Ball Packaging Europe.
Julian Turner: Can you give us a brief overview of 'Myth Busting – what happens to your drinks can when it's recycled' and where the inspiration for this film competition first came from?
Geoff Courtney: The Can Makers began working specifically with students in 2010 when we commissioned a report written entirely by UK students, entitled 'Recycling on the Go: A Youth Perspective'. It's important to us that young people are given a voice and we wanted to take it to the next level. This is how the video competition first came about.
"Every drinks can is infinitely recyclable without loss of quality, and can be back on the shelves as another can within 60 days."
We discussed the idea in detail with the British Film Institute (BFI), which is very active with young people and was keen to come onboard.
We also felt it was important to get a wide variety of high profile judges on the panel, including actors (Danny Dyer), film critics (Geoffrey McNab of The Independent), environmental filmmakers (Jamie Crawford) and representatives from environmental organisations (Dr Colin Church of the Department of Environment, Food and Rural Affairs – Defra).
The competition is funded by the Can Makers, but everyone involved has donated their time to judge the entries and promote the video competition to a wider audience. In terms of viewing the videos, the judges will have to wait until after the closing date (28 February 2013) has passed to begin judging the competition.
JT: The goal is to 'inspire young people to educate themselves and each other' about recycling. What in your view are the main public misconceptions surrounding drinks can recycling?
GC: A myriad of myths exist, partly because there is an element of mystery in the act of recycling itself. Materials go into a special bin and a truck comes and takes it away, meaning you don't actually see what happens to the recyclables with your own eyes. It is this general lack of knowledge that has caused the misconceptions to grow.
Myths include the idea that not much metal packaging is recycled or that collecting metal recycling is difficult. The most staggering myth we have found is that recycling does not really have a positive impact on the environment.
The Can Makers is actively trying to dispel these myths by helping to educate the wider public on the sustainable benefits of the drinks can and how easy it is to recycle – and how important. The student video competition is a great example, where young people get to educate each other and bust the recycling myths themselves.
JT: The winner will receive £1,500 and be 'nationally recognised as a leading young filmmaker'. What will happen to the winning two-minute film and the top entries in the other five sub-categories?
GC: The winning film will be showcased by the BFI at one of their prestigious events. We haven't announced which one it is, so it's top secret at the moment. The runners-up will each receive £500 in prize money.
JT: Nearly 9.5 billion cans are filled each year in the UK alone. How do attitudes to recycling differ in relation to age, social status?
GC: In 2012, research was conducted by Gfk on our behalf to understand consumer attitudes towards drinks packaging and recycling.
"Out of all the groups surveyed, 14-17 year olds found recycling to be the least important consideration (at 35%)."
The results confirm that recycling is growing in importance and that attitudes towards recycling have improved overall.
A total of 51% of respondents said that they try to recycle everything they can, while 32% of people stated they try to recycle most things.
Out of all the groups surveyed, 14-17 year olds found recycling to be the least important consideration (at 35%), compared with 18-34 year olds, where 45% try to recycle all they can.
JT: Many young people are still unclear about what happens to a beverage can when it is recycled. Could you describe the process in a nutshell?
"Cans can be melted down and endlessly reused with no loss of quality using what's known as 'closed loop' recycling."
GC: First, the beverage cans are collected, either from kerbside or from their own separate can banks in supermarket car parks, for example.
After the drink cans are collected, they are separated from the rest of the materials and separated into aluminium and steel. They are then crushed, baled and sent to the recycling foundry.
Once there, the cans are processed and turned into new ingots ready to make new products, like more drinks cans. In fact, every drinks can is infinitely recyclable without loss of quality, and can be back on the shelves as another can within 60 days.
Drinks can recycling: myths and truths
Patented in 1810, the first cans were constructed using tin-plated iron. Two centuries later, the modern manifestation made from steel and aluminium is still hugely popular among consumers, with 9.5 billion filled each year in the UK alone.
Ahead of the release in 2013 of The Can Makers' new white paper, 'Myth Busting, What Happens To Your Recycled Drinks Can?', we challenge some of the most common misconceptions surrounding beverage can recycling.
Myth: Most people don't bother to recycle aluminium drinks cans and instead throw them away
Truth: The aluminium drink can is the world's most recycled packaging container. Worldwide more than 50% of aluminium cans are recycled, while in the UK alone nearly 60% of the aluminium has been previously recycled
Myth: Recycling beverage cans has little or no significant environmental impact on a global scale
Truth: Recycling aluminium drink cans saves up to 95% of the energy needed to make aluminium from its raw materials, reduces greenhouse gases, eases pressure on waste disposal systems – especially landfill – and reduces litter
Myth: Aluminium beverage cans can only be recycled once
Truth: Drinks can are made from aluminium and steel. Both materials are infinitely recyclable and can be melted down and endlessly reused with no loss of quality using what's known as 'closed loop' recycling
Myth: Recycling drinks cans costs as much extracting the raw materials needed to make aluminium or putting them in landfill
Truth: Yes, the recycling process is expensive, but not when compared with manufacturing products from virgin materials. Aluminium doesn't occur naturally in the Earth's crust, it has to be extracted from bauxite ore, which is mined before undergoing smelting. Recycling uses only five percent of the energy needed in the energy-intensive smelting process.
---
Related content
---
Packaging companies need to attract new talent to drive future innovation, but to many students packaging is an invisible industry.
Amid constant financial pressure and consumer demands for greener and more sustainable packages, the packaging industry is in a constant battle to save on costs and production materials.
---