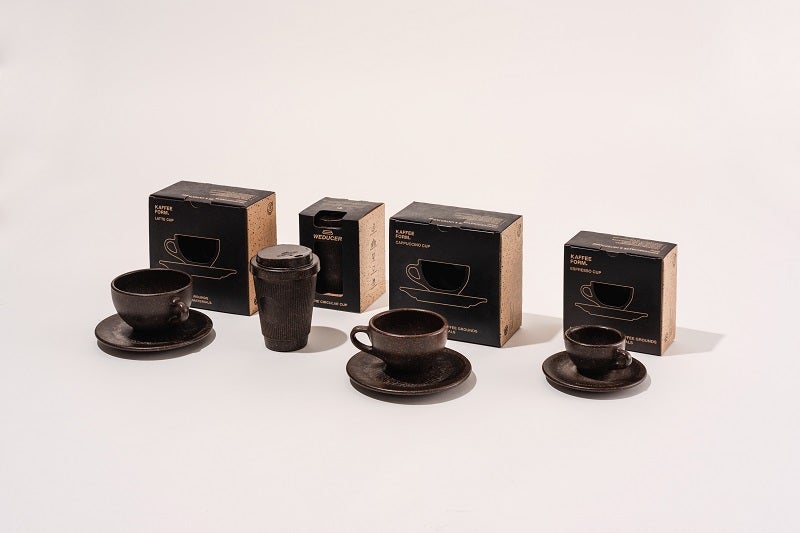 Deborah Williams: Kaffeeform started in 2015. What is the main lesson you have learnt since then regarding sustainable packaging?
Anika Paulus: As you know, packaging is quite important for branding, information and shipping. At Kaffeeform, we advocate the idea of reusing and recycling to reduce waste, and to save our natural resources. So our goal is to create a packaging that is made from recycled materials that is as lean as possible but that looks great, too. We started with using classic coffee bean bags first but then developed our current packaging made from recycled paper, but still continue to improve it further.
DW: How did you develop the hardening solution that makes your cups sturdy?
AP: It was a year-long journey with a lot of experimenting – trial and error at first. Our founder, Julian, delved into intense material science and studies in close exchange with experts in that field. As only renewable and recycled resources were in line, the challenge was to make the material durable and heat-resistant and the goal was to take an alleged waste material to create products with a long lifecycle. Finally, he [Julian] found the formula based on used coffee grounds, wood chips and other natural components in combination with biopolymers. The result is a material that is lightweight, durable and long-lasting.
DW: How important is to you to source your coffee grounds locally and to produce your products in Germany?
AP: It's a key aspect of our business. We want to strengthen local production, emphasise green and short ways, and work with local partners to keep the miles our resources and products travel, before they reach their new owner, as low as possible.
DW: Apart from your collection collaboration, do you currently operate any other sustainable community initiatives?
AP: Since Kaffeeform was born, we've worked with a local social workshop for handicapped people. They're in charge of the drying and preparation of the coffee grounds for production, as well as for packaging and logistics. Our branded editions are done by a social printing company as well, and the collection of the coffee grounds is handled by a bike messenger collective. We also have strong ties to local specialty coffee shops and partners, [such as] Isla, the first zero-waste café in Germany. The green and sustainable community is growing steadily and we are glad to have been a part of it for a long time.
DW: What sustainable challenges did you face in the creation of Kaffeeform and how did you overcome them?
AP: The main challenge is that we produce and create a product that people will buy and, at the same time, promote reducing and consuming less. But with Kaffeeform, we make use of a resource that would otherwise go to waste and we aim to replace single-use products and plastic with products made from our durable new material.
DW: What sets Kaffeeform apart from other sustainable coffee cup companies out there?
AP: First and foremost, the material innovation and its particular characteristics. We use only natural and renewable or recycled components. Then there's the production. We work closely with social and local partners to strengthen local structures; our company aims to be as social as possible. Kaffeeform is designed in Berlin and made in Germany. But in the end, we're on the same page with other reusable coffee cups and advocate a shared idea and goal – to reduce the use of single-use disposable cups.
DW: What can we look forward to for Kaffeeform in the next three to five years?
AP: A lot! We're still a very small company and need to take one step at a time. But we're currently exploring various applications to make use of our great material invention – this is in the direction of lifestyle goods or interior and many more.
DW: What is the main lesson you want the drinks/packaging industry to know about sustainability?
AP: Use recycled and renewable materials where possible and try to aim for 'less is more.' The packaging of the future would be non-existent or self-liquidating [if we don't]. And until we're there, [we should use] 100% made from recycled and naturals materials [that are] fully recyclable. Also, design for second use will become much more important for the future.