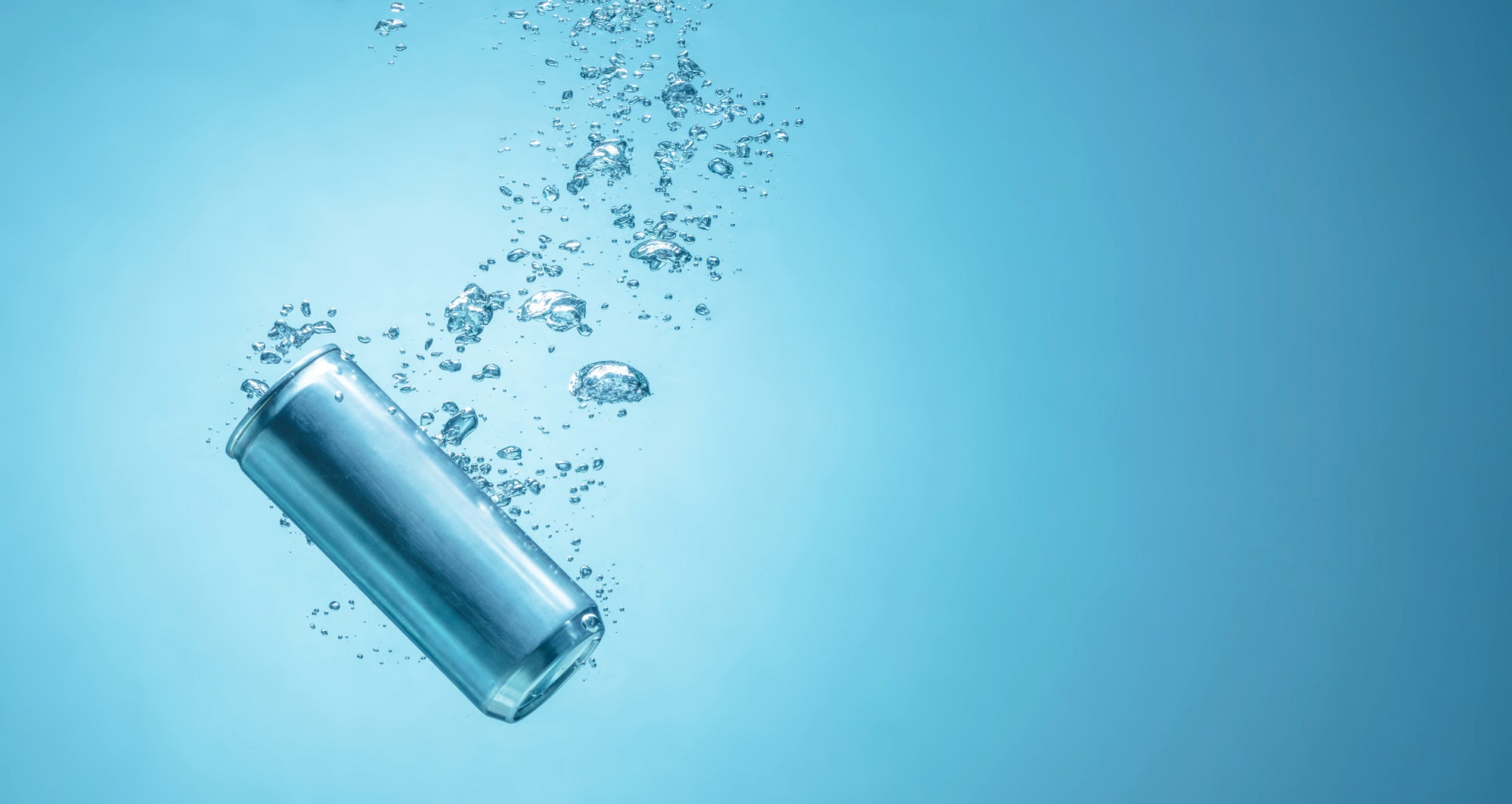 For many years, manufacturers have been searching for ways to reduce packaging in an attempt to cut down costs. However, of late, many are focused on how changes to packaging can help to limit their environmental impact and appeal to increasingly conscious consumers.
One material attracting attention is aluminium, Earth's most common natural metal.
Producing aluminium is an energy-intensive process, taking approximately 14 kilowatthours (kWh) of electrical energy per tonne to produce. The production process is far from environmentally-friendly. However, close to 75% of aluminium produced is still in use today, and takes just 5% of the initial energy consumption to recycle. In contrast, just 9% of all plastic created has been recycled, while 79% of it has ended up in landfills or natural environments.
What gives aluminium the edge over plastic is its infinite recyclability. Plastic, even if it is recycled, will eventually reach a condition where it needs to be incinerated or placed in landfill. Unlike plastic, which begins to degrade almost immediately after it is produced, aluminium retains its quality indefinitely, no matter how many times it is recycled and reused.
As packaging, aluminium also provides an ease of recycling that plastic cannot. Aluminium is one material, and consumers are largely aware that it can be recycled. Plastics, on the other hand, are numerous, and working out whether a bottle, its label, and its cap, is of a variety that can be recycled fails to encourage consumers.
Balancing profit and sustainability
Aluminium may offer a more sustainable alternative to plastic packaging, but businesses are faced with making a difficult decision. While opting for an alternative material may help to meet sustainability targets, making changes that don't meet the standards of consumers could damage revenue.
A previous study conducted by non-profit The Conference Board in collaboration with Neilsen found that 70% of consumers globally are concerned about the environmental impact of food packaging.
Yet, according to Chris Peach, head of packaging & design for research agency Walnut Unlimited, the companies that he has worked with have seen little improvement in sales resulting from switching to 'green' packaging solutions. In some cases, changing packaging could even force consumers to look for their own alternative if they feel the quality or ease of use of the product has diminished.
"While people say sustainability is important, their behaviour when faced with choices suggests it's not the most important factor when choosing a brand, " Peach tells us. "That's not a great situation for a brand to be in, balancing the need to maintain or grow sales, while simultaneously delivering on sustainability promises."
Changing consumer perceptions
"When programmes like Blue Planet II aired, it ignited the debate around recycling and sustainable packaging materials. But, while there has been lots of talk, are we as a society really changing our behaviour?" Peach questions.
The majority of consumers may care about environmental issues, but the reality is that few actually buy sustainable products. In a recent survey, 65% of consumers said they want to buy products from brands that advocate sustainability, yet only 26% actually did so.
For Peach, turning talk into action will require brands to better understand their customers and work towards changing perceptions that have been learnt over many years:
"Success lies in understanding people – we aren't born knowing that drinks are packed in aluminium cans, we learn this through exposure to the packs over and over again.
"Introducing aluminium into a category where it isn't used is likely to prove disruptive, catching the eye of the shopper. But what does the material say about the brand and product inside? With our brain automatically making decisions for us, knowing how people unconsciously react to a pack material is crucial to success."
Canned water: Testing consumers' appetite for aluminium packaging
Sustainability-focused bottled water company Llanllyr SOURCE experienced these consumer perceptions towards aluminium packaging first-hand.
In 2008, it became the first company in the United Kingdom and United States to release canned water in a bid to make its packaging more sustainable. However, the company pulled its aluminium cans a year later due to lacking consumer interest, likely due to unfamiliarity with canned water.
Last year, the company re-released its still and sparkling waters in aluminium cans, and removed all plastic packaging from its products. This time around, Llanllyr SOURCE expects a different outcome.
"Consumers are now much more familiar with beverages in cans including cold brew coffees, coconut waters and wine," Patrick Gee, founder of Llanllyr SOURCE, explains.
Llanllyr SOURCE has joined the likes of Ever & Ever, launched by the company behind popular coconut water brand Vita Coco; Dash Water, and CanO Water in the market. Together, these early adopters are helping to dispel many of the consumer complaints and misconceptions surrounding aluminium packaging in the drinks industry.
Consumers may believe aluminium drinks packaging is less convenient, as plastic bottles can be resealed. However, Ever & Ever aluminium packaging, for example, features a resealable lid, while remaining 100% recyclable.
There may also be concerns over the weight on aluminium compared to plastic, and whether the sustainability value is lost in transporting a heavier product. However, according to Gee, Llanllyr SOURCE's less energy is spent transporting its newly-packaged product.
"The weight is only marginally heavier than the lightest PET bottles and in fact is lighter than some plastic bottles," Gee says. "By the pallet they actually require less energy to transport than PET bottles, as there are more cans per pallet than PET. This is mainly due to the shape of cans as when transporting on pallets we are 'shipping' less air."
In the past, the risk of dented aluminium cans may have put retailers off too. However, this isn't of concern to Gee. Given the "huge steps" made by consumers in changing their attitudes towards things such as 'ugly' produce, Llanllyr SOURCE is confident that damaged cans won't go unsold or end up on discount shelves.
In its search for a more sustainable packaging, the company also considered cartons and boxes (like those often used to store wine), and it also considered plant-based plastics and bamboo, "but for now cans are the best option for us, and an easy switch for consumers to make".
"Along with the benefits already mentioned, they are easier to stack, take up less space, and can be easy to crush when empty, so more cans can be recycled per bin," Gee explains. "These kinds of factors along with the fact that the cans are more easily recycled guided us to move away from PET.
"And so far the reception has been great."