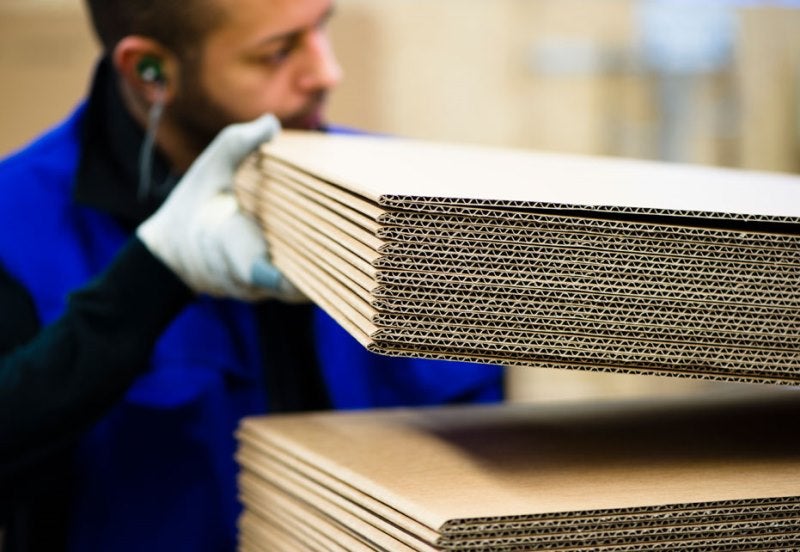 The report, 'Sector is less susceptible, but not immune, to coronavirus disruptions', also found that food, beverage and pharmaceutical packaging businesses are "demonstrating resilience in the current environment", while companies producing packaging for cosmetics, hospitality, and travel sectors are facing a decline in demand.
Free Report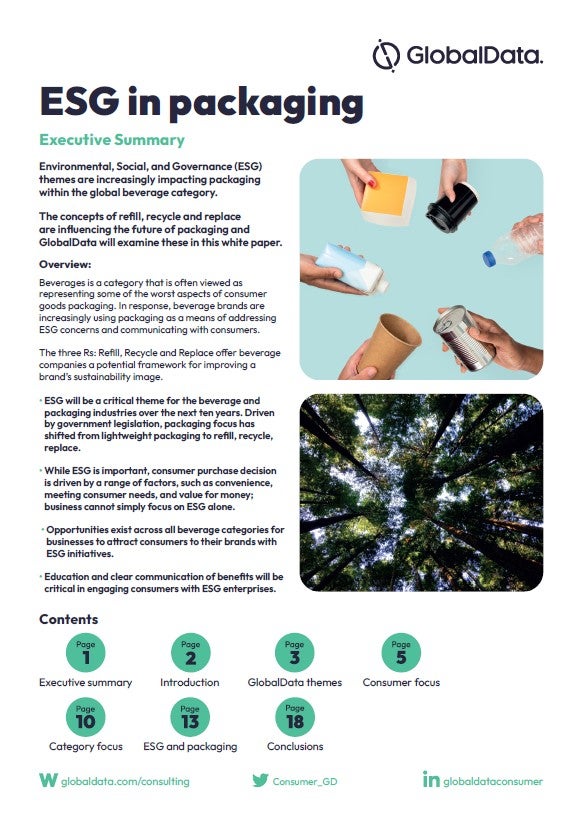 How is ESG transforming packaging in the beverages sector?
The beverages sector has already been re-shaped by increasing corporate and consumer consciousness of environmental, social and governance (ESG) issues around packaging. Now, amidst a raft of new regulations, those who get ahead of the curve may find new opportunities. Brands are increasingly using packaging as a means of addressing ESG concerns and communicating with consumers. Access GlobalData's new whitepaper, ESG in Packaging, to examine the challenges faced by companies, and understand how adapting to regulation around packaging, as well as appealing to ESG-conscious consumers, presents opportunities. The white paper covers:
Which regulations are governments looking to introduce?
How can beverage manufacturers get ahead of regulations?
How can packaging manufacturers help and how will consumers react?
What packaging and recycling innovations are required and what are the barriers to consumer engagement?
Zero in on how the industry operates in the EU and USA, exploring conclusions that remain relevant for other markets too, including Brazil, Canada, Russia and Turkey.
by GlobalData
Moody's predicts that there will be a stronger focus on cost control due to Covid-19, with companies seeking wage subsidies and governmental support.
Some sectors are "demonstrating resilience"; others more vulnerable
Non-paper packaging sectors in Europe, the Middle East, and Africa (EMEA) were identified as having an overall low exposure to Covid-19 compared with other sectors.
Moody's report said: "Most of the aggregate revenue of the 15 non-paper packaging manufacturers we rate is generated from relatively resilient end markets, such as food [and] beverage". The beverage market represents 48%, food 31%, personal care and cosmetics 7%, pharmaceutical and healthcare 6%, industrial 3% and other sectors 5%.
Packaging companies that serve these more resilient sectors are likely to do well in the current environment, with stockpiling, changing demand patterns and government measures likely to lead to an increased demand for certain products.
Research conducted by UK-based packaging industry expert Infiniti Research at the end of May revealed that industries that supply for groceries, consumer goods, pharmaceuticals, and e-commerce are "expected to witness a steep increase". The demand for luxury and industrial packaging, however, may show a decline.
Social distancing measures implemented globally have meant that some products, such as in the cosmetics and beauty industry, have been low in demand. The global recession forecasted for 2020 will also likely have a negative impact on consumer spending according to Moody's.
What should packaging companies consider post-coronavirus?
Infiniti Research advises packaging companies to consider implementing recovery strategies to include a mixture of financial resilience and plans for restarting operations at packaging plants, plus strategic customer-focused moves "such as understanding the impact of Covid-19 on consumer packaging choices".
Infiniti research also advises companies to review their production footprint, evaluate measures for business continuity, and understand areas where packaging demand will be temporarily high.
The British Plastic Federation (BPF) on 29 May launched the updated third version of its Covid-19 safety guide for packaging manufacturers, which advises how to continue operating safely during the pandemic and also features the latest advice from the Government and Public Health England.
BPF member Hozelock health, safety, and environmental manager Russel Sparrow said: "The coronavirus pandemic has, more than ever, put health, safety and wellbeing into sharp focus for manufacturing. At Hozelock, it is important for us as a business to be part of the best practice sharing network offered by the BPF to produce this guidance.
"As a result, BPF delivered Covid-19: Guidance on Good Manufacturing Practice for the plastics sector over five weeks before the Government's Working Safely guidance on 11 May, meaning that we were able to maintain safe working conditions during the peak of uncertainty. This third edition allows us to continue to take every step necessary to ensure the safety and security of our people and our supply chains."
Free Report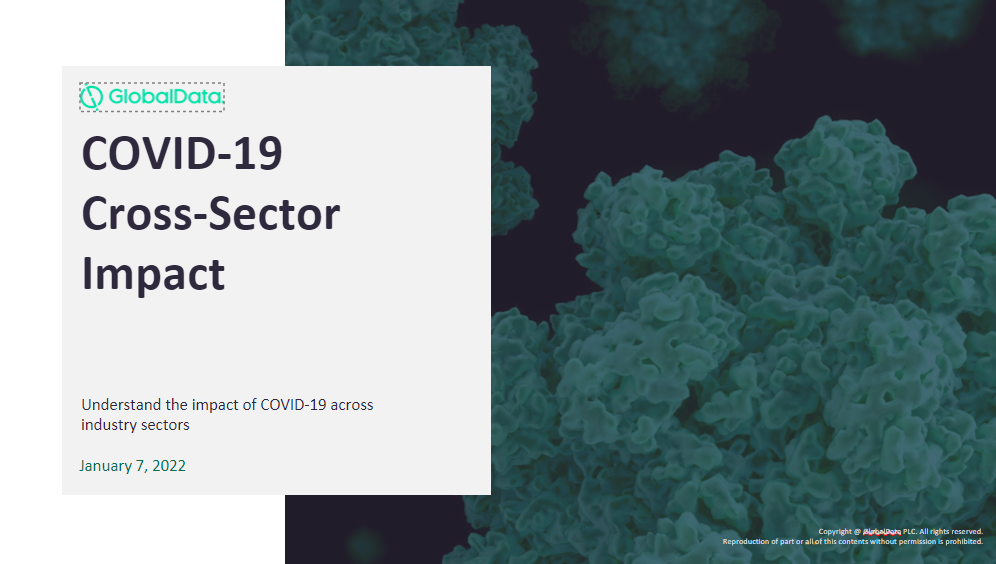 Build resilience in the face of COVID-19 disruption
COVID-19 has already affected our lives forever. The way we work, shop, eat, seek medical advice, and socialize will all be different in the future. Quite how different remains to be seen, but all industries must plan for multiple eventualities. Are you interested in actionable insights on the business challenges induced by the pandemic? GlobalData's cross-sector report analyzes the significance of this major disruptive theme across industry verticals. It provides side-by-side research of alternative datasets to present you with unique quantitative analysis of the effects of COVID-19 and how these differ across sectors. Additionally, it offers qualitative analysis of each sector and analyzes COVID-19's impact on leading companies. Whatever your company's imminent strategic plans, the long-lasting impact of COVID-19 must not be overlooked. Find out how to futureproof your business operations – download our report today.
by GlobalData