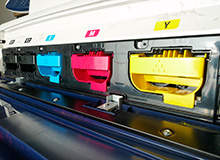 In a recent report on the future of digital printing , Smithers Pira ¬forecast that the market for digital printed packaging will more than double from $6.6 billion in 2013 to $14.4 billion in 2018. Dr Sean Smyth, a consultant at Smithers Pira, believes there are a number of factors behind this exponential growth.
"Key drivers are the ability to produce short runs economically," explains Smyth. "Additionally, brands are looking to engage with customers in new ways and digital allows them to do this."
Smyth cites digital printing's customisation capabilities as a principle area of innovation, something Jocelyne Ehret, director [of] packaging consulting services at HAVI Global Solutions, affirms. Ehret cites My Kleenex [which allows consumers to use photos and personalised messages to customise their tissue boxes], Johnnie Walker Whisky and Coca Cola's Share a Coke campaign as recent, successful examples of customised packaging.
"Customisation has created a change in the FMCG [fast moving consumer goods] industry," says Ehret. "And [Share a Coke] demonstrated that digital is not just for small brands with low volume."
Taking over analogue: a competitive market
Does the ever-increasing capability of digital presses mean we've reached a point where digital can match or supersede offset printing technology's ability to produce larger print runs economically? "Not really," says Smyth, "although high volume inkjet is getting close for relatively low ink coverages?
Digital is increasingly competitive, and breakeven with analogue methods is increasing and will continue to do so. However, analogue is not standing still and will also improve.
Successful converters are not looking to reduce costs, rather to add functionality. That functionality maybe versioning, lots of small runs rather than one big ones, personalisation, some variable data – things you can't really do with the analogue machines.
"Cost will be an issue for businesses considering a conversion to digital, says Smyth. "The unit cost of production is higher for digital, and there are usually limitations with the print format and range of substrates that can be handled by existing analogue printing machines."
The impact of online: a digital revolution
The digital revolution has fundamentally changed how consumers discover, research and purchase products and services, aided in large part by the acceleration of online shopping.
This has had a negative impact on some store-based businesses, giving rise to showrooming – whereby consumers explore in store, relying on the expert advice of staff, but make their purchase online. Digital print packaging's customisation capabilities may provide a solution to this quagmire.
"QR [quick recognition] codes can be printed with analogue technology," explains Smyth, "but digital printing is able to print unique QR codes that link to personalized URLs rather than a generic, same-for-everyone page."
Online shopping, says Ehret, can offer businesses a more efficient transaction with customers. "With digital printing, consumers can order a product that is both bespoke and customised – online.
"The product is produced with a purpose and on demand, which is usually not the case with conventional shopping, where you buy only what is available on the shelf. It allows [businesses] to print on demand and in a smaller quantities, therefore reducing cost and waste."
Unexplored benefits: reducing waste and redundant stock
Customisation may allow brands to engage with their customers in exciting new ways, but digital printing has other, yet-to-be exploited benefits, says Smyth – which businesses will benefit from in a number of ways.
"Increasing legislation means any simple ingredient change in a product renders printed packs and labels obsolete," says Smyth. "Using digital print-on-demand obviates this, reducing waste and redundant stock."
Customisation also allows for important supply chain traceability. "There will be increasing pressure [on product manufacturers] to identify batches and product point of origin," says Smyth.
As pressure grows on manufacturers to prove their product's providence and prevent counterfeiting, customisation will be boon for many industries – including the pharma and food sectors – who'll benefit from the security that comes with digital printing's ability to create unique, information rich codes.
Barriers to adoption: will digital printing be beneficial in the long run?
The future for digital print packaging looks promising, but HAVI had identified a number of barriers to the adoption of digital printing, says Ehret: speed ["which is usually not good compared to conventional printing"], limited paper range ["digital printing requires pre-coated paper"], reduced colour accuracy ["though this is changing – there have been some improvements in the last year"] and ultimately, cost.
"Digital printing is expensive and while it makes sense in the short run it does not necessarily benefit in the long run," says Ehret.
Also, eco-conscious businesses may be wary of digital's green credentials. According to Ehret, there is little published research on the environmental impacts of digital printing.
"The analysed literature indicates that digital methods have a higher energy and ink / toner consumption than mechanical methods, but their chemicals and water consumption and waste output are lower.
"Paper consumption and emissions to air are difficult to assess due to the lack of data. More research is needed to obtain a better and more reliable understanding."
A significant presence: packaging labels and direct-to-pack bottle printing
But these barriers haven't stopped digital printing becoming an increasingly significant presence in packaging, as Smithers Pira's report has indicated.
"Digital is already significant in labels," says Smyth, "with over 20% of the output value – although the share by print volume is much lower.
"There is much corrugated [packaging] produced by wide format inkjet and some new machines: the B2 engines from HP Indigo, Xeikon and inkjet machines from Screen and Fujifilm that are being used for cartons.
"Océ has its InfiniStream technology being proved at a carton converter near Munich while Landa has identified cartons as its initial application with S10FC that should be launched later this year."
There is also a lot of interest in direct-to-pack printing for bottles, says Smyth, which removes the need for a label entirely. "Till Engineering, KCS and several others are reporting considerable interest in using inkjet to print directly onto the pack in a single pass."