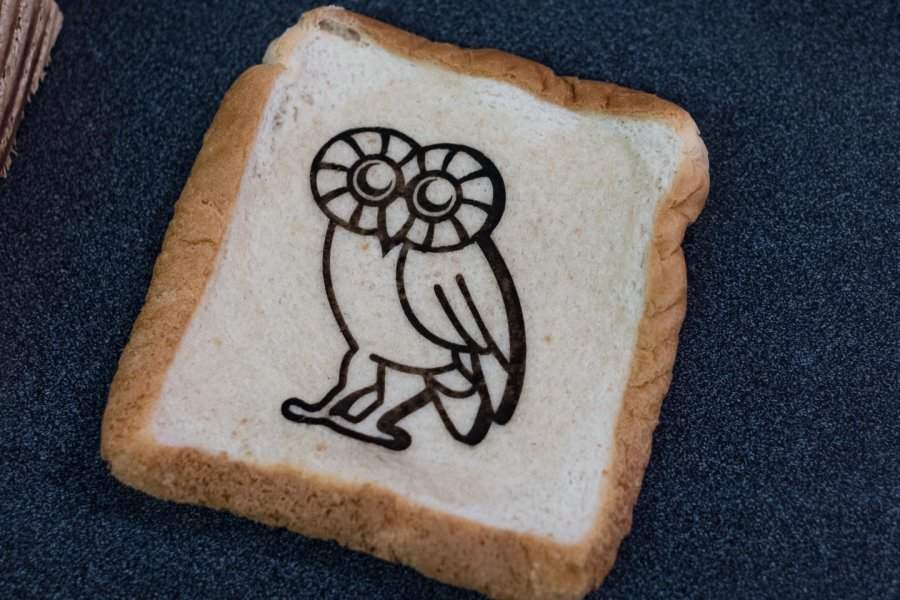 A research team at Rice University in Houston, Texas led by Professor James Tour has discovered a new graphene printing technique that allows the material to be printed onto food products, including the printing of graphene-based RFID tags. The discovery could have wide-reaching implications for the food and packaging sectors.
The process is an extension of the Rice lab's work with Laser-induced graphene (LIG), which was developed by Tour's team in 2014. Since LIG's discovery, the amount of literature published on the topic has been monumental, and Tour predicts that LIG will likely be the first largely deployed industrial use of graphene.
Previously graphene was being developed in single-layer atomic sheets on a metal film, but this requires the heating of items to 1000+ degrees – Tour's team showed that the process could be replicated with a low-powered laser cutting tool, the kind available to any sized commercial packaging business.
Graphene on toast
"We thought this kind of graphene printing only worked on a particular type of high-temperature polymer, but we recently learned that we can exploit it for other materials," explains Tour, "first you use a laser to convert the surface to amorphous carbon, then you hit it again and the laser will convert it into LIG. The whole process turns out to be a very simple technique."
Taking inspiration from laser printing dates on to plastic bottles, the team realised that LIG printed on to a surface would be conductive, meaning it would technically be possible to create circuits on a wide range of materials where it would ordinarily be impossible to do so, including the surface of a variety of foodstuffs.
"One example is in our paper, where we made a supercapacitor on the surface of a coconut," says Tour, who goes on to explain the full implications of the discovery. "You can even start creating simple electronic circuits, and if you can do that then you have the potential to create sensors. Those sensors could tell you what temperature the food has been exposed to, whether it's been frozen, or even tell you which farm a particular potato came from, for example."
A particular application that could prove revolutionary is the identification of harmful pathogens through graphene-printed sensors. The circuit could theoretically show – with a quick scan at the supermarket, or on a smartphone – whether food has been contaminated with salmonella or other harmful bacteria.
An edible alternative
Ordinarily, RFID tags are made out of silicon, which is far too expensive to mass-produce for inexpensive items such as foodstuffs. Silicon is also not easily disposed of, creating problems for the packaging sector. But to create a working RFID tag you need a transistor, which couldn't be created using the graphene printing process.
However, Tour believes that if the circuit itself is drawn with graphene, the required non-conductive portions of the RFID tag could potentially be created using other edible materials. "We've made memory elements out of silicon oxide, and the food industry adds silicon oxide to food products all the time, so why not?"
While strictly speaking the LIG process has not been created as an edible alternative to traditional labelling or packaging and has not yet gone through the required toxicology tests, there is significant potential to build on, which could mean an elimination of packaging and labels entirely in some areas of the food industry.
"The lasers move much faster than you can stick labels onto apples, for example. In that time you could have laser-written a pattern onto a vegetable or fruit much faster. These machines move in microsecond pulses, which is very, very fast when commercially set up.
There are still hold-ups, such as the technology only currently working on dry material such as with the coconut shell, or on toasted and dehydrated products that wouldn't typically be eaten. You could not print a graphene circuit onto a piece of meat for instance, as it would be far too wet. Tour is confident that the process could be developed further though, and be made to work with 'wet' surfaces.
"We could get it to work, but it might take a few weeks. That's where development from an investing company would come in. For a lot of our products we've had companies come in and carry on from our research, and usually with six months they're way ahead of us. They invest a lot of money in areas they feel could be the next step in their industry."