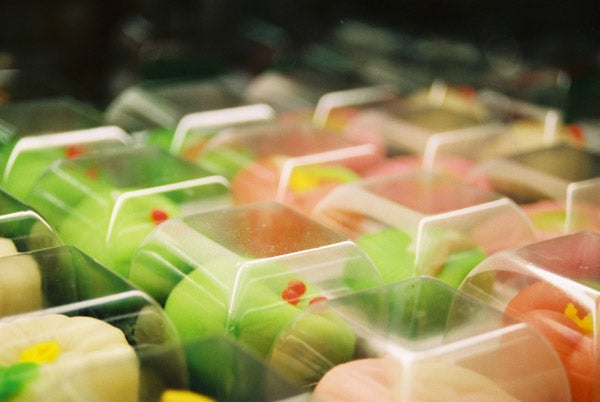 Packaging Gateway looks at five edible packaging innovations and asks if they represent the future of packaging or an indigestible fad.
1) Drinking straws
UK disposable products manufacturer and supplier Herald Plastic has created a range of edible straws. After success in the European club and bar market, the company launched the straws into the UK market in 2017.
The straws are available in an assortment of flavours, including lemon, lime, strawberry, cinnamon, ginger, apple and chocolate. The straws can also be printed on one side to enable branding and marketing opportunities for businesses.
2) Food film
In November 2018, researchers from the University of Nottingham developed an edible and 100% biodegradable food film, using plant carbohydrates and proteins. The food film was derived from konjac flour and starch, cellulose or proteins, and is said to improve storage, safety and the shelf life of food products.
3) Eco bags
Indonesian sustainable disposables company Avani created an edible eco-bag to address plastic pollution, specifically its effects on marine life. The bags are made from cassava root starch and other natural resins.
Avani states that the bag is 100% compostable and disappears with the help of macro and micro-organisms under natural conditions.
Another important element in the life of these bags is that it is edible by land and marine animals, though it is not suitable for human consumption until it has dissolved in a body of water.
 4) Spoons
Indian edible cutlery manufacturer Bakeys created edible spoons after its founder Narayana Peesapaty realised the magnitude of the world's plastic cutlery usage. The spoons are made from rice flour, wheat and sorghum, making them 100% vegan. At the moment, the spoons are only shipped throughout India, with Bakeys planning to ship worldwide in the near future.
5) Drink pouches
UK start-up Skipping Rocks Lab created edible drink pouches, Ooho capsules, to tackle plastic packaging waste in the soft drinks industry. The capsules are made from seaweed and plant materials, can be flavoured or coloured, and have the same biodegradable lifespan as a piece of fruit.
UK soft drinks manufacturer Lucozade Ribena Suntory partnered with Skipping Rocks Lab to offer Lucozade Sport in the capsules for a two-part trial, at Richmond Marathon, in September 2018.
More than 30,000 Ooho capsules were distributed to runners at the London Marathon this year.
Edible packaging trend: Is it a long-term solution?
For these innovations to survive in the long-term packaging market, they must first stop contributing to the existing packaging waste epidemic. Upon analysis, all these solutions do exactly that – tackling issues from single-use plastic straws to supporting marine life sustainability.
However, the innovations must also break out into the mass market. Companies and brands should push these sustainable solutions to their customers in order for them to become an everyday part of consumer life.
Furthermore, edible packaging will most likely not totally eradicate plastic waste pollution. For example, the Oohoo capsules work well for big sporting events but they lack the capacity to accommodate a consumer's day-to-day lifestyle like as a reusable water bottle would; the capsules are not resealable and hold the equivalent of a large gulp. In addition to this, other packaging such as plastic may have to be used alongside some edible packaging to keep in line with hygiene regulations and standards.
Overall, edible packaging has the scope to help minimise and control plastic waste but it will only go as far as the consumer or retailer will allow it.