Europe was the fastest growing region for Environmental, Social, and Governance (ESG) hiring among packaging industry companies in the three months ending August.
The number of roles in Europe made up 11.1 per cent of total ESG jobs – up from 6.9 per cent in the previous three months.
That was followed by Asia-Pacific, which saw a 0.5 percentage point change in ESG roles.
The figures are compiled by GlobalData, who track the number of new job postings from key companies in various sectors over time. Using textual analysis, these job advertisements are then classified thematically.
GlobalData's thematic approach to sector activity seeks to group key company information by topic to see which companies are best placed to weather the disruptions coming to their industries.
These key themes, which include environmental, social, and governance, are chosen to cover "any issue that keeps a CEO awake at night".
By tracking them across job advertisements it allows us to see which companies are leading the way on specific issues and which are dragging their heels - and importantly where the market is expanding and contracting.
Which countries are seeing the most growth for ESG roles in packaging?
The fastest growing country was the United Kingdom, which saw three per cent of all ESG job adverts in the three months ending May, increasing to 8.7 per cent in the three months ending August.
That was followed by Canada (up 4.3 percentage points), New Zealand (up 0.5), and Belgium (up 0.4).
The top country for ESG roles in the packaging industry is the United States which saw 75.7 per cent of all roles in the three months ending August.
Which cities are the biggest hubs for ESG workers in packaging?
Some 8.3 per cent of all packaging industry ESG roles were advertised in Westminster (United States) in the three months ending August - more than any other city.
That was followed by Boulder (United States) with 8.3 per cent, Broomfield (United States) with 4.6 per cent, and Chicago (United States) with 3.5 per cent.
Free Report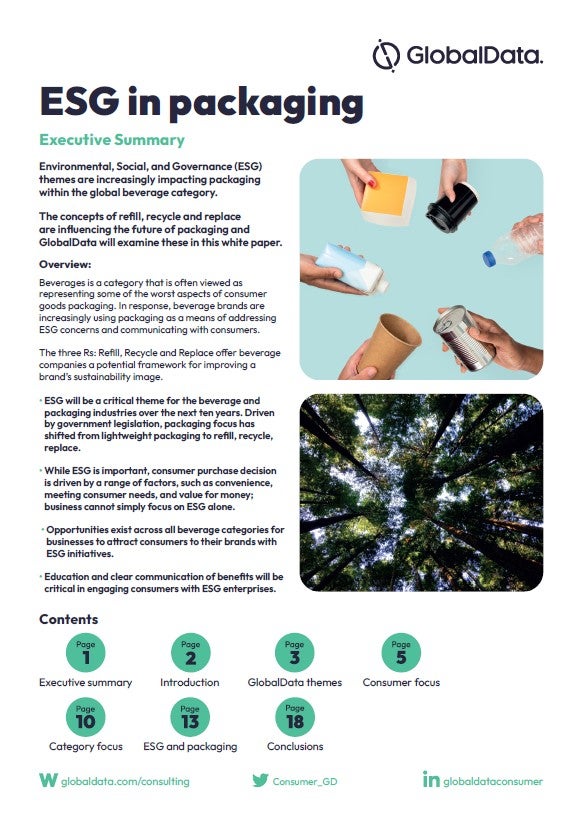 How is ESG transforming packaging in the beverages sector?
The beverages sector has already been re-shaped by increasing corporate and consumer consciousness of environmental, social and governance (ESG) issues around packaging. Now, amidst a raft of new regulations, those who get ahead of the curve may find new opportunities. Brands are increasingly using packaging as a means of addressing ESG concerns and communicating with consumers. Access GlobalData's new whitepaper, ESG in Packaging, to examine the challenges faced by companies, and understand how adapting to regulation around packaging, as well as appealing to ESG-conscious consumers, presents opportunities. The white paper covers:
Which regulations are governments looking to introduce?
How can beverage manufacturers get ahead of regulations?
How can packaging manufacturers help and how will consumers react?
What packaging and recycling innovations are required and what are the barriers to consumer engagement?
Zero in on how the industry operates in the EU and USA, exploring conclusions that remain relevant for other markets too, including Brazil, Canada, Russia and Turkey.
by GlobalData