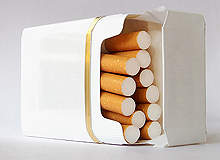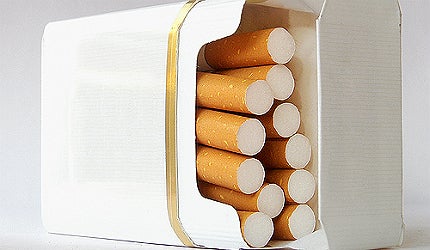 In May 2010, then Australian Prime Minister Kevin Rudd announced a ban on colour cigarette packaging in the country from 1 July 2012, a measure seen as a natural step by the Australian authorities to help reduce smoking rates. The law is now due to come into force after Australia's highest court backed the plan in August 2012.
Soon after, both the UK and Canada announced they would consider taking similar steps. The UK Government discussed it as part of its plan to halve the number of smokers in the next ten years in November 2010. Health Secretary Andrew Lansley said in a statement that it was time to try a new approach: "It's wrong that children are being attracted to smoke by glitzy designs on packets."
The drive towards plain packaging in Canada, which began in the 1980s, was reignited following Australia's decision to ban colourful packaging. Canadian health groups challenged the authorities once more to move quickly and make sure that all tobacco products are sold in standardised packaging. The same chain of thought was brought up within the European Commission in January 2011, when plain packets hit the headlines following a public consultation on whether the 2001 tobacco products directive should be revised.
The impetus behind plain cigarette packaging is to eliminate the allure and sex-appeal of smoking. Cigarettes that come in identical dull brown or grey packages with no distinction bar the brand name printed in small black-ink letters, do not communicate the dangerous and exciting John Wayne and Marlboro Man lifestyle. Instead of being a product to be proudly displayed, anti-smoking activists hope that the ugly pack will be seen as a source of embarrassment – an especially poignant weapon in the battle to deter young smokers prone to peer pressure.
"Cigarette products benefit from a great brand loyalty and packaging plays a huge role of maintaining this continuous choice."
For cigarette manufacturers and their marketing and graphical design departments, however, Australia's ban represents a major challenge. They will have to rethink their branding and marketing strategies and pack their cigarettes in generic packages, lacking any colours, logos or other images. Instead of big brand logos, the packages will bear large, bold health warnings and lists of toxic contents.
Silent salesman cigarette packaging
At its most basic, the primary function of any product package is simply to contain and protect the product. Increased competition and muddle on the retail shelves has, however, forced packaging to perform many sales tasks, such as attracting attention, describing the product and making the sale.
Cigarette packaging is no exception and it might be even more critical as the packets have a high degree of social visibility. Cigarette packs are not thrown away after opening but smokers usually keep their packages, constantly take them out, open them and leave them in public when smoking.
The industry has realised the huge advertising potential of these habits and their impact on shaping brand perception. Cigarette products benefit from great brand loyalty and packaging plays a huge role in maintaining this continuous choice. With the introduction of plain packaging, tobacco companies will lose out on huge advertising opportunities.
"Major companies know about the danger of losing a powerful advertising tool and are preparing for a bruising battle."
"Obviously there is a certain character of the name of the product, which will carry on," says art director John Smith from John Smith Design, which produced cigarette cartons for Treasurer Luxury White.
"But if you're not being reminded of it when you're opening your packet of cigarettes then it could very easily lose any kudos that is carried by the name."
The tobacco industry will have to find new ways to be distinctive. "A lot of it will be down to making products truly distinctive because the graphic design of it and the marketing communications are not going to be easy now," explains Smith. "It's going to have to be down to truly distinctive flavours rather than packaging."
Major companies, of course, know about the danger of losing a powerful advertising tool and are preparing for a bruising battle. Imperial Tobacco, Philip Morris and British American Tobacco have all said that they strongly oppose plain packaging as there is no evidence that plain packs would stop people from smoking. Philip Morris has even launched a website designed to campaign against the imposition of plain packaging by arguing that it would do nothing to cut smoking rates.
Simon Clark, director at the Freedom Organisation for the Right to Enjoy Smoking Tobacco (FOREST), understands the industry's concerns. "For decades, tobacco companies haven't been allowed to market their product in a way that many other products are marketed," he says. "With tobacco being a legal product, I believe that smokers have to be able to see a full range of products to be able to distinguish between different products.
Persuasive cigarette packaging
"There's always an emotional response to design and the more experienced the designer, the better the communication and the consumer's response will be."
Clark believes that packaging has actually no influence on a smoker's behaviour and describes it as "nonsense". Several studies, however, show otherwise.
One such work is the 2009 study 'The Impact of Cigarette Pack Design, Descriptors, and Warning Labels on Risk Perception in the US', which was conducted as a co-operational research project by the Department of Health Behaviour at the Roswell Park Cancer Institute in Buffalo, NY, US, and the University of Waterloo in Ontario, Canada.
The study, which presented cigarette packs to some 600 adult smokers and non-smokers, found that around 80% of the participants believed that packs with lighter colour shading (light, silver, smooth) would contain cigarettes with less tar, have a smoother taste and pose less of a danger to health than those in darker shaded packs.
Moreover, participants were more likely to choose the branded pack compared to the plain white pack when asked which pack delivered the most tar, the smoothest taste, and which was more attractive and contained cigarettes of better quality.
For the researchers these results are evidence enough that colourful packaging and branding misleads about health risks. As a result, they recommend the introduction of plain packaging as it might reduce many of these misperceptions.
"These studies suggest that people, in particular young people, are impulse-buyers," argues Simon Clark. "There is no evidence that supports this idea. Most smokers have been buying a regular brand for some time and I doubt that anyone would start smoking because they see cigarettes in a coloured packet.
"I am very dubious about those types of studies because they tend to be funded by public money. We've seen in the UK that a lot of public money has been given to research institutes and tobacco control groups in order to justify policies that the government wants to bring in," Clark continues.
"People know that there is a serious health risk associated with smoking and different colours are designed to differentiate between different brands. So, to suggest that people are influenced by the colour of packaging is a very patronising way to treat smokers," suggests Clark, who himself is a non-smoker.
Emotional response to design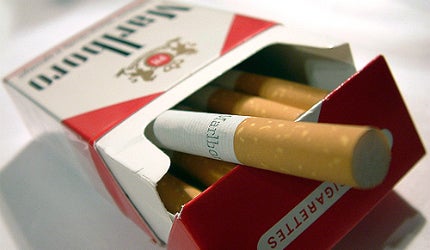 Major companies know about the danger of losing a powerful advertising tool and are preparing for a bruising battle
---
The design of cigarette packs, however, is indeed well thought out and engineered to influence a smoker's perception of the product, as Smith, a cigarette packaging designer himself, confirms. "There's always an emotional response to design and the more experienced the designers and art directors are, the better the communication and the consumer's response will be."
With the introduction of plain cigarette packaging the tobacco industry is forced to rethink marketing and advertising models. "Manufacturers have got away with selling the same thing via different branding for quite a long time. Now, they just have to try a little bit harder in being more distinctive with their products," says Smith.
"The product itself needs to be more distinctive as they won't be able to hide behind beautifully designed graphics anymore – which not all of them have but some definitely."
If the Australian Government's move turns out to be a successful one, other countries will probably follow. If that happens, creative rethinking will definitely be necessary. One thing, however, is clear: the tobacco industry will eventually find a way to work through these restrictions, as they have proven with so many others in the past.
---
Related content
---
Packaging has long developed beyond its original function as a means of solely protecting and carrying products. Today, packaging is a key marketing tool that not only represents, but in fact shapes brand identity of practically every known form of consumer product.
---