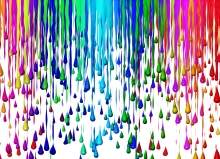 Although packaging inks cover the full vivid spectrum of colour, there is one hue in particular which seems to be growing in importance for the printing and packaging industries: green.
Beyond the simple elimination of heavy metals like lead, cadmium and mercury, which is mandatory in many markets, eco-friendly inks can come in a number of forms. The most common is the reduction or removal of volatile organic compounds (VOCs), a by-product of traditional solvent-based inks, which are a potential hazard for both the environment and human health.
Eco-friendly printing techniques can improve other environmental aspects, however, including biodegradability, improved recyclability and sustainable sourcing of raw materials.
Here, we profile the growing market for eco-friendly inks and check out some of the industry's most innovative ways to improve ink's environmental credentials, from biodegradable and soy-derived inks to water-based techniques.
Growth of the eco-friendly ink market
"Use of eco-friendly inks and printing techniques is on the rise as the packaging world continues its drive to reduce its environmental impact."
The use of eco-friendly inks and printing techniques is on the rise as the packaging world continues its drive to reduce its environmental impact. National and international governments are now adopting environmental regulations which specifically address the content of ink, like the European Union's EN 134323 standard on packaging compostability.
Although regulations like this have not yet reached key manufacturing markets like China, reports from the likes of Frost & Sullivan suggest that these standards, on top of general market pressure, are creating a boom in eco-friendly ink technologies in the Asia Pacific region.
"The need for eco-friendly products will only increase over time as regulations tighten and public awareness of environmental issues continues to grow," confirmed Toyo Ink corporate communications officer Yu Adachi in 2010.
As a result, the eco-friendly ink market has experienced a sustained period of growth over the last few years, a winning streak which is expected to continue for the foreseeable future. A 2010 study by Smithers Pira estimated that the eco-friendly ink market will grow from €5.8bn in 2009 to nearly €7.2bn in 2014, with a strong compound annual growth rate (CAGR) of 4.5%.
Advances made in ink chemistry and printing technology over the last decade have yielded a host of solutions to the technical challenge of developing high-performance and eco-friendly printing techniques. As such, the challenge is not to create eco-friendly printing methods, but to achieve environmental goals while maintaining an uncompromising level of quality.
But as Europe's health scare over the migration of mineral oils originating from recycled newspaper ink demonstrates, with complex technologies come complex associated risks, so innovators must tread carefully.
Advances in water-based printing processes
Water-based printing processes have been in use for decades, as they eliminate or reduce the use of petroleum-based solvents, which increase levels of VOCs, toxic substances and energy consumption. Taking solvents out of the equation also reduces the reliance on petroleum and sidesteps the need for costly pollution abatement programmes, which are mandatory in many developed markets.
Until relatively recently, however, they were deemed unfeasible for use in food packaging, as slower-drying water-based inks tend to be incompatible with the non-absorbent packaging substrates common in the food sector.
Impressive strides made in water-based flexographic (flexo) printing have overcome this limitation in recent years. Multinational printing ink specialist Flint Group, for example, launched its Premo Film SXS water-based flexo ink series in 2010. This ink series is based on a proprietary self cross-linking technology which gives the ink film much better adhesive qualities when interacting with packaging substrates, such as oriented polypropylene (OPP) and polyethylene (PE). Innovations like this have opened the door to solvent-free printing even in challenging flexible packaging applications.
Many of the most successful ink technologies are inseparable from the overall packaging concepts they are a part of. Water-based inkjet printing on transparent plastic films (which are often used in pharmaceutical packaging) would not be possible without Schreiner MediPharm's development of a specialised label, for instance. The label, unveiled in August 2011, incorporates a water-absorbing coating, allowing water-based inks to adhere and dry within one second, enabling variable marking with inkjet printers and water-based inks. It appears that for almost any problem holding back the development of eco-friendly inks, there is a smart solution just around the corner.
Ultraviolet and electron beam curing technology shines through
UV flexo, which cures specially-formulated ink through the application of UV radiation by a bank of photoinitiators, offers enviable environmental performance. UV curable inks are VOC and solvent-free, while the latest UV lamps also provide ever-improving energy efficiency, reducing consumption by as much as 50% without sacrificing press speed. Also, as UV inks do not dry on the plate, there is an associated reduction in waste and a cleanliness advantage.
"Eliminating solvents reduces the reliance on petroleum and sidesteps the need for costly pollution abatement programmes."
The adoption of ultraviolet (UV) flexography has seen rapid expansion for printed packaging, even in the sensitive food packaging market. A UV food packaging system that shows particular promise is Gidue's combination of UV flexo and in-line solvent-free lamination.
"Our solution avoids any contact of UV inks with the reel, and with the food, by 'protecting' the UV printed surface with a laminated film before rewinding. Risks of UV ink migration are virtually eliminated," said Federico d'Annunzio, Gidue managing director, earlier in 2012.
Beyond UV curing, electron beam (EB) technology has been harnessed to provide another method of quickly curing solvent-free inks. The proponents of this technology believe that EB technology offers a superior curing quality when compared to UV, although the technology's relatively high cost and technological complexity has restricted EB's share of the packaging market (which was estimated at around four to five percent, according to a 2010 RadTech market overview).
As costs come down and the technology becomes more accessible however, this share is expected to increase, especially considering the environmental and financial savings which come from EB curing's lower energy consumption when compared to UV and traditional thermal curing systems.
The choice between UV and EB is a tough one, but with the rise of modern flexible printing presses, it's a choice that might not even have to be made. Earlier this month, it was reported that Precision Press would be the first company to install Goss International's Sunday Vpak 500 web offset printing system, an integrated press equipped for both UV and EB curing and incorporating an in-line flexo and coating unit.
"The variety of substrates for printing on substrates and packaging creates a huge diversity of capital equipment which leads to additional expense and complexity in producing product within FDA compliance," Precision Printing president Lee Timmerman told foodproductiondaily.com.
"Due to the nature of imaging chemistries, migration is a constant challenge. The Goss allows us to image on a wide variety of substrates historically reserved for flexography, gravure and sheet fed."
Biodegradable inks: realising the potential of eco-friendly processes
"This ink chemistry allows for less energy-intensive paper recycling, as it simplifies the process of separating ink from paper."
While many technologies help to make the printing process more sustainable, others strive to also improve the post-use environmental performance of ink. Delhi-based start-up company EnNatura, for example, courted a great deal of attention from industry and media after it developed a completely biodegradable ink, ClimaPrint, using a solvent based on vegetable oil and a proprietary natural resin chemistry derived from castor oil, an organic cleansing agent.
This ink chemistry allows for more cost-effective and less energy-intensive paper recycling, as it simplifies the usually tricky process of separating the ink from paper to obtain clean pulp.
The company's proprietary resin is the key to the ink's appeal, as it balances a solvent-free composition with the capacity to produce vivid, high-quality images. The resin can also be washed off printing plates using a non-toxic aqueous wash solution, eliminating the need for more petrochemicals in the cleaning process. So although ClimaPrint costs around seven to ten percent more than its less eco-friendly rivals, the company said these costs can be made up through savings in the manufacturing process, such as post-printing washing.
As with all eco-friendly ink technologies, the benefits of biodegradability are tied into the environmental credentials of the packaging that the ink is applied to. In this sense, the future of biodegradable ink could be as a constituent part of completely biodegradable packaging concepts. This kind of eco-integration has been foreshadowed by projects like the partnership between Ultimate Packaging, Innovia Films and ink supplier Sun Chemical, to develop a packaging product which combines biodegradable film, ink and adhesives.
The story of eco-friendly ink is one of continual evolution and painstaking refinement. Most of the technologies now being used to improve the sustainability of the printing process are not new to the industry, but in the past they were unable to provide the levels of quality expected to produce eye-catching packaging designs.
As these technologies have matured over time, their eco-friendly potential is finally being unlocked. In a world where no company is willing to compromise quality for sustainability, this evolution of eco-friendly inks is an important process, for the industry and the environment.