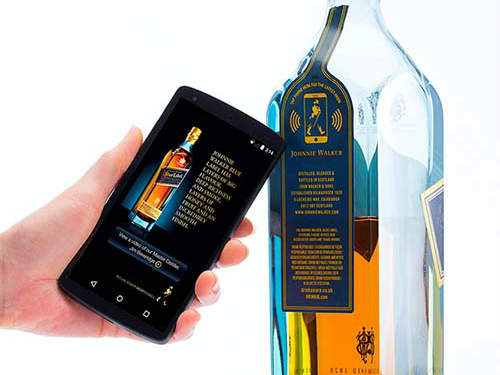 Image: Packaging with additional digital features offer another level of engagement to consumers. Photo: courtesy of Evrythng
---
Mobile-engaged packaging has left behind its early days of user-unfriendly, first generation QR codes and unengaging sales-driven content. Today, as highlighted by Mintel's Global Packaging Trends 2016 report, there is a revolution occurring. With more than 3.4 billion people worldwide with smartphones and that figured expected to double by 2021, opportunities for manufacturers and brands to connect packaging, products and the consumer to the internet of things (IoT) have never been greater.
Moving forward, as brands clamor for innovative ways to engage with shoppers, the mobile environment will become the new front line in the battle to win consumers' hearts, minds and wallets. Mobile engaged packaging has also been forecast as one of the key trends by Mintel for the coming year. We find out more about the tips and tricks the industry is using to engage consumers.
Solutions for brands and consumers
"Consumers' mobile and smart devices have become the aggregators and curators of their personal, social and professional lives."
Second generation QR codes, near-field communication (NFC), RFID and Bluetooth low-energy (BLE) and electronic printing innovations mean that scalable traceability, security and supply chain monitoring solutions are economically viable and implementable, and that the same packaging can also provide valuable information and experiences to the consumer.
"Consumers' mobile and smart devices have become the aggregators and curators of their personal, social and professional lives," says David Luttenberger, global packaging director at Mintel. He explains that in the over-the-counter category, brands are using mobile-engaged technologies to give consumers greater access to functional ingredients, drug interaction, compliance and health information.
In the US, programmes such as SmartLabel, instant ingredient information accessible via QR code and the web, is expected to be widely adopted. Luttenberger also explains that Chinese food and drinks brands are using QR codes to comply with the country's food safety law which requires full supply chain traceability.
Anti-counterfeit protection is important to consumers in China, too. Up to 70% of wine imported into China is estimated to be counterfeit and a Wine Intelligence survey of Chinese wine drinkers showed it to be one of the biggest barriers to purchase. Information about the region, producer, taste and production methods were also revealed as highly important to the consumer.
NFC innovation brings cross-industry solutions
In order to help combat potential counterfeiting issues for Ferngrove – an Australian wine company that exports more than 600,000 bottles annually to China – Thinfilm, which specialises in printed electronics, partnered with G World to produce the industry's first smart wine bottle. Using Thinfilm's OpenSense NFC technology – where the tag senses the 'sealed' or 'opened' state of the bottle – a smartphone can communicate whether the wine bottle has been tampered with since it was sealed. Once opened it offers interactive mobile content.
ThinFilm also joined forces with Evrythng – which provides a cloud-based IoT software platform – and Diageo to produce a smart Johnnie Walker whisky bottle. It enables cross-industry solutions, including brand authentication, track-and-trace monitoring and, once opened, engaging content to consumers.
Evrythng recently partnered with Avery Dennison to launch its Born Digital range of apparel products where ten billion items will be tagged with a unique software identity, each offering digital applications, experience and analytics.
"Data flowing from digital identities on the web can solve operational retail challenges, such as real-time tracking inventory and brand protection by fighting grey market traded or counterfeit products through digital authentication," explains Andy Hobsbawn, co-founder and CMO of Evrythng. "For brands, there are ample sales and marketing opportunities to use products to optimise content through digital in-store and post-purchase experience. For consumers, digitally connected clothing opens up possibilities of brand-sponsored services at events, from complimentary hospitality to special services like a happy hour taxi."
Success dependent on value to consumer
"Data flowing from digital identities on the web can solve operational retail challenges ."
Gartner predicts that the number of connected products will increase from five billion today to 21 billion by 2020, but a recent study from Mindshare's R&D lab, Huddle, found that the innovations driving IoT forward will be those that "demonstrate real value to the consumer with minimal effort on their part".
Mindshare trialled various household products,from hairspray to tortilla wraps. with NFC-powered packaging offering: recipes, additional product information, expiry notifications, tutorials and user guidance. Overall, the study found that consumers are "excited about interaction, but only on their terms".
Agreeing that mobile-engaged experiences must provide value to the consumer, Luttenberger says that they should translate "into the fulfilment of the promised value".
One of the biggest reasons he gives for the failure of the first generation of QR codes is – along with poor design and unfulfilled on-pack promises – how brands forced content on consumers that they wanted to share.
"In the early days of the internet, we simply 'surfed' the web, not really seeking anything specific," he explains. "Today, we should think of consumers as 'hunters', we are using our mobile and smart devices to hunt for something specific."
He mentions Zego's allergen-free protein bar as a good example of how QR codes can pass on value to the customer. "Consumers can have instant access to the part-per-billion of peanut, sunflower or other nut and grain-based allergens that may be present in this specific batch of Zego bars," he says. "Instant access to potentially life-saving information gives consumers a great deal of purchasing confidence."
Andrew Manly, communications director of the Active & Intelligent Packaging Industry Association (AIPIA), says that whether its NFC, RFID or QR codes being used "engaging the consumer in what these things can do for them" is the most important thing. He highlights the success of KitKat and Google's recent QR campaign where consumers are taken to one of 74 exclusive videos.
"We know people want the space in their day to escape with a small break and research shows that 36% of YouTube users will watch a video for exactly that purpose," says Andrew McIver, managing director for Nestlé Confectionery, UK & Ireland.
New QR code offers augmented reality experiences
"Instant access to potentially life-saving information gives consumers a great deal of purchasing confidence."
Helping the QR code to overcome its traditional clunky reputation, Zapper has reimagined it to create a 'zapcode'. A modern thunderbolt design facilitating fast scanning, it delivers augmented reality experiences to consumers via its content authoring platform ZapWorks. With clients including BBC Radio 1 and Coca-Cola, CEO and co-founder Casper Thykier – who was previously a board director at ad agency AMV BBDO – says their success is due to following the "three C's for success in augmented reality".
Gleaned from the company's own research from well-performing campaigns, he says they stand for "context, call to action and content". The right context includes the end-user being interested to take the time to engage; call to action means stating clearly what the user must do; and getting content right means providing an exclusive end experience that delights.
"If you get the three C's right you get great engagement and dwell time," explains Thykier. "On average with Zappar people spend around 80 seconds in a zap and repeat the zap more than three times. So AR on packaging is great for increasing frequency with your product and giving you rich data analytics, turning your physical product into a living, breathing multi-media channel you control."
One of Zappar's most successful projects was on a Scooby-Doo toy line last year where zapcodes were accessible on the exterior box and had the instructions inside," he says. "Overall we saw that over 10% of users who purchased the products went on to scan the packaging and instructions, which is pretty incredible when you think about normal redemption rates for direct marketing."
The future for mobile-engaged packaging
So what is the future for brands and mobile engagement? Manly says that while brand owners are interested in product security, traceability and stock management, the key area for them is consumer engagement. "They think this is a really exciting prospect," he says. "That why we want pack designers, manufacturers and those who make active intelligent packaging to work together and come with solutions."
Luttenberger believes mobile and smart devices will become the go-to connection point between brands and consumers. "It just makes sense, in a world where consumers crave instant information, to use mobile-engaged packaging as yet another medium by which to engage consumers on their time and their terms."