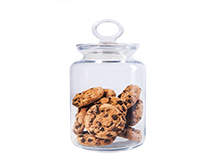 From the sheets that make up the city skyscrapers to the multicoloured sculptures that adorn fireplaces and windowsills, all over the country glass is one of the most widely used and oldest materials.
First discovered around 4000 BC, glass packaging can be used to preserve food, protect from contaminants and improve taste among many other things.
"Manufacturers have also been working hard to make lighter robust glass bottles and jars for the food and beverage industry, such as the latest lightweight Coca Cola bottle," explains Rebecca Cocking, head of container affairs at British Glass and UK spokeswoman for Friends of Glass.
"By helping reduce the amount of food waste, glass packaging also has an important role to play in reducing harmful greenhouse gases that arise from food waste sent to landfill."
We take a look at the uses of glass in the packaging industry and discuss how it can be used to preserve food and fight food waste.
Fight against food waste: using glass packaging to reduce wastage
Glass industry leaders are calling for more focus on glass in the packaging industry as a recommended material in the bid to keep food fresher longer, but what makes glass a good material for preserving food?
Cocking explains that the material's inert and highly impermeable properties make it "perfectly placed" to protect food from contaminants.
"It doesn't need additional chemical layers to protect the food and drink and a typical shelf life for glass-packaged products is 18 months, sometimes longer," says Cocking.
"For example, in 2010, 79 bottles of 200-year-old champagne were found in a shipwreck in the Baltic Sea. The champagne was perfectly preserved and entirely drinkable, with a single bottle fetching $15,000 at auction."
Glass certainly is a robust material but given the fact that there have been numerous developments in the manufacturing of green plastics recently, why would manufacturers choose glass when there are other, more advanced, materials available?
"Environmental claims are being made all the time; it can be hard to know what to trust," states Cocking. "With glass, manufacturers and consumers alike know what they're buying is endlessly and 100% recyclable, and made from raw and readily available materials."
Taste the difference: iconic brands with longevity
The presentation of a product is the first chance brands have to showcase their product so it has to look appealing, on message and stand out in a crowd.
"Glass packaging can absolutely add to an authentic, original design and look of a product. Glass says quality, longevity and style," Cocking explains.
"As well as artisan products, a number of household names still opt for products in glass too, such as Heinz Tomato Ketchup, HP Sauce and Marmite."
This was likely to be one of the many reasons that the sparkling drinks company Appletiser announced it would only be using glass packaging for the products from now on stating that "Appletiser has been available in our iconic glass bottles for many years – it seems our fans love it as much as we do."
As well as presentation, the taste of a beverage can be altered by the packaging. Sometimes there is nothing more refreshing on a hot day than a cool drink out of a glass as Friends of Glass know all too well.
"There have been blind taste tests undertaken over the years where consumers have stated products in glass taste fresher," says Cocking. "On Twitter one of the most popular posts we receive from consumers is people saying they prefer Coca Cola in glass, as it tastes better."
Packaging health risks: synthetic chemicals and consumer health
A recent report conducted by scientists in the Journal of Epidemiology and Community Health, part of the British Medical Journal group, warned that synthetic chemicals found in packaging could have a detrimental effect on consumer health in the long term.
One of the report's authors, Dr Jane Muncke, from the charitable Food Packaging Forum Foundation, writes: "Chemicals diffuse from food packaging into foods in small amounts, and in the past this was considered low risk.
"But based on recent scientific understanding we now are concerned about even low levels of hormone active chemicals, and far too little is known about the mixture effects and especially about our exposure to such chemicals at critical points in human development, such as in the womb and during early childhood."
This concern for the potential danger of packaging can also be seen in the views of the UK population as a recent survey found that 81% of UK consumers had some concern about food being contaminated by packaging. The survey also found that 72% of people in the UK believe that certain materials in food and drink packaging can be harmful to health. The glass industry states that glass is the safest packaging material to use as it has a proven history with no negative impact.
"There is clearly some concern in the UK about the issue of food contamination from certain types of packaging sources but when we look to many other European countries, they have even greater worries about this," says Cocking.
"The reasons why it's a greater concern in Europe are not entirely understood. Whatever it is, one thing that is clear is that there is a universal message across all of these countries and the UK and that is that consumers prefer glass, which is inert, as the healthiest material for food and drink.
"It's time for us to look beyond the label that tells us what's in our food and drink and also think about what our food and drink is packaged in."