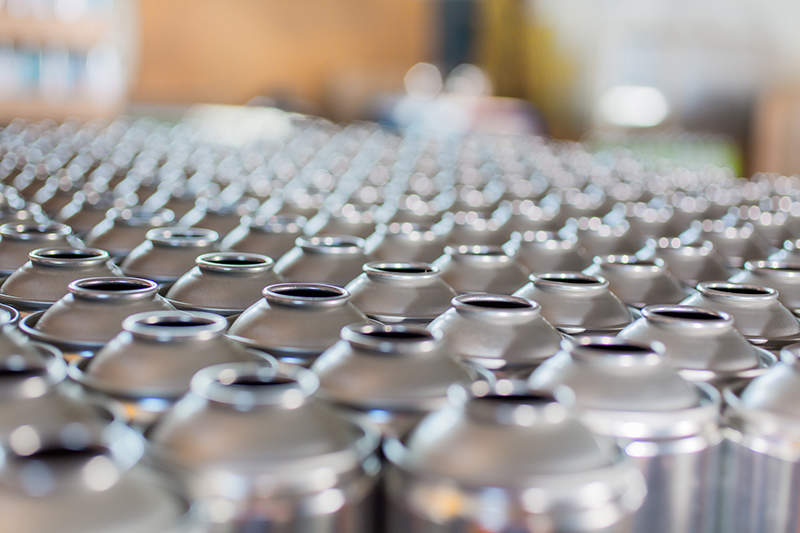 Image: Sustainability continues to be a leading issue for the aerosol industry. Photo: courtesy of Idea_Studio
---
The first aerosol ever made was the Regency Portable Fountain, a soda water dispenser patented by Englishman Charles Plinth in 1825. But aerosols resembling those we know today didn't appear until 100 years later and they weren't mass produced until the Second World War. Due to a large death toll of soldiers in the Pacific Rim caused by diseased insects, the first aerosol insecticide, the "bug bomb", was created out of necessity to protect them.
Invented by US chemist and entomologist Lyle Goodhue, this innovation gave birth to the global aerosol industry. Today insect repellents are one of the industry's market-leading products which the British Aerosol Manufacturer's Association (BAMA) reports had the biggest percentage growth in 2014 from 47% to 6.2 million cans, compared with 4.2 million in 2013.
Versatility opens up new areas
Grandview Research predicts the global aerosol propellant market will grow 4.5% to $27 billion in 2020, partly due to an increase in demand for personal care aerosol products. Sprays, gels, creams, lotions and mousses can be dispensed in a wide range of applications and it is this versatility that also allows the aerosol can to move into new areas.
"We see the potential for growth into new areas, such as food, as well as further development for products such as sun screens and after sun lotions," says Patrick Heskins, chief executive of BAMA. "The packaging available for aerosols allows full 360º usage, meaning consumers can apply products over their whole body with a continuous spray system."
Overcoming CFC removal
"The packaging available for aerosols allows full 360º usage."
Such a thriving industry might not have seemed possible thirty years ago when it was faced with the biggest challenge of its history: the removal of CFCs (chlorofluorocarbons). Used in in aerosol products as they were non-flammable and chemically stable, CFCs were found to deplete the ozone layer. The "Montreal Protocol on Substances that Deplete the Ozone Layer" was created to phase out the use of CFCs and enforced on 1 January 1989, although the UK aerosol industry stopped using them altogether that same year.
Since replaced by liquefied gases, although some aerosols are propelled by compressed gas (carbon dioxide, nitrous oxide, nitrogen and air), the industry has worked hard to innovate against public opinion that considers aerosols to be environmentally damaging.
Aluminium-saving aerosols
Another consumer barrier is the belief that aerosols are wasteful, both in terms of the product that is being applied and it being difficult to recycle. "Yet aerosols lend themselves very well to the "reduce" part of the environmental three Rs (reduce, reuse, recycle)," explains Heskins. "They have the capability to concentrate products and provide 'more for less', such as some compressed format products now on the market."
Innovations such as Unilever's compressed aerosol – where a 75ml can lasts as long as a 150ml can, and 25% less gas and aluminium is used – are appealing to consumers and reportedly reached 8 million European households in 18 months.
"This technology could not only change the face of our industry, but help protect the long-term health of our planet too," says Alan Palmer, Unilever vice-president of research and development for deodorants. "There are three billion aerosol deodorants sold every year worldwide. If they were all compressed, we could save 21,000t of aluminium, enough to build ten million bicycles."
Innovation essential to growth
"There are three billion aerosol deodorants sold every year worldwide."
As many aerosol products fall into the FMCG category, the industry is driven by consumer demand. "We have to keep moving with what consumers want," says Heskins. "Industry has to ensure the products are relevant to the consumer's lifestyle and needs, and innovation can range from new fragrances and formulations through to changes and improvements in hardware."
Paying attention to social trends is essential to growth. Heskins gives an example, explaining that a "peculiar aspect of the hipster generation" has been a small decline in the sale of shaving gels and foams. "As many young men display a more hirsute look these days they have no need for shaving preparations," he says. "But this could also be an opportunity for the industry to diversify into products such as beard oils and conditioners, as the male grooming sector proves itself to be a strong growth market."
New developments he cites as recent significant steps towards sustainability include Ball's "ReAl" project, which uses 25% recycled material to make aluminium cans that around 15% lighter than the standard aerosol can. For a 150ml and 200ml-sized can, Henkel's Fa is now considered to be the lightest can in the market. Other innovations include multi-compartment aerosols that put permanent hair dyes into a reusable dispensing system, and certain foods, such as salad dressings and chocolate mousse, becoming available in aerosol cans.
Sustainability matters
"Unless people develop and grow their roles within this sector, there will be some large losses of information, wisdom and experience."
Despite such progress, sustainability and how to achieve it continues to be the leading issue for the industry. Having originally carried out a study on The Future of Aerosols in 2001, which focused largely on technology, The Future of Aerosols 2 study was recently carried out to consider how to grow members' businesses going forward.
One of the greatest challenges was identified as the skills gap, which Heskins says needs to be "front and centre of how we develop as an industry". It was acknowledged that many graduates, particularly women, are not aware of the opportunities within the aerosol industry.
Christina Jenkyns, a technical manager in the health and beauty sector at Reabrook, says that women are outnumbered by men at conferences she attends. However, there are signs that gender imbalance in the industry is shifting slightly. "I am encouraged by the number of young women who are coming through from school and university showing an interest in the sector," she says.
In terms of skill shortages she often notices skills gaps caused by "people moving onto new pastures" or "retiring from the industry". "I think that unless people develop and grow their roles within this sector, there will be some large losses of information, wisdom and experience," she says.
Apprenticeship schemes are one of the ways companies can provide awareness and skills training to new employees and staff. Future success, however, is partly dependent on how well the government's controversial new apprenticeship levy will work. Designed to improve the quality of apprenticeships, the Office for Budget Responsibility (OBR) says it will damage wage growth and the Institute of Directors told the Financial Times it was nothing more than a "payroll tax".
The future of aerosols
More threats to the industry's growth include changing European legislation, such as REACH, which sees formulators working with a smaller number of ingredients, while natural resources become scarcer. But with the UK being the largest filler in the world after the USA and China, filling 1,509.7 million cans in 2014, Heskins remains positive for the future.
"Although quite a mature technology the aerosol package has proven very resilient and future proof," he says. "We need to encourage young people to want to have a career in the aerosol industry. Having worked for nearly 30 years with these products I know that there is a great career to be had and some great characters and professionals to learn from."