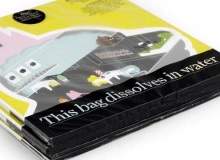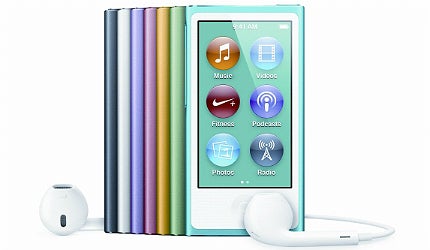 EarPods, from Apple, are now doing their bit for waste management
---
We've all heard of biodegradable packaging, designed to keep the environment clean and litter-free, but a new generation of packaging designers have gone one step further – creating materials that dissolve when placed in water.
"A new generation of packaging designers have gone one step further – creating materials that dissolve."
The packaging industry has been designing products with waste management in mind for years, but it's just beginning to churn out materials that won't just avoid the landfills – they'll disappear.
Natural materials such as starch, corn and tree pulp have been made into packing for peanuts, wrappers and containers which disintegrate almost immediately when soaked – without producing methane gas.
All that's left is a harmless residue made up of water and biomass which can be safely washed down the drain or, in some cases, consumed.
From edible coffee sachets to soluble iPod containers, Packaging-gateway.com lists some of the most innovative new dissolvable designs.
Apple's vanishing EarPod holders
While earphones were originally invented to reduce noise pollution, EarPods, from Apple, are now doing their bit for waste management. In October 2012 the new products were shipped with dissolvable holders which turn into mush when added to water. Apple has been quietly introducing this packaging into the market and hasn't confirmed what it is made of, but there have been references to "renewable tapioca paper foam" in some of its designs.
Soluble chocolate trays
All evidence of guilt-ridden chocolate eating can now be destroyed thanks to a new packaging design introduced by UK retailer Marks and Spencer. Once empty, boxes from the Swiss Chocolate Collection range can be placed on the compost heap or under a running tap. The outer layer of the container is made from Forest Stewardship Council (FSC) certified cardboard, while the mat that sits on top is made from recyclable greaseproof paper. The trays are made of plantic, a material made from starch. Plantic is ideal for composting but dissolves in a matter of minutes when soaked in water.
Harmless-Dissolve
Harmless-Dissolve does exactly what it says on the tin, or in this case, the bag. Created in the UK by Cyberpac, the packaging material was first introduced on the newsstands, with a transparent bag containing Creative Review magazine in 2009. Harmless-Dissolve is non-toxic and is degraded by micro-organisms, moulds and yeast, but can also transform into a drinkable residue when placed in hot water. After five minutes, the material becomes carbon dioxide, water and biomass. Harmless-Dissolve can also be used for biodegradable envelopes.
Dissolvable design for dentures
French-Canadian designer Simon Laliberté came third in the 'Remarkable Packaging & Alternatives' competition in Paris in 2012 with his creative toothbrush packaging. To make the denture-shaped container, the designer used paper made of a cellulose-based compound of tree pulp which can be dissolved in water in less than ten seconds. The paper is moulded into shape using PVA, which is non-toxic and 100% recyclable.
MonoSol's edible food packaging
US company MonoSol has developed water-soluble 'Vivos' film that is now being tested as edible packaging material for a number of food and drink products, including coffee, hot chocolate, pasta and oatmeal. When placed in hot water, the film, composed of a blend of food grade ingredients, floats to the surface before disappearing. The film can be consumed safely and has no smell or taste. Monosol even has plans in the pipeline to use the material to purify water.
Disappearing containers for chemicals
UK-based Solupak's soluble packing is made from rigid Polyvinyl alcohol (PVOH), a water-soluble synthetic polymer, and can be used to contain speciality chemicals, construction additives, detergents and cosmetics. Once the product inside the container is used, the consumer can choose to degrade the material in compost, in the dishwasher or even outside in the rain.
Starch peanuts
Packing for peanuts made from polystyrene create huge amounts of needless waste, but US-based Starchtech has come up with an eco-friendly solution. The company's peanut packing, made from starch, can be emptied into a large sink or bath tub and dissolved under warm water. Starchtech says the materials used in this material are not harmful to pipes and any residue left is starch and not harmful to the environment.
---
Related content
---
Sustainability has climbed packaging agendas during the last twelve months, and this trend is only set to continue.
Could printing with electronic displays or RFID usher in the next generation of packaging?
---