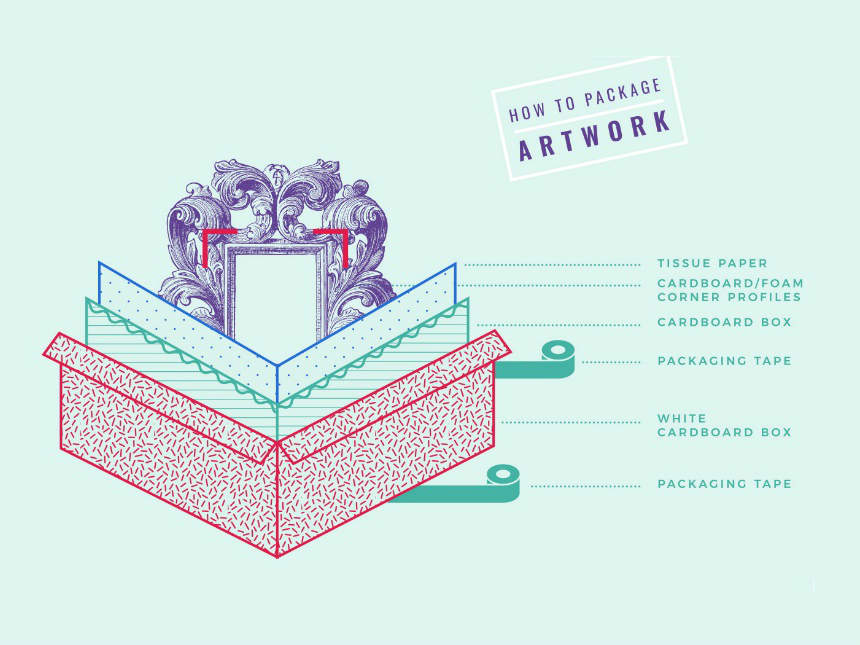 The safety of goods in transit is of vital importance. While most products can be safely buffered from harm with a layer of bubble wrap and a tightly secured cardboard box, more fragile and valuable items present a unique and problematic situation to those shipping goods across long distances.
Rajapack recently released a guide to the packaging of valuable goods, featuring advice from retailers of chandeliers, fine china, and priceless artwork. Matt Whitaker, head of internal sales and customer service at Rajapack, was able to provide insight into how the company approaches this delicate area within packaging design.
Elliot Gardner: Does Rajapack work with experts in industries that require specialist transport of fragile expensive goods? If so – how?
Matt Whitaker: Yes, we work with key companies from a wide range of industries. This means we have to find the right packaging for expensive goods in a range of sizes and shapes, from small and delicate to large and light, big and bulky to heavy items. We work with suppliers' design labs to ensure the best packaging solution is found for each company. We send the supplier a brief to work from to ensure things like cost, existing issues, and other concerns are all addressed.
We then work to find protective packaging solutions to meet individual needs. To determine the most suitable packaging, companies send us their goods in the packaging currently being used (if they have an existing method). Once received it is analysed, photographed, and a report on the condition of the packaging and item inside is produced.
The item is then passed on to our suppliers who work to find the best protective packaging for the product. This is then put through several tests, including drop, temperature, and transport tests, among others. Once the most suitable packaging is found this is then shipped back to the customer.
EG: Does Rajapack develop specialist materials and packaging for the purpose of packaging and shipping valuable goods?
MW: We work with companies within beauty, health care, aerospace, industrial manufacturing and more to help develop specialist packaging solutions to meet their needs.
The right packaging could include anything from specially printed wrapping to custom made boxes. The design lab we work with carries out a lot of analysis on each product to ensure we provide the best solutions.
EG: Any examples of bespoke goods for a particular instance?
MW: We recently had a conversation about developing something bespoke for one of our customers. Their company produces an item which has small stalks sticking out of the top, and can often fall off or are damaged in transit.
We reviewed the product and recommended the stalks first be wrapped with paper to create a solid, uniform shape for the whole item. Then, to ensure the product is well protected it should be suspended in the centre of the box – this is the safest place for any item. This can be done using void fill material – we suggested paper as this material is the best at absorbing any shocks or bumps the box may suffer.
EG: To what extent are Rajapack involved with the process?
MW: Depending on what is required, we're quite involved with the process. This could mean we are quite involved from the beginning, right through the design and modification phases, to the final delivery of the product from retailer to customer. When we receive a product, we look at cost and efficiency of shipping the product and the different benefits and purposes of various forms of protective packaging.
This process could include performing a cost analysis and working out the cost to send the product and cost to pack each box. We might look at how many products the customer is sending each day and carry out a comparison of before and after they begin using our packaging.
EG: Has the advent of online shipping led to an increase in demand for fragile goods packaging materials?
MW: Definitely. It is now normal to go online to buy all types of products from everyday items to more specialist and novelty items. This increase in ecommerce has naturally led to an increase in the postal packaging market. With so many different products needing to be shipped each day the need for relevant and appropriate protective packaging solutions is greater than ever.
EG: What advice would you give to a retailer who has to ship an especially valuable and fragile item for the first time?
MW: When deciding on packaging, work from the inside out. Don't always judge only from what you can see. If you have a wide range of products, it's important that you have multiple packaging solutions as opposed to just one. Spending extra on packaging and protection definitely saves a lot on profit loss from damaged goods in transit.
EG: What is the most valuable product shipped using Rajapack materials?
MW: I think the most expensive products we provide packaging for probably come from the aerospace industry. The packaging we use is bespoke and needs to be able to protect heavy and extremely fragile metal objects. But there could also be extremely small, light parts which are worth just as much.