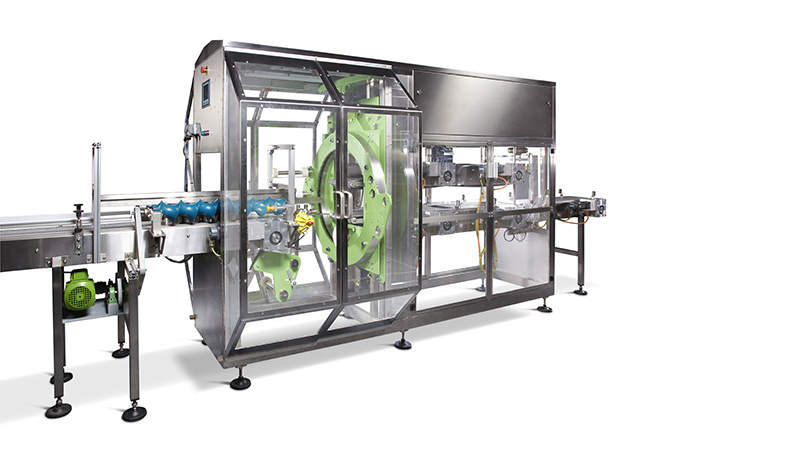 Image: Will hybrid solutions put an end to the plastics debate? Photo: courtesy of TrakRap
---
Over the past three years, the corrugate industry has reacted to the changing retail market by investing in state-of-the-art digital printing equipment, enabling it to offer innovative solutions to meet growing demand for retail ready packaging and point of sale merchandising units. Whilst corrugate has flourished, retail has undergone yet another sea change and consumer shopping habits are once again challenging the packaging supply chain. In particular, many of the retail ready packaging and other secondary packaging solutions currently available, which are suitable for large supermarkets, do not meet the differing needs of convenience stores. Add to this the ongoing challenges of meeting sustainability targets and minimising food wastage and the pressure is on once again for corrugate to react.
The corrugate packaging industry has invested almost £500 million in new technology over the last three years, a large proportion of which has been spent on improving digital printing technologies. Although the advancements in print quality have generated benefits for both producers and retailers, there is now a new set of challenges facing the sector.
Refreshing the approach to pack design
"The corrugate packaging industry has invested almost £500 million."
A key reason new printing technology has been so heavily backed, is the rise in demand for colourful and eye-catching retail-ready packaging options that provide the shelf appeal and brand exposure that brand owners are looking for, as well as reducing unpacking time and optimising the process from the back of the store to the shelf. However, changes in how, when and where consumers shop are now dictating the next stage of development in corrugate packaging design.
Busier lifestyles have seen consumers changing their buying behaviors, with more preferring to shop 'little and often' at convenience stores. It is estimated that these changes in buying behaviour will see convenience stores grow 22% to £20.2bn by 2020.
There has been plenty of discussion on the issues this creates for packaging designers, and the supply chain as a whole. With convenience stores being far smaller than supermarkets, coupled with a far greater proportion of fresh and chilled food, daily shopping and meals for tonight, this requires a completely new approach to packaging design. With less on-shelf and storeroom space, pack sizes must be greatly reduced, however with small pack designs come increased packaging costs. It is now down to designers to develop products that can deliver smaller packs which enhance the appeal of fresh foods, are lower cost, consume fewer resources, are quicker and easier to prepare for unpacking and maximise brand impact. The packaging industry must now answer the question of how can corrugate evolve once again to meet these demands?
Can hybrid solutions accomodate consumer requirements?
"Busier lifestyles have seen consumers changing their buying behaviours."
The industry is desperate for new innovations, and a cohesive and planned approach from packaging designers is essential to meet these challenges. First, they must develop a strong understanding of what retailers and consumers require; it is also essential to consider the stakeholder needs along the supply chain. Through starting from the shelf and working backwards, designers can understand each objective the pack needs to meet, including customer appeal, cost-to-sell, ease of unpacking and disposal of waste, right through to ease of erecting and filling, and of course, overall packaging cost.
Shelf space is now at a premium for retailers, with both primary and secondary packaging solutions needing to work together to provide a cohesive packaging solution. These issues have historically been addressed separately, with retail ready packaging seen as the poor relation and often as an afterthought. This must change and secondary packaging needs to be designed to maximise the impact of the primary pack on shelf, as well as being flexible enough to adapt to different formats without compromising costs and "one way stock" efficiencies. This is in addition to the speedy opening and preparation of the products for shelf and, of course, quick and easy disposal of a minimum amount of packaging.
The main barrier to the industry taking a more holistic approach to packaging design has historically been the polarisation of different packaging materials, whether it be corrugate, RPET, cartonboard or film. Blind allegiance to one material is not the answer. Although it could be argued each of these materials has worked hard to innovate, none provide a single solution to all current challenges.
Dividing opinion in the fresh food market
"Shelf space is now at a premium for retailers."
The RPET versus corrugate debate has continued to divide opinion for the last few years, particularly in the fresh and chilled food categories, and they both have their merits. RPET is better on shelf, showing the primary packaging to maximum effect and not hiding the product behind corrugate pillars. Nonetheless, corrugate is better at providing vital protection in transit. The competition between the two has lead to an improvement in both, but innovation overall has arguably stagnated. The pace of improvement is slowing and new approaches are essential. A suitable analogy would be the motor industry, which was confronted with the issue of how to increase fuel consumption whilst simultaneously reducing emissions. Initially, the two obvious options – the robust but environmentally-unfriendly internal combustion engine, or the cleaner electric motor with its underwhelming travelling performance – were the only ones widely considered. Ultimately, neither offered a satisfactory solution, manufacturers concluded that the two could actually complement each other very well and the result was the birth of the hybrid.
The same is becoming true of the secondary packaging sector, with corrugate and RPET hybrid packs proving to be effective and efficient – the properties of RPET allow excellent product visibility, whilst the corrugate ensures the pack remains strong throughout the delivery process and is easy to handle and open.
Additionally, introducing a third element in the form of thin film, cold wrap technology can enable cost reduction, make packs easier to prepare for shelves and further enhance the efficiency of the delivery system. This opens the way to providing even more flexibility in pack sizes.
By coming together, the corrugate and RPET industries have an opportunity to create a truly innovative packaging solution. With small changes already happening, a final push is now required to meet the challenges facing major food retailers and the packaging industry as a whole.