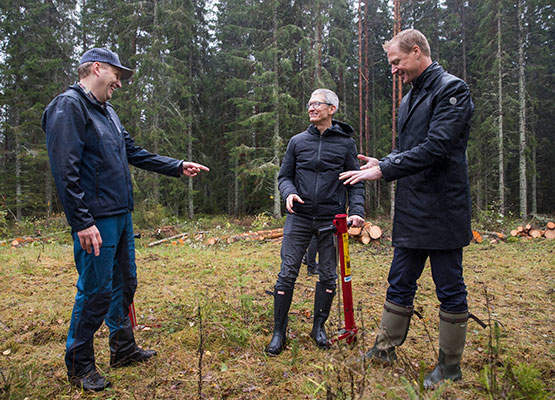 Swedish company Iggesund has worked to supply electronics giant Apple with materials for its packaging for over a decade, but the relationship between the two companies has been kept under wraps for years. That is until Apple CEO Tim Cook tweeted from Iggesund's forests in northern Sweden, naming the organisation as a partner in innovation and sustainable packaging.
Iggesund's head of sustainability Johan Granås details how the two businesses came to work together, Iggesund's sustainable practises, and what it takes to work with a company like Apple.
Elliot Gardner: Tell me more about Iggesund, and where sustainability fits in.
Johan Granås: We produce paperboard that's used as material for a number of high-end packaging applications – raw material for paper and cardboard packaging.
We have our own forest and harvest our own trees, and we have our own nurseries to replace what we use. The base goal of sustainable forestry is obvious, to make sure that you regenerate all the areas that you harvest, but that's such a given. We have been in business around 360 years, so if we hadn't replanted we'd have a serious issue with our supply of raw materials! We make sure that environmental practices are ranked as high as productivity in our agenda.
In Sweden, we are covered in forests. 76% of the land is considered forest. Trees are one of the most important natural resources that we have, and it has been that way for a long, long time. The forest industry is really the backbone of the Swedish economy, which is the reason we have the Swedish Forestry Act.
EG: How did the relationship with Apple come to be?
JG: In the early 2000s the packaging team at Apple were looking for paperboard suppliers. They were scouting around looking for material for their products, and not really finding what they were looking for. They started to look outside of their normal buying patterns, and found this paperboard from Europe – our paperboard. We existed in the US market at the time, but we were nowhere near as big as we are now.
The story goes that a number of different samples were put in front of Steve Jobs, and together with his packaging team, he pointed at our paperboard and said, "That's the one."
I think the main influencing factors at the time were the features and shade of the product rather than sustainability.  But if you think about Apple in 2003 and Apple today, it's a very different company. They've been on an enormous journey in terms of sustainability, and it's been a big factor in developing our relationship.
EG: How involved is Apple in the sustainability of its products?
JG: They are very keen on being involved – they want to know precisely what they're buying. They follow up with us on how we take care of different aspects of the sustainability in our business. In terms of water usage, of sourcing of materials, and of course the manufacturing. We have had many visits from Apple personnel, both to learn as well as to ensure that we live up to their standards.
EG: Is a higher level of quality required for such a famous client?
JG: Absolutely. They are buying what we consider to be the best product of its kind in the world and Apple wants to make sure that that is the case. So there is a lot of work that goes into ensuring we live up to their standards and our own, of course.
EG: Why was the relationship with Apple kept secret for so long?
JG: Well from our standpoint it's simple – because Apple told us to keep it quiet! They are concerned that people are piggybacking off their brand, so they don't want to be associated with a lot of products publicly. At some point they changed their mind in terms of Iggesund. I guess they decided, "It's okay to be associated with these guys."
And at the end of the day, it's difficult to keep it a secret when Tim Cook is tweeting from the Iggesund mill!
EG: Is working with Apple a matter of pride for your company? How did people react when you could finally reveal the partnership?
JG: Of course – we have been working with Apple for a long, long time, and everyone here at the mill knows that Apple has been a big customer. Not being able to say that is of course frustrating. So when we are recognised in this way, when they send their CEO over here to visit, that gives us a lot of pride.
A lot of people felt that finally we could stand tall. For people in the mill, and for people here in the community, it has meant a lot. They are the guys that are working day by day to make sure that the product is as good as it can be. I think it meant a lot to see Tim Cook and his entourage walking through the mill.