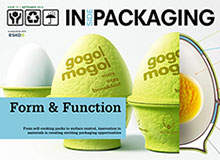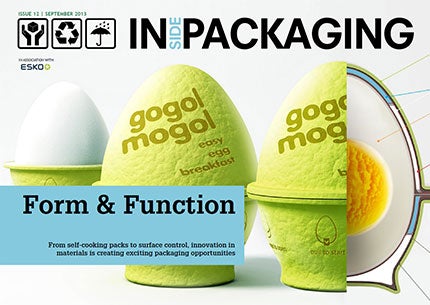 Easy-glide materials already offer the benefits of ketchup that doesn't stick in the bottle, but what if packaging could be tuned to more specific needs? We find out how new adaptive materials could transform surface control packaging.
We also look at the role packaging has played in growing craft beer brands, and look at new concepts for functional packaging. Moreover, we find out how retailers are meeting their sustainability targets through material choice.
Click here to read your free copy.
In this issue
In Search of the Perfect Package
Marks & Spencer launched Plan A in 2007 with the eventual goal of becoming the world's most sustainable major retailer. Group packaging technologist Simon Oxley explains how this has influenced decisions. Click here to read the full article.
The Forest in a Package
Every day companies develop new ways to make packaging more sustainable, but have they ever thought of making a pack that grows back? We find out more about renewability and sustainable packaging.Click here to read the full article.
From Form to Function
KIAN's packaging of the future not only protects and preserves food, but does the cooking too. We learn about its Gogol mogol concept, which takes functional packaging to the next level.Click here to read the full article.
Going With the Flow
With easy-glide materials already preventing ketchup from sticking in the bottle, we learn how the next generation of adaptive materials could transform surface control packaging.Click here to read the full article.
Tried & Tested
The regulations governing the use of food contact material are complex and once again in the process of changing. We ask Nadine Thomis of Intertek's business consultant regulatory services about testing and compliance in Europe.Click here to read the full article.
Crafting Innovation
With craft beer booming in the US and Canada, we ask North American brewers and designers about the importance of eye-catching labelling techniques and the right marketing.Click here to read the full article.
Next Issue: November 2013
Waitrose LOVE life has designed a colourful packaging brand that helps consumers lead healthier lives. In the next issue we look at how the brand, and its packaging, came to life. We also investigate the challenge in finding the right balance in repackaging heritage brands.
We also find out why an online presence is a vital element of packaging campaigns, discuss the future of personalised packaging and look at how the story behind a premium tequila brand influenced the packaging. Moreover, we investigate how to maintain brand consistency in a competitive retail environment.
Register today to get future issues of the magazine delivered to your inbox for free.
Digital magazine FAQ
Inside Packaging is a digital magazine for the packaging industry. Published bi-monthly, this innovative publication offers in-depth coverage of the packaging industry in an exciting interactive format with animation and video content.
The digital magazine is viewable on any computer with Flash Player installed. It is also viewable on mobile devices, iPhones and iPads, although some features and videos may be disabled.