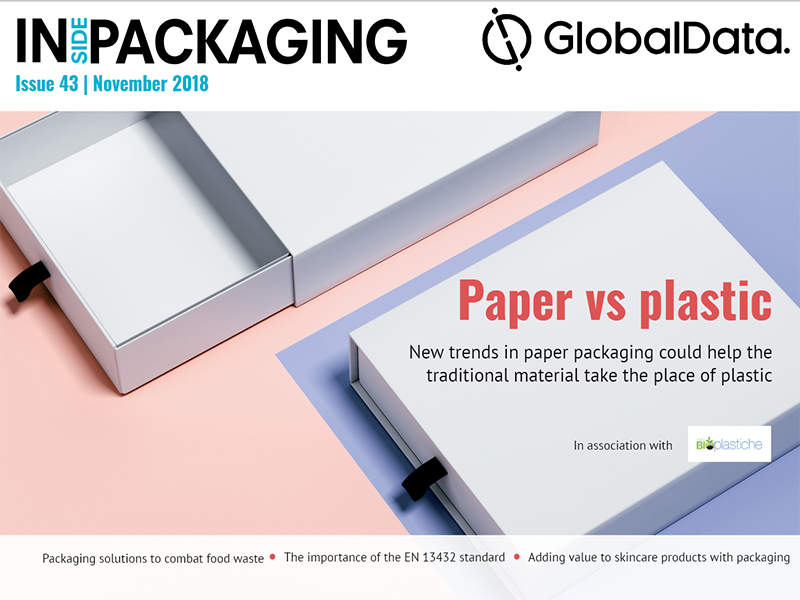 Inside Packaging is now available across all digital devices. You can also continue to read your free copy in our web viewer.
In this issue of Inside Packaging, we find out how we can maximise paper's potential to combat plastic use, explore how sustainable packaging solutions can help cut down on food waste, and hear from Assobioplastiche about the importance of the EN 13432 standard.
We also examine the role of labelling regulations in the recent Pret a Manger inquest, take a look at how packaging can add value to the skincare sector, and examine whether paper bags are likely to outright replace plastic anytime soon.
Finally, we ask whether the world is ready for more biodegradable packaging, investigate the impact of China's ban on plastic waste importation, and profile an alternative to flexible plastic.
In this issue 
Alternative materials in the plastic war: maximising paper's potential 
Paper packaging ticks a lot of boxes; it's recyclable, renewable and attractive. Emma-Jane Batey speaks to suppliers, brand-owners and packaging manufacturers about how the latest trends in paper packaging are maximising this old, but still relevant, material.
Click here to read more.
Combating food waste through packaging: new sustainable solutions
Food waste continues to be a significant issue for the industry in spite of pushes for sustainability. What are manufacturers doing to cut down on excessive packs and how they are incorporating waste management solutions? Sonia Sharma profiles what new solutions are on offer.
Click here to read more. 
Bioplastics: The importance of EN 13432 standard
As sustainability continues to drive innovation in packaging, the importance of conforming to regulatory standards has only become more important. Assobioplastiche lays out why the EN 13432 standard is one to pay attention to and what it means for packaging.
Click here to read more.
Pret a Manger's allergy incidents: a sign of lacking labelling regulation?
Following the allergy related death of a Pret a Manger customer in 2016, an inquest has found that six related cases of allergic reactions had been logged in the year prior. Callum Tyndall asks whether the company did enough to warn of allergens, and what role UK labelling regulation played in the case.
Click here to read more. 
Adding value to the skincare sector with packaging
Used almost everywhere, skincare products are an important and intimate part of people's lives. As such, competition in the sector to provide for consumers on multiple levels is high. Using research from GlobalData, Callum Tyndall examines opportunities for packaging in the skincare sector.
Click here to read more.
Paper beats plastic: the shopping bag comes full circle
The plastic shopping bag, the hated urban tumbleweed of modern life, has had a bad time recently. Its days are numbered. With Mumbai joining England in raising prices on plastic shopping bags, GlobalData asks, is a renaissance of consumer baskets and paper packaging on the horizon for everyday shoppers?
Click here to read more.
Is the world ready for more biodegradable packaging?
The University of Warwick has found a new type of biodegradable plastic that can be tossed out with food scraps. Known as lignin, it is made from tree glue. GlobalData examines what it could mean for the packaging industry.
Click here to read more.
China's door slam on plastic waste adds urgency to the 'war on plastic'
In January 2018, China initiated the biggest change in plastic recycling in history by effectively banned the importation of over 20 kinds of foreign waste – including plastic – as part of an initiative to focus on its own domestically-produced waste. GlobalData explores what the move could mean.
Click here to read more.
Plastic-free and paper-based: a Troo alternative to flexible plastic
Consumers are becoming more aware of packaging's environmental impact and there is a growing expectation that it should be sustainable, kept to a minimum and easily recyclable. Troo Foods followed these unwritten rules when repackaging its granola cereals in plastic-free, paper-based pouches. GlobalData examines the results.
Click here to read more. 
Next issue preview
In the next issue of Inside Packaging we look at whether the industry is matching up to consumer demand for sustainability, explore how new techniques and technology are elevating the sensory appeal of cosmetics packaging, and discover how Tetra Pak is preparing for Industry 4.0.
We also examine the opportunities available for packaging manufacturers in the make-up sector, find out if compostable materials could be the future for snack packaging, and explore how supermarkets need to take the lead in the war on plastic.
Finally, we profile the unique packaging design of an on-the-go hair colour 'chalk', and look at how consumer desire to use less plastic is driving reusable water bottle sales.