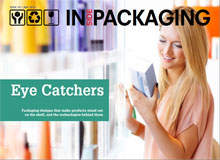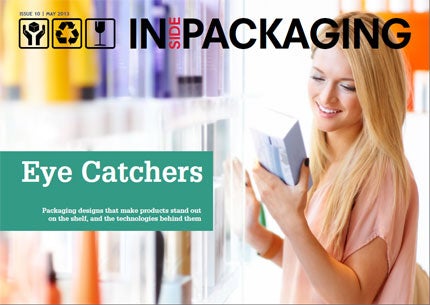 From food and drinks to personal care, the look of packaging matters for every brand. In this issue we find out how design strategies such as visioneering aim to maximise a product's appeal to the consumer, and ask how designers are using their understanding of consumers' needs to appeal to the growing male grooming market.
We also explore the challenges and pitfalls of design overhauls, look at the cutting-edge technologies behind today's most innovative packaging designs, and find out how the latest design software helps to maintain colour integrity from the initial concept on a computer screen to the prototype. Finally, we investigate what the spread of plain packaging legislation could mean for tobacco companies' branding strategies.
Click here to read your free copy
In this issue
From Brand to Consumer
Creative packaging designs can help maximise a product's appeal to potential consumers. Inside Packaging finds out how design-led strategy visioneering combined with a human-centred design approach can meet a brand's wider objectives.
Click here to read the full article.
True Colours
Managing colour integrity across the entire workflow has long been the Holy Grail for the packaging sector. Three industry experts explain how PantoneLIVE software may finally have made it a reality.
Click here to read the full article.
Capturing the Imagination
As packaging design and technology becomes more intelligent and interactive, consumers and manufacturers are being offered unique and longer lasting experiences.
Click here to read the full article.
Dressed to Impress
The increasing popularity of personal grooming products for men means that packaging is becoming ever-more innovative. What are the specific challenges associated with this eclectic market?
Click here to read the full article.
Keeping it Fresh
Brands are refreshing their designs more than ever, but a successful overhaul is tricky to achieve. Inside Packaging explores re-designs that have worked and finds out how to avoid the pitfalls of a failed campaign.
Click here to read the full article.
The Art of Anti-Design
The Australian plain cigarette pack received a nod from the Design of the Year awards recently. What could the spread of plain packaging legislation mean for tobacco companie's branding strategies?
Click here to read the full article.
Next issue: July 2013
Augmented reality is making packaging more interactive – from a celebrity that sings when a smartphone is pointed at a drinks bottle to additional information that pops up when you buy. We explore the opportunities the technology offers to brand owners, and also find out how a new sound switch can be embedded in packaging to play pre-recorded sounds.
Moreover, we profile a thermoformable film that extends the shelf-life of meat, look at emerging in-mould labeling technologies, and find out how smart pharmaceutical packaging addresses the issues of compliance, sustainability and user-friendly handling.
Register today to get future issues of the magazine delivered to your inbox for free.
Digital magazine FAQ
Inside Packaging is a digital magazine for the packaging industry. Published bi-monthly, this innovative publication offers in-depth coverage of the packaging industry in an exciting interactive format with animation and video content.
The digital magazine is viewable on any computer with Flash Player installed. It is also viewable on mobile devices, iPhones and iPads, although some features and videos may be disabled.