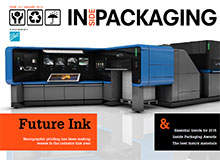 Since the packaging industry is constantly changing and evolving as it adapts to new materials and designs, Inside Packaging Magazine makes it a priority to be one step ahead of the latest trends and techniques. As part of our new series, our latest edition profiles the first of four major trends for 2015 as identified by the experts.
As new technologies play a vital role in shaping the industry, we take a deeper look into the world of nanographic printing and its future applications for packaging and ask how innovative packaging can play a role in attracting consumers to products in an online shopping environment.
Click here to read your free copy.
In this issue
Ones to WatchTo recognise outstanding achievements in packaging technology, we are proud to reveal the winners of the inaugural Inside Packaging Awards.Click here to read the full article.
Trends for 2015: Raw LuxuryAcross the world, next year's packaging is already being designed. In the first of four features, Lucy Ingham speaks to Laura Perryman of Global Color Research about 2015's packaging trends.Click here to read the full article.
The Luxury LowdownThe right material is crucial in adding a premium feel to luxury products. Frances Marcellin chats to the experts to reveal industry secrets on luxury packaging.Click here to read the full article.
The Eco-friendly CartocanThe cylindrical, carton board alternative to the aluminium and PET can is the first of its kind. Frances Marcellin caught up with Ewald Gallob, Ennstal Milch's head of marketing and sales, to learn more.Click here to read the full article.
The Nano RevolutionNanographic printing has been making waves in the industry in 2013. Charlotte Richardson Andrews asks Gerry Mulvaney of Landa how nanography evolved, how it fits in amongst current print technologies and what lies ahead.Click here to read the full article.
Smart SolutionsA new development in active closure technology has led to a 100% spill proof smart closure system for non-carbonated beverages. Stephanie Phillips profiles this intriguing technology.Click here to read the full article.
Mature MarketingIn five years' time, adults over 65 will outnumber children under five. Canadean research manager, Emma Herbert, tells Charlotte Richardson Andrews how packaging can be tailored for this market.Click here to read the full article.
Online Appeal
Packaging plays a significant role in drawing consumers to products in store but what happens when they shop online? Stephanie Phillips looks at the role of packaging in the digital environment.
Click here to read the full article.
Next Issue: March 2014
The gluten-free market is growing as more and more consumers discover the benefits of a healthy diet. Many brands are looking to packaging to make free-from products appeal to all consumers. In the next issue, we profile brands that are using eye-catching branding to escape the clinical aesthetic traditionally associated with free-from products.
Packaging waste is a major problem in society today with the efficient disposal of plastic waste a particular issue. We look at how GreenBottle's paper bottles, a new environmentally friendly type of liquid packaging, could replace plastic in drinks packaging.
Register today to get future issues of the magazine delivered to your inbox for free.
Digital magazine FAQ
Inside Packaging is a digital magazine for the packaging industry. Published bi-monthly, this innovative publication offers in-depth coverage of the packaging industry in an exciting interactive format with animation and video content.
The digital magazine is viewable on any computer with Flash Player installed. It is also viewable on mobile devices, iPhones and iPads, although some features and videos may be disabled.
Read the latest issue here.