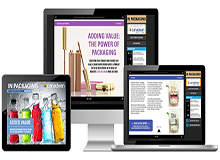 Inside Packaging is now free for the iPad. Download our app to read the latest issue and browse our back issues for free.
Welcome to this year's first special issue of Inside Packaging, bringing you the latest insights from the global packaging industry from research specialist Canadean.
In this issue we explore how increased investment in research and development may lead to a race to develop ever more unique and novel pack designs, examine the rise of drinks bottles with built-in dispenser functions,
and find out what makes a consumer-friendly pack for car shampoo from Germany stand out on the shelves.
Plus, we find out what visitors can expect from this year's Canadean Beverage Packaging Conference in Brussels, explore a new tea pouch concept that combines gourmet products with the convenience of takeaway packaging, and explore how increased demand for on-the-go beauty products is driving innovation in cosmetics packaging.
Read the issue for free on your iPad through our app, or if you're on a desktop computer you can also read it in our web viewer.
In this issue
Investment Trends
Packaging companies are set to invest heavily in Research and Development to 2021, but data analytics risks losing out, according to Canadean.
The Wow Factor Drinks bottles with built-in dispenser functions that release a small 'burst' of nutrients or flavour are currently on the rise. Canadean explores one brand's focus on functional drinks packaging.
Creative Closures
A stylish, consumer-friendly pack for car shampoo from Germany ensures differentiation on the retail shelf and simplicity of use. Canadean takes a look at this innovative product.
Beverage Packaging Conference 2016
The Canadean Beverage Packaging Conference brings together non – alcoholic and alcoholic brands under one roof to discuss the latest packaging trends and share experiences.
Luxury Meets Convenience
Gourmet teas in pouches will appeal to busy consumers craving quality hot drinks, according to new research from Canadean.
Adding Value: The Power of Packaging
Identifying pack formats and features that make a brand worth paying more is a primary factor of development in the Make-Up industry. Eloise McLennan finds out more.
Next issue preview
In the next issue, out in September, we find out how SmartDrink's capsules are bringing bar-type cocktails to the home, explore how packaging manufacturers are reacting to the rise in snacking and sharing in the food sector, and learn how brands can use packaging to gain consumer trust.
We also take a look at on-the-go convenience packs that are carving out a new niche in the hot drinks market, ask how consumers' changing lifestyles are driving demand and consumption opportunities for confectionery products, and find out how alcohol brands are using the power of the label to sell products in store.
Digital magazine FAQ
You can read Inside Packaging for free on the iPad. Download our app from Newsstand to read the latest issue and browse the back issues in our archive. Sign up for a free subscription in the app and never miss a new issue.
You can also continue to read the desktop version for free on our web viewer. (Browser compatibility: The web viewer works in the latest two version of Chrome, Firefox and Safari, as well as in Internet Explorer 9 and 10. Some features may not be compatible with older browser versions.)