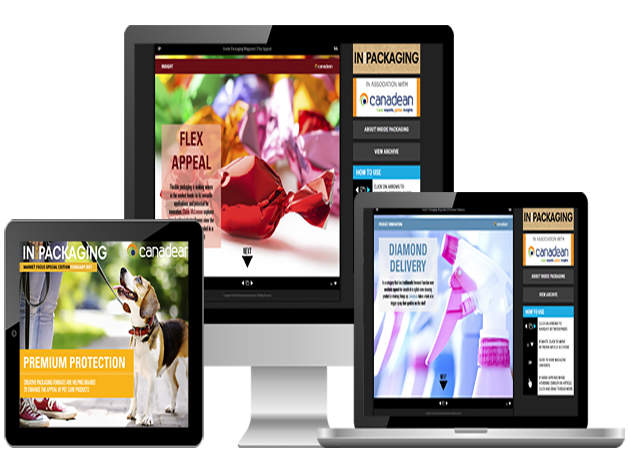 Inside Packaging is now free for the iPad. Download our app to read the latest issue and browse our back issues for free.
As the first point of contact for many consumers, packaging plays an important role in establishing a perception of high-quality that justifies a premium price point. Based on recent analysis from Canadean , we explore how a new wave of adventurous female consumers is creating a demand for rugged products that shun traditional gender targeting stereotypes and gain insight from leading figures in the industry into the opportunities and challenges facing flexible packaging.
Also in this issue, we examine how packaging can help brands to tap into the emotional connection between pet-owners and their animals and take a look at an easy-to-use, multifunctional cosmetic pack that can help consumers to simplify their busy morning routine.
In other news from Canadean, we explore a novel packaging design in Japan which disguises furikake seasoning in a pack format shaped like a writing pen and examine the sparkling aesthetic appeal of a new trigger spray pack
Read the issue for free on your iPad through our app, or if you're on a desktop computer you can also read it in our web viewer.
In this issue
Redefining Rugged
As consumer attitudes towards gender roles evolve traditional methods of targeting female consumers have become outdated. Canadean explores how adventurous female consumers provide major opportunity for targeted branding.
Read the article.
Flex Appeal
Flexible packaging is making waves in the market thanks to its versatile applications and potential for innovation. Eloise McLennan explores how leading industry figures view the future of the format, as revealed in a recent Canadean report.
Read the article.
Premium Pet Care
The pet product market is going through a makeover as animal needs become more apparent. Eloise McLennan explores the ways the brands can use packaging to add value to pet products identified by Canadean.
Read the article.
Cosmetic Convenience
Under pressure to keep to increasingly busy schedules, cosmetics consumers are seeking out time-saving products that make their morning routines a little less stressful. Canadean examines a two-in-one pack design that conceals a handy trick for application on-the-go.
Read the article.
Seasoned; not Stirred
Disguising devices as everyday household objects may sound like the plot of a spy novel; however, an innovative packaging format in Japan brings the novelty of concealed gadgets to life. Canadean explores a new seasoning dispenser that James Bond would be proud of.
Read the article.
Diamond Delivery
In a category that has traditionally favoured function over aesthetic appeal the launch of a stylish new cleaning product is shaking things up. Canadean takes a look at a trigger spray that sparkles on the shelf.
Read the article.
Next issue preview: April 2017
In the next issue we find out how industry executives view business priorities and investment decisions within the global packaging industry, examine a gourmet tea pack that is ideal for sharing and explore how pack formats used for Eau Ecarlate Javel Dose bleach tablets could inspire cross-category innovation.
Plus, we take a closer look at a pack format currently used for Henkel 's Persil Perfect Dose laundry detergent, find out how packaging can add value to sauces and dressings and examine an attention-grabbing foam face wash soap that is dispensed in the shape of a rose.
Digital magazine FAQ
You can read Inside Packaging for free on the iPad. Download our app from the app store to read the latest issue, or any issue from our archive. You can also continue to read your free copy in our web viewer. Sign up for a free subscription in the app and never miss a new issue.
You can also continue to read the desktop version for free on our web viewer. (Browser compatibility: The web viewer works in the latest two version of Chrome, Firefox and Safari, as well as in Internet Explorer 9 and 10. Some features may not be compatible with older browser versions.)
About Canadean
Canadean is a research specialist providing unique and market leading data and insights into the international soft drink and alcoholic beverage industries. With in-depth analysis and a highly detailed database at your fingertips, the Canadean Intelligence Center enables you to make informed and strategic decisions for your organisation in an ever-changing and highly competitive market. Canadean's coverage is unrivalled in its depth, geographic scope and local insights. Find out more on www.canadean.com