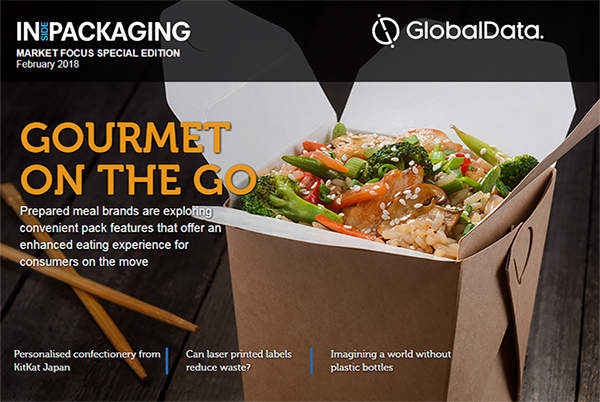 Inside Packaging Market Focus is now free across all digital devices, bringing you the latest in-depth analysis from GlobalData. You can also continue to read your free copy in our web viewer.
For busy consumers, innovative packaging features that help make it easier to prepare or use products can stand out against brands using more traditional formats. By observing and analysing the needs of modern consumers, manufacturers can identify ways that packaging can be used to benefit these time-poor consumers. In this issue, we take a look at a personalised souvenir vending machine launched by KitKat Japan, which helps consumers to find the ideal offering to take home as a memento and investigate consumer attentiveness to marketing claims on FMCG products.
Also in this issue, we explore the appeal of the Shufangzhai-branded self-heating instant mini-hotpot, an on-the-go solution claimed to be ready in 15 minutes once the user adds cold water and find out how an innovative refillable bottle trial by Coca-Cola could signal the end of plastic bottles.
In other news from GlobalData, we examine British retailer Marks and Spencer's plan to replace sticker labelling for its avocados with laser-printing in a bid to reduce waste and find out how manufacturers of prepared meals are using creative packaging features and formats to respond to the existing and future needs of consumers.
In this issue
Kitkat Japan Unveils Personalised Souvenir Vending Machine For many visitors to Japan, souvenir shopping means getting their hands on a Kit Kat. But with more than 300 varieties to choose from, finding the ideal memento can be an arduous task. That may be about to change thanks to the Travel Memories Kit Kat. GlobalData takes a look at how the unique vending machine adds a personal touch to purchases. Read the article.
Consumer Attentiveness to Marketing Claims As shoppers continue to pay heightened attention to ingredient and manufacturing information, manufacturers are using marketing claims across a variety of streams to target key consumer trends and preferences. Looking at the latest consumer survey data from GlobalData, we investigate how shoppers view marketing claims across different channels, from on-pack information to print press and TV advertising. Read the article.
A Hot Pot in the Middle of the Jungle Hunger can strike unexpectedly: on the road, on the train, even in the middle of a trip to the jungle. To help consumers tackle unexpected hunger pangs, Chengdu Weilan Enterprise Marketing from China has developed a useful solution. GlobalData explores the functional features of the self-heating pack format. Read the article.
Does Coca-Cola's Refillable Trial Finally Signal the End of Plastic Bottles? Imagine a world without plastic bottles. You carry around a refillable micro-chipped bottle, top-up your account, and then redeem refills when thirsty at strategically placed beverage dispensers. That is how Coca-Cola sees the world buying beverages in the future, if its innovative new trial is anything to go by. GlobalData finds out more. Read the article.
M&S is set to use Lasers to Label its Avocados, but will it be Fruitful? British retailer Marks and Spencer (M&S) is replacing sticker labelling for its avocados with laser-printing in a bid to reduce waste. GlobalData takes a look at the venture. Read the article
Adding Value through Packaging: Prepared Meals Prepared meals is a very popular and constantly developing category of products, open to all sorts of innovations. Using research from GlobalData, Eloise McLennan explores developments in convenient new packaging solutions and formats that facilitate quick preparation. Read the article.
Next issue preview: May 2018
Based on recent analysis from GlobalData, we explore whether plain packaging is an efficient deterrent following rumours about possible calls to introduce plain packaging in the food and drinks industry, examine packaging innovations that are reshaping consumer perceptions of brands and products, and take a look at Fleck Weg! Push & Wipe stain removal wipes, which are packaged in handy individual pods.
Plus, we investigate the appeal of personalisation in food and drink packaging, examine a new dessert packaged in a tube similar to those used for toothpaste and personal care products, and find out how packaging can add value to toiletries and hygiene products.
About GlobalData
GlobalData is a research specialist providing unique and market leading data and insights into the international soft drink and alcoholic beverage industries. With in-depth analysis and a highly detailed database at your fingertips, the GlobalData Intelligence Centre enables you to make informed and strategic decisions for your organisation in an ever-changing and highly competitive market. GlobalData's coverage is unrivalled in its depth, geographic scope and local insights. Find out more on www.GlobalData.com