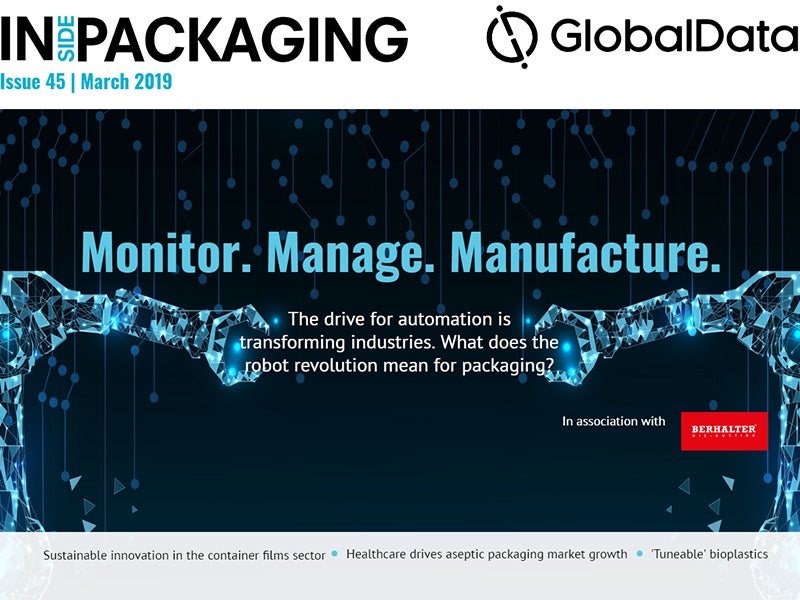 Inside Packaging is now available across all digital devices. You can also continue to read your free copy in our web viewer.
In this issue of Inside Packaging, we find out how container films are having to rapidly innovate to provide environmentally friendly alternatives, examine the state of robotics in food and beverage packing, and explore the growth of the aseptic packaging sector on the back of healthcare demands.
We also talk to Teysha Technologies about its tuneable bioplastics, discover how packaging can help snack products stand out in a crowded market, and learn about a new plastic lid that is more easily detected by recycling systems.
Plus, we look into the increased activism of younger consumers when it comes to environmental concerns, ask if packaged beverage makers can break their addiction to plastic, and profile a lipstick using recycled cork and grass in its packaging.
In this issue 
Breaking barriers: sustainably innovating in the container films sector
As the demand for the industry to increase sustainability efforts continues, typically plastic products such as container films are having to rapidly innovate to provide environmentally friendly alternatives. Callum Tyndall finds out more.
Click here to read more.
A helping hand: how is robotics improving food and beverage packing?
Robotic technologies have proved their place in helping to keep food and beverages safe. In no small part, this has been due to their ability to monitor and manage the packing stages of manufacture. Joe Baker investigates the trends that have fuelled the robot revolution and how packaging might be further automated in the future.
Click here to read more.
Keep it clean: aseptic packaging rises on the back of healthcare demands
Predicted to exceed a value of $70bn by 2024, the aseptic packaging market is seeing increasing demand. With a particular boost from the healthcare industry, Callum Tyndall explores what the sector has to offer and what's behind its growth.
Click here to read more.
Could Teysha's tuneable bioplastic change the packaging industry?
Teysha Technologies has launched a new technology platform capable of producing eco-friendly bioplastics that can be chemically 'tuned' to meet specific requirements. Joe Baker talks to Teysha's head of research, Dr Ashlee Jahnke, about the implications of the company's breakthrough.
Click here to read more. 
A new era for labelling: transitioning into a digital age
Digitisation continues to transform industries, but, within packaging, labelling may be one of the areas most set to benefit. Ken Moir, vice president of marketing at NiceLabel, explains how labelling is changing and the challenges it faces going forward.
Click here to read more.
Standing out from the pack: bringing new functionality to the snack sector
With a huge and varied selection of savoury snack products on the retail shelf, it can be difficult for brand owners to offer something unique to consumers. Packaging is a key element that can provide differentiation and important added-value benefits. Using research from GlobalData, Callum Tyndall finds out more.
Click here to read more.
Green is the new black: shining a light on plastic's recyclability
The black plastic commonly used for convenience and on-the-go food has various advantages but one big downside: it is not recognised by recycling systems. This is set to change, however, as The Collective Dairy UK has recently introduced new "green" yogurt tub lids that can now be detected by recycling equipment. GlobalData investigates.
Click here to read more.
Changing consumer habits: younger shoppers want more environmental retailers
The level to which young people are changing their consumption habits in response to environmental concerns demands that retailers do more to show that their values are aligned. GlobalData explores how consumers are becoming more activist.
Click here to read more.
Breaking the habit: packaged beverage makers and their plastic addiction
Packaged beverage makers have developed an addiction to polyethylene terephthalate, an indestructible plastic that currently accounts for over 70% of all drink packages in markets like the UK, but also constitutes a disproportionate share of solid waste fouling the world's oceans and shores. GlobalData asks, can the addiction be broken?
Click here to read more.
Making use of the 'green' effect: a cork lipstick in a grassy pack
In the face of the growing sustainability movement, almost every packaged goods manufacturer is aiming to be more eco-friendly. A new lip balm from Kneipp uses the "green" effect to add a point of difference in a busy category and improve the positioning of the "100% natural" product. GlobalData profiles the balm.
Click here to read more. 
Next issue preview
In the next issue of Inside Packaging we examine how digitalisation is causing the supply chain to evolve, investigate what the can format offers manufacturers and whether it is as sustainable as claimed, and roundup some of the most prominent sustainable materials.
We also provide an introduction to the circular economy, speak to some of the people involved in the waste-free shopping platform Loop to learn more about the project, and learn how ocean plastic can be reclaimed and put to better use.
Plus, additional insight and analysis from GlobalData.