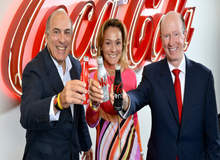 US-based Coca-Cola Enterprises created a new entity, Coca-Cola European Partners, after merging with Coca-Cola Iberian Partners and Coca-Cola Erfrischungsgetränke.
The new entity will be the world's largest independent Coca-Cola bottler in terms of net sales, and serve more than 300 million consumers across Western Europe.
Coca-Cola European Partners recorded pro forma 2015 net sales of around €11bn, and pro forma 2015 earnings before interest, taxes, depreciation and amortisation (EBITDA) of nearly €1bn.
US-based Dow Packaging and Specialty Plastics collaborated with Ring Container Technologies to licence PacXpert technologies.
Ring Container manufactures polyethylene terephthalate (PET) and high-density polyethylene (HDPE) plastic containers.
Dow Chemical trademarked the PacXpert packaging technology, which can be used across various household, institutional and industrial applications for food, condiments, liquids and dry goods.
Swedish pulp and paper manufacturer BillerudKorsnäs and Bosch Packaging Technology developed a sealed paper packaging solution for dry foods.
The solution is designed to replace traditional dry foods containers with all-paper packaging produced on vertical form, fill and seal (VFFS) lines.
Brand owners will be able to reduce their environmental footprint with the new packaging, which is renewable, recyclable, biodegradable, dust-tight and insect-proof.
Contract packer and container glass manufacturer Encirc was selected by wine producer Australian Vintage (AVL) to become its exclusive UK bottler.
The multi-year agreement between the companies builds on a six-year successful partnership.
Last year, Encirc packed over 12.5 million litres of wine for AVL across a number of lines, including several McGuigan sub-brands.
The European Commission (EC) approved US-based Ball's proposed $4.96bn acquisition of Britain's beverage-can maker Rexam.
Ball provides new and sustainable packaging solutions for beverage, food, and household products, while
UK's Rexam manufactures beverage cans for various brands.
US-based BluWrap provided its patented oxygen management technology to pack fresh pork being shipped from Ringsted, Denmark to Melbourne, Australia.
Said to eliminate the need for freezing or vacuum packaging, the technology maintained a controlled environment for the pork, which was in transit for 56 days.
The test was part of the BluWrap's ongoing research and development with pork, following requests from Chinese and Japanese customers for shipments of fresh pork from foreign suppliers.
Finland-based Metsä Board planned to launch polyethylene (PE) coated paperboards for the consumer goods, retail-ready and food service packaging sectors.
The paperboards will be produced on a new extrusion line, which will become operational in early 2017 and offer a PE coating capacity of around 100,000t per year.
PE is the most common barrier used against moisture and grease for food packaging.
US-based Sun Chemical opened a new facility to produce solvent-based inks in Aliaga, Turkey, with an investment of $30m.
A member of DIC group, Sun Chemical produces printing inks and coatings, as well as supplies pigments, polymers, liquid and solid compounds, and application materials.
Employing more than 90 staff, the new 50,000m² facility will fulfil the growing demand for solvent-based flexible packaging solutions in Turkey and the Middle East.
Global rigid plastic film manufacturer Klöckner Pentaplast planned to invest in a new laminated pharmaceutical film capacity at its site in Montabaur, Germany.
This plan was expected to expand its high-barrier film lamination and coating capacities.
As part of the expansion, the company will install a new system to produce Aclar-laminated pharmaceutical films at its Montabaur site, which currently provides kp film range for various industries.
Italy's Toscotec will rebuild the dryer section of Smurfit Kappa Papelsa's PM 1 located at the Barbosa mill in Colombia.
Smurfit Kappa Group (SKG) provides paper-based packaging solutions, with around 45,000 employees across 370 sites in 34 countries. It is present in 21 European countries and 13 in the Americas.
The company aimed to improve efficiency with the rebuild, as well as increase operating speeds. It also aimed to improve reel gross production to more than 40%.