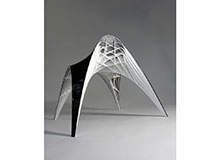 A growing area: 3D printing logistics
Although the technology sounds futuristic, 3D printing is quite similar to inkjet document printing. Adam Smith, technical manager at packaging manufacturer Collcap, explains how the PolyJet 3D printer his team works with uses liquid photopolymer to create precise 3D models: "[The build tray] moves down and the print head and the roller and the UV light [goes] across it so it's just like as if it was printing on a sheet of paper the only difference that sheet of paper keeps moving down so that the jets can put fresh plastic material onto the part."
The PolyJet technology works with a vast array of materials rubber-like flexible materials, translucent acrylic materials or opaque materials available in a range of vibrant colours. A range of different materials can be used to make your creation. Consumers can choose from acrylic, rubber, plastics and many other material types to guarantee a realistic looking prototype. While the larger printers may require some training, most 3D printers can be used by staff with minimal training.
While the high end 3D printers can set you back as much as £50,000, the fast pace of technological development has seen the price of the most basic 3D printers fall to as low as £1,000. Currently it is hard to tell how widely 3D printers are used in the packaging industry but it is certainly a growing area that has seen leading 3D printer specialists, Stratasys, experience an annual growth of around 30% of revenue for the company. The growth is thought to be supported by 3D printer sales.
In house designs: what is 3D printing used for
While many may rush out to buy a 3D printer to get the latest technology it may first be helpful to know exactly how they can be used in the packaging industry. 3D printers are of most use during the prototyping stage of design.
Smith explains: "Here the way we use it is mainly for; one is proof of concept, so if we've come up with a design that we think will be particularly challenging and we want to be able to see it after we've already looked at the 3D designs."
It can also be useful for creating prototype models for customer presentations to allow the customer to see and feel exactly what their product will look like.
"If you're talking to buyers as well you don't want to turn up with a load of flat 2D drawings and expect everybody to be able to take three or four projected views and build the parts up in their head," states Smith.
"If we can just put the part in front of them and say this is what we want to manufacture then that's a massive advantage and it's always a great talking piece as well."
The technology can also be used to develop a short run of samples to test before you reach mass production, saving time and money on pilot tooling and manufacturing. Previously to test the final product or to bring a model for a client to sample, designers would have to outsource blue prints for the model to a third party and wait weeks for the prototype to be made.
If changes needed to be made it would take another few weeks to get the new prototype ready. A 3D printer can build a prototype in a matter of hours to the right specifications, saving time and money on outsourcing.
Eric Bredin, marketing director at Stratasys, also believes that the use of 3D printers can help fuel creativity: "The fact that you can integrate 3d printing as a tool to help you during the first output of your first design in packaging will help you to challenge the creative scene to bring a more efficient, creative product to the market."
Investing in new technology: the future of 3D printing
The concept of being able to print out your own 3D designs and models certainly sounds exciting and liberating to designers who no longer want to rely on out of house model makers in that vital stage of design. Technology is constantly changing especially when in its early stages much like 3D printing. Does it make sense for companies to invest in 3D printers when the technology could change drastically in the next few years?
Bredin admits that while technology is always evolving it is not at the point yet where customers who purchased a unit a year ago are looking to change already. Bredin argues for the 3D printer stating: "Any customer currently looking to step into 3D printing should not hesitate to step into that business because it's a great learning curve.
"As soon as you start to integrate the tool on your platform whether it's in a design engineering studio or whether it's on your production side you immediately open up new opportunities to enjoy the benefit or capacity of 3D printing and internally people will use the technology for different applications and different needs."
The technology has the potential to be used to in manufacturing as a faster way to manufacture spare parts. There is also potential for the consumer end of the business as the technology becomes more and more affordable to the average consumer. When combined with the online community's love of sharing, as Bredin explains, easily available CAD files may change the way we think about purchasing a variety of items.
"You could think about developing specific apps or specific content that you could imagine targeting your consumer," says Bredin. "If you want to print your smart phone cover, which is kind of packaging, you can print it at home it's just a matter of where do I get the design."
As 3D printing technology develops and becomes more defined the industry will see a more efficient way to realise designs that cuts out the middle man and gives the designer that Tomorrow's World feeling. While the fascination with 3D printing may not last forever it does not look like it will die down any time soon.