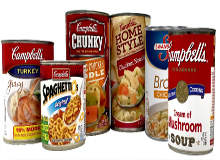 Campbell Soup was planning to eliminate the use of hazardous chemical Bisphenol A (BPA) in cans that are intended for use in food and beverage packaging.
The company started replacing BPA linings with linings made from acrylic or polyester materials.
Campbell's portfolio in cans with new linings will be introduced across the US and Canada by mid-2017.
Metalvuoto and NatureWorks introduced new high-barrier biobased flexible substrates that are designed to help keep processed foods fresh for longer.
The new dual function film, Ingeo Propylester, was made by integrating Metalvuoto's coating technology with NatureWorks' Ingeo films.
Metalvuoto executive director Gianni Costanzo said: "Until now, the flexible packaging industry has grown up around the use of multi-material laminates because no one material was able to provide multiple functionality.
Researchers at the Tuskegee University in the US developed nanoparticles from eggshells, in a bid to enhance the strength of biodegradable packaging material.
The team of researchers experimented with various plastic polymers, prior to developing the biodegradable packaging material that can bend but does not easily break.
They initially developed a mixture comprising 70% polybutyrate adipate terephthalate (PBAT), a petroleum polymer, and 30% polylactic acid (PLA), a polymer derived from corn starch.
Tekni-Plex agreed to acquire cap and closure sealing materials producer Sancap Liner Technology for an undisclosed amount.
Based in Ohio, US, Sancap produces heat-seal, pressure-sensitive and gasket-sealing liners for pharmaceutical and food applications.
It also manufactures higher-barrier, Saran laminations and coated pouch / bag structures for food, liquor, confectionary and chemical applications.
Linpac was investing €8m in new extrusion and thermoforming capacity in Pravia, Spain, in a bid to cater to the growing demand for PET and rPET.
The move was in line with the fresh food packaging manufacturer's three-year plan to invest nearly €14.3m in Linpac Spain by 2018.
The investment will involve the installation of a fourth extruder at the Pravia site to increase food packaging manufacturing capacity by 25%.
Graphic Packaging International agreed to acquire converting assets from Metro Packaging & Imaging for an undisclosed amount.
The acquisition was in line with the company's strategy to develop the best supply chain in the packaging industry.
Based in New Jersey, Metro Packaging produces printed folding cartons. It serves the food and away-from-home end markets through strong sheet-fed and web press capabilities.
SIG Combibloc's packaging and filling technology was chosen by South Wine Company (SWC) to pack its Odyssey brand wines.
SWC was moving from glass bottles to a 1,000ml combiblocSlimline carton pack for four of its own home-grown semi-dry wines.
It has installed SIG Combibloc' CFA 310 filling machine to fill the combiblocSlimline carton packs that have fully printable display surfaces.
Sealed Air made its Bubble Wrap IB protective packaging solution commercially available worldwide.
The bubble wrap packaging maker's inflatable packaging helps in creating right-sized packages that will in turn help reduce freight costs and minimise waste.
It was claimed that this unpoppable cushion packaging material will help companies meet increasing e-commerce demand and supply chain efficiency.