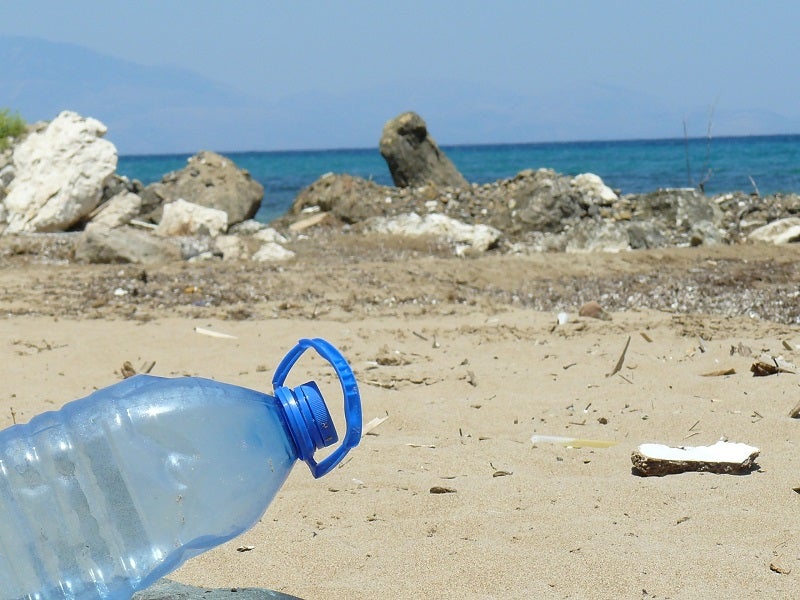 With excessive plastic packaging being a major contributor to sea waste, the industry is facing increased pressure to use more sustainable materials. However, some companies are now seeking to kill two birds with one stone – creating eco-friendly packaging that cuts down on virgin plastic use while fuelling ocean clean-up operations.
Belgian cleaning product manufacturer Ecover, which specialises in recycled packaging formats, recently launched a bottle using 50% ocean plastic recovered from the beaches and waterways around Rio, Brazil. Earlier this year, US-based Sana Packaging introduced a new line of 100% reclaimed ocean plastic packaging for cannabis products in partnership with Oceanworks – an organisation that helps link plastic collectors to processing agents and manufacturers.
With companies constantly striving to balance profit with demand for sustainability, what are the challenges of investing in reclaimed ocean plastics, and will more packaging companies enter the field in the future?
Creating a supply chain for reclaimed ocean plastic
For Oceanworks CEO and co-founder Rob Ianelli, the hurdles are all too familiar. Ianelli's previous company, Norton Point, launched the world's first sunglasses made from high-density polyethylene recovered from the ocean back in 2016. This involved sourcing raw materials, finding a processor to convert plastics back into pellet form, and working with a manufacturer to stitch together the Kickstarter-funded product. The process was a time-consuming journey into unchartered waters.
"There's a lot of confusion as to what polymer types qualify for being ocean plastic and how you manufacture with it."
"There's a lot of confusion as to what polymer types qualify for being ocean plastic and, most importantly, how you manufacture with it," says Ianelli. "We were contacted by so many companies from different industries saying 'we want to get involved in ocean plastics; how did you do this?'"
This confusion triggered the creation of Oceanworks, which allows manufacturers to sample dozens of different polymers collected from around the world at different grades and qualities. This, Ianelli says, allows companies to make the best business decisions on price, quality and proximity. Consumers, meanwhile, can observe the authenticity of plastic from the organisation's Oceansmade™ mark featured on its partners' products.
"The whole idea is that there's transparency and that creates trust and that then in turn allows the consumer to feel confident, which then drives the value proposition for the brand or retailer," says Ianelli. "The whole idea is that everyone in the supply chain is seeing value from being a part of the marketplace."
Challenges of using reclaimed ocean plastic
Ianelli says that interest from packaging companies has ramped up to 'overwhelming' levels in recent years. One of the marketplace's largest European members has over 1,000 injection moulding machines at its facilities. Since the company's work with Sana Packaging, dispensaries and brands across the US's fledgling cannabis market have expressed increased interest in using ocean plastic.
However, with collection, sorting, cleaning and manufacturing procedures to arrange, the time and additional cost of using ocean plastic is still a major hurdle. Companies must be prepared to pay extra for the privilege of marketing an environmentally more responsible product. The goal of Oceanworks, and similar organisations like Parley for the Sea, is to make the cost worthwhile.
"The more hands it touches, there's always going to be cost involved there," says Ianelli. "Providing that choice in materials creates competition amongst the marketplace globally. Companies then can't say ocean plastic [costs ten times as much as] our existing cost so we are just going to walk away."
Not all reclaimed ocean plastic is made equal, with the ocean having numerous effects on the shape, colour and feel of the material. Ianelli says that 'high-seas ocean plastics' collected from gyres – large meeting points of circulating currents in the ocean, such as the now infamous Great Pacific Garbage Patch- would not suffice for high-grade applications after weeks or even months of degradation.
"Plastic and packaging specifically hasn't accounted for the externalities of the cost to society."
Sana Packaging CEO Ron Basak-Smith says that so far on the company's new line, manufacturing consistency has not been as good as with virgin plastic, but it's been 'pretty close' and good enough for what they are doing. "We've done a couple of batches and the product is coming out consistent and that's a big win," he adds. "That's kind of showing that this can be done."
However, it's likely that cost and quality concerns will drive packaging companies to introduce blends of reclaimed ocean plastic with virgin or recycled plastic sources, rather than creating 100% 'shore to store' lines. Recycling giant TerraCycle recently teamed up with Herbal Essences to create a line of shampoos and conditioner bottles created using 25% beach plastic. The remaining 75% was required to ensure the bottle is strong, flexible and functional according to the company.
Basak-Smith says that packaging companies need to understand that sustainability will cost them. He adds that while Sana's role as a "packaging company telling people to stop using packaging" is odd on the face of it, ultimately the industry's continued focus on single-use plastic needs to change. According to the National Geographic Society, single-use packaging makes up 40% of all plastic produced, and this could increase as the global population increases.
"Businesses are going to pay the price now or pay the price later," says Basak-Smith. "I think plastic and packaging specifically hasn't accounted for the externalities of the cost to society and the environment and so the real cost is what sustainable materials are going to cost."
This opinion are reflected by Kevin Murphy, Australian founder of the Kevin Murphy hair care brand, who opted to switch to 100% ocean plastic for its packaging from September last year. The move is expected to save 360 tonnes of plastic every year, but amount to a fivefold annual spend increase compared to virgin plastic.  "We have swallowed a lot of the cost ourselves to make this happen," Murphy said in a Fast Company article, "but we feel the issue is so important to the future of the planet that we need to make that sacrifice."
Increased collaboration across industry stakeholders
When it comes to the overriding issue of plastic pollution, efforts to recover and reuse plastic will be a drop in the ocean if more isn't done to stop the flow of plastic into waterways. However, Ianelli says that we are seeing a paradigm shift, with numerous companies introducing waste management infrastructure, banning plastic straws, and supporting deposit return schemes.
Members of the European Parliament, for example, have voted to ban commonplace single-use plastic items by 2021. What's more, China's ban on foreign imports of waste for recycling, kick-started in 2017, is compelling nations in the west to find other solutions to deal with mounting stockpiles of waste plastic.
"Asia is no longer taking our material and cleaning it and sorting it at a low cost so what do we do now?," remarks Basak-Smith. "Are we just sending it to landfill, or are we going to be responsible with it and actually bear the cost to deal with this low-cost material?"
Ianelli's hope is that increased collaboration among stakeholders, a greater range of polymers that can be traced back to a source, and commitment to sustainability will drive more packaging companies towards ocean plastic in the future. Stopping the flow of plastic into the ocean is only one part of the story.
"The second part is having to add demand for that material in a way that is really supportive of what these larger companies are looking for and I think that's really where we fit in," he says. "It's not only stopping the flow and creating products but really driving demand for the traceability of plastics so the consumer can access that and see where the material came from, how it was collected, [as well as] energy cost and carbon reduction."
"The whole point is really so that the consumer, end companies and global community can actually start treating plastic as a resource and not just something that has a one-pass cycle."