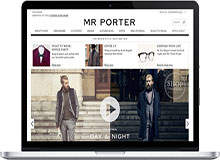 Packaging can be big or small, sturdy or delicate. It can be many things but it always remains as a physical entity. So much so that it is hard to believe that it could still have a vital role to play in the virtual online world.
As more and more shoppers desert the high street in favour of bargain deals online, product packaging has had to adapt to grab consumers' attention in an online environment.
Brands have to offer customers more than a web page and a small image of the product in question to encourage users to buy their product rather than from a competitor brand.
We speak to Barny Macaulay, founder and creative director of The Barn, about packaging's role in an online environment and how brands can use packaging to create a new user experience.
Adapting to the virtual user: functional and exciting packaging
Packaging in an online world offers the virtual user an experience that is both functional and exciting.
The 2011 white paper 'Packaging in an Online World' by Jean-Pierre Lacroix, President and Founder of Shikatani Lacroix, came to a similar conclusion: "On the most basic dimension, it is ensuring that the shipping carton properly protects the goods during transportation. However, on a greater dimension, it is an opportunity for organisations to convert this functional need to one that provides a unique and ownable experience that builds affinity for the online service provider or branded product."
This is especially true when it comes to premium packaging and gifts as the user will expect more from their packaging in terms of delivery, how it is presented to them online and their connection with the brand. A concept that Macaulay believes is being seen more and more is the idea of simulating "as much of the experience that you might get in an offline space" in the online store. This could be reflected in the photographs on the site, a simulation of how the product comes out of the packaging or a detailed description of the vessel the product is delivered in.
The importance of packaging and the consumer's connection to it is something Macaulay is keen to highlight: "People love packaging, people keep boxes. You look at lovers of Apple Mac; they keep all the packaging, they keep all the boxes, they love that stuff. I think that it shouldn't be seen as an afterthought or something to take for granted."
It is no longer the case that ecommerce sites can automatically assume that once the user has got to the product page they will buy the product, even if they like it. In a world packed with online sites and brands trying to offer better deals, anything to entice the user and create a new experience for them will be useful for the company.
Returnability: ease of use for the user
While a beautiful and well-designed package can be eye-catching and engaging for the user, what they care about most is ease of use and returnability. Packaging that does not take this into account can have a dramatic effect on how the consumer approaches the brand.
Users need to be able to return a product for whatever reason as easily, or perhaps with more ease, as returning an item in store. If a product arrives in complex, 'use once' packaging then it makes it harder for the user to return the item. Though it can be hard to design, Macaulay believes there are ways of creating packaging suitable for mail that has a premium quality.
"It's important to make sure that your design team and engineer are producing packaging that is possible to dismantle and put back together in one piece," states Macaulay. "Online can allow you to inform people of what their expectations are of what they're going to get and how they can get it back if it doesn't work."
On many online sites, information about postage is usually at the bottom of the page which is not particularly user-friendly. Macaulay argues that brands should make more of a prominent feature of their shipping policies and be more explicit about delivery times, cost and how to return the item in order to put "confidence in people's minds".
It is also important that the product ships in a good condition. According to a survey in 'Packaging in an Online World', 65% of respondents said that the most important role they want packaging to play is to protect the product during shipping. The conflict between design and transit can be hard to overcome but a balance between functionality and design must be met.
Packaging becomes personal: new designs and innovations
Elements such as the personalisation of packaging can impact on the user experience of the product and brand. It is usually in the premium sector where we see these design innovations and where the demand is for new designs. Macaulay explains: "In the history of consumerism and retail, the premium and luxury [sectors] are generally the pioneers and innovators in this field and as it picks up traction it moves down to the mainstream."
Companies such as Diptyque and Thierry Mugler have an option where users can personalise the inner vessel of the product as a gift or perhaps for themselves. High-end menswear boutique, Mr Porter, send out their products to customers in distinctive white packaging with a thank you note to the customer from the team.
There are numerous blogs written by satisfied customers of Mr Porter about their love of the brand, the packaging and the fact that they go that extra mile for the customer. In this social media-friendly world, it is worth brands considering whether their packaging has a sharable quality that their consumers would want to tell their friends about.
Personalisation of a product allows the brand to build a relationship with the consumer and can give a face to the team working on the consumer's product. Online street wear retailer, Urban Industry, have an innovative way of creating an exciting user experience. When a user orders a product from the online site, every member of the team who worked on the product signs their name on the packaging.
An understanding of the consumer is vital; Urban Industry know that their consumers are passionate about street wear and want a better relationship with the brand. It all creates a feeling that the consumer is being looked after and makes it more likely that the consumer will become a regular of the brand.
Immersive experiences: a more interactive atmosphere
In terms of creating a new user experience, any technology that brings the user closer to understanding what they will receive and closer to an in-store experience is always welcome. According to Macaulay, the future of packaging for online lies in smart packaging using QR codes and other interaction-based software. QR codes are already used to give consumers extra information about the product or brand but Macaulay envisages a different use for the technology.
"Your package could arrive from Amazon with anything from a saucepan to an iPhone to a book but it's all from Amazon," says Macaulay. "Perhaps there could be a QR code on there that you could screen with your phone and it might give you a nice animation wishing you a happy Christmas from the team at Amazon."
He states that this technique could be a unique way of bringing to life an element of the company's great customer service and care for the consumer. The consumer could also request a personalised QR code message on a product to send to a friend. This is a way of bridging the gap between the brand, the sender of the gift and the receiver of the gift so the process is no longer brand to consumer but consumer to consumer.
QR codes can also be used to add a social element to the experience allowing users to post reviews, tweet or see what their friends think about the product just by scanning a code with their phone.
All of these examples are not yet in the mainstream so there is room for them to develop and grow. With the push from having to develop for the online world packaging is moving in new directions, turning the once simple package into a social experience that can only be for the good of the packaging industry.