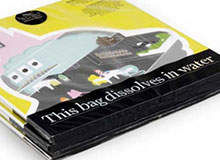 From water soluble polymers to ultra-light milk bottles and from open-source contamination software to smart scan labels, the Inside Packaging Awards 2013 seek to honour the very best packaging innovations from the past year. The winners have been carefully selected by our editorial team, with help from our network of regular contributors and noted industry professionals.
Cyberpac Harmless Dissolve
A true industry first, Cyberpac's Harmless-Dissolve is a water soluble polymer which completely biodegrades in a composting environment, dishwasher or in a washing machine. The polymers, which have already been used as covers for magazines including Creative Review, are non-toxic and are degraded by micro-organisms, moulds and yeasts which neatly transform the packaging into nothing more than carbon dioxide, water and biomass. Packaging made using the polymer is compatible with a full colour printing process using biodegradable inks and can be finished with a biodegradable peel and seal lip. The material, which is also three times hardier than polythene, is set to become a strong candidate for the ultimate green packaging.
FoilcoTotal Transfer Technology
Foilco's impressive range of hot stamping foils provides stunning effects for premium as well as standard packaging, while at the same time removing the need for non-recyclable film laminates. Total Transfer Technology, or TTT, achieves a huge range of speciality foil designs, including holographic designs that enable hot stamping of foils straight onto the board, sidestepping the need for a PET or PP film. Using a minimal amount of foil, typically less than the amount of ink used, Foilco's technology can be used for high-end applications such as gold and silver stamping, brushed foils and translucent graphics.
Nampak Infini Bottle
Nampak's Infini Bottle has surely been one of the most talked about achievements in light-weight packaging this year. Weighing in at just 32g, it is the world's lightest ever four-pint high density polyethylene (HDPE) bottle. The latest incarnation of the Infini range, which is currently undergoing testing, is distinguished by a slick design that does not force material into each of the bottle's corners, thus reducing the overall weight of material required. The company has produced some impressive numbers too: According to Nampak, 15,000 tonnes of resin could be saved each year if the company were to move its entire annual output of two billion bottles to the Infini design.
Tetra Pak The Pack that Grows Back
Tetrapak's 'The Pack that Grows Back' campaign is designed to create awareness about renewable materials and the role they can play in helping to protect the planet. Kicking off in France, Spain and Italy the campaign uses social media and on-pack advertising to explain Tetra Pak's commitment to sourcing its paperboard responsibly. Encouraging users to confront the numbers will surely help TetraPak secure its position as a sustainable company. An average 70% of the packaging material used in the 173 billion Tetra Pak carton packages produced by beverage manufacturers last year is made from renewable sources. The company's goal is now to create packaging made from 100% renewable sources and having 100% of its paperboard certified by the Forest Stewardship Council.
French National Institute for Agricultural ResearchSafe Food Packaging Design
Using a method inspired by aeronautics, researchers at the Genial joint research unit of the French National Institute of Agricultural Research have developed a new way to prevent harmful molecules diffusing between different layers of food packaging. Funded by the French National Research Agency, the SafeFoodPack Design project has set out to build a database of materials used for packaging and then measure the diffusion speed of these molecules in order to build predictive models. By December 2014, the project team hopes to develop open-source software to detect every critical point on the packaging lifecycle where contamination could occur. The project should provide a potent tool in the battle to understand and prevent potential hazards connected to controversial packaging substances such anti-ultraviolet radiations, anti-oxydisers, glue, pigments from inks and bisphenol A.
University of Glasgow & Anacail Improved food safety and shelf life
A new method to create longer shelf life and make packaged food safer for consumers uses the natural germ-killing power of ozone. Developed by scientists at the University of Glasgow, and marketed by university spin-off Anacail, the technology uses plasma generated by a retractable device to split the bonds between oxygen molecules forming ozone. The ozone naturally returns to its original state after just a couple of hours and in the process destroying all mould, fungi or bacteria on a pack's contents. A prototype has been successfully tested at UK test labs including Campden BRI in Gloucestershire, showing an increase in shelf-life for products including bread and muffins, and a significant reduction of many pathogens in poultry including campylobacter, pseudomonas, and E.coli. The team has also hinted at possible applications within the medical industry.
NestleSmart scan labels
Consumers in the UK have been the first to benefit from a global initiative by Nestlé which aims to provide easy access to detailed information about the nutritional profile as well as environmental and social impact of its products. By scanning a QR code with a smartphone, buyers of a two-finger KitKat chocolate bar can access information on how chocolate can fit into a balanced diet and lifestyle, and how the product was produced. Nestlé plans to roll out the QR codes across its product portfolio in both developed and emerging markets, offering the smart scan labels as a new option aligned within the Nestlé nutritional compass, which is already present on 97% of the company's products.