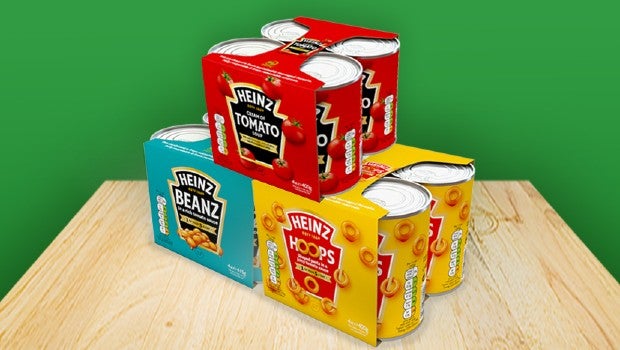 Sustainability is a topic that has become of up-most importance in the packaging industry, with many companies investing research into alternative packaging materials to plastic – such as cardboard – in hopes of providing an eco-friendlier solution. However, many packaging companies are still unsure on what steps need to be taken in order to make sustainability goals a reality. 
In September, food processing company Heinz was one of such companies keen on developing a more sustainable packaging alternative. The company partnered with US-based corrugated packaging company WestRock to launch an eco-friendly packaging solution for all of its multipack canned products in the UK. 
Packaging Gateway spoke with Kraft Heinz brand manager of soup Anke Von Hanstein and WestRock business leader, EMEA & APAC Mark Shaw, to find out how Heinz switched from plastic to cardboard and how other packaging companies could do the same. 
Jessica Paige: Why was a decision made to switch from plastic to cardboard packaging?
Anke Von Hanstein: At Heinz, we aim to make 100% of our packaging recyclable, reusable or compostable by 2025. This prompted us to review our use of traditional plastic shrink wrap on our canned multipacks, which are very popular with British shoppers looking for value and convenience but no longer work with our sustainability pledge. 
That's why we partnered with Westrock to develop a new and more sustainable packaging solution, and the Heinz Eco-Friendly Multipack Sleeve was born. It is fully recyclable, comes from sustainably managed forests, uses no glue, and contains 50% less material than a fully enclosed wraparound box and 10% less than a traditional paperboard sleeve design. 
Its roll-out will result in the removal of 550 tonnes of plastic from Britain's supermarket shelves every year. 
Mark Shaw: At WestRock, we're creating a fibre-based future. Led by passionate problem-solvers applying leading science and technology, we're implementing innovative paper and packaging solutions to address our customers' greatest challenges.  
As such, we are seeing a spike in interest in our sustainable paperboard solutions that are designed to replace plastic packaging. In addition to meeting internal goals they have set to improve the recyclability of their packaging, our customers are responding to concerns from consumers and retailers, and to regulation on single-use plastics that is being introduced. 
JP: What are the initial steps companies who want to switch from plastic to cardboard need to take?
AVH: For us at Heinz, it was all about working with the right partner with the right skills and expertise from the outset to be able to help us meet our ambition for a new form of sustainable packaging. Our challenge was a big one: we needed to create packaging that was sustainable, of course, but that also offered the same convenience and value to our shoppers as plastic shrink wrap had previously.  
The packaging needed to be robust, as multipacks contain up to six cans of Heinz food, each weighing 400g. The new Heinz Eco-Friendly Multipack Sleeve ticks all the boxes and we're very proud of our work with our partner Westrock in developing it. 
MS: Replacing plastic with fibre certainly has its challenges. Designing packaging for sustainability starts with understanding both your sustainability priorities and the conditions the package will be exposed to throughout the supply chain.  
The right partner can help you understand what's truly needed, then design a package that meets your sustainability goals and holds up well through the supply chain. At WestRock, we work closely with customers to understand these requirements, including testing that replicates supply chain conditions and use situations.   
We are focused on improving the sustainability elements of packaging without compromising on performance. 
JP: What does the process of changing materials entail?  
AVH: It's about working with the right partner and it's also about investment. This innovation is part of a three-year, £25 million investment and installation at the Heinz Kitt Green factory near Wigan in the UK.  
The new, specially developed machinery took Westrock around seven months to develop and a week to install at the Heinz factory, then we also had to ensure all staff were trained up to manage the new machinery.  
It was a big undertaking but the new Heinz Eco-Friendly Multipack Sleeve delivers on our sustainability goals and has tested very well with retailers and shoppers, so we know it was all well worth it.  
MS: Designing a more sustainable package is only half the battle. You also need to consider the implications for your manufacturing environment. For most companies, matching speeds of the current manufacturing process is critical, as is ensuring high uptime and reliability of packaging equipment, and ensuring the new equipment will fit on the plant floor.   
Working with a packaging partner that has expertise in both materials/structural design and also packaging automation will help ensure your package can be filled at scale. WestRock worked with Heinz to develop a packaging machine that would allow them to scale their solution and meet key operational requirements.   
Our expertise in packaging machinery ensured the final packaging design would not only work well on the store shelf, but also on the plant floor. 
JP: What advice would you give to businesses wanting to make the change?
AVH: Our advice would be: 
Work with the right partner, who can bring their knowledge, skill and expertise

 

Be prepared to invest – changing your whole packaging format can come at a price but it's worth it, both for the planet and for shoppers

 

Don't be afraid to think big!

 
MS: Packaging changes impact many areas of the business from operations, to supply chain, to brand management.  Bring all of the stakeholders to the table to ensure you have alignment on key objectives for the transition including your sustainability goals, the brands and SKUs that will be changing, the volume associated and the operations that will be impacted.  
Also, make sure you have a partner that takes steps to understand your supply chain, thoroughly tests solutions, and iterates to optimize packaging performance and sustainability. Find a partner with expertise in materials, structural design AND automation – the interface of these three things will be critical to success. 
Lastly, consider the flexibility of the packaging automation that you choose for your transition, thinking through future SKUs and packaging designs, and the ability of your equipment to accommodate those needs.