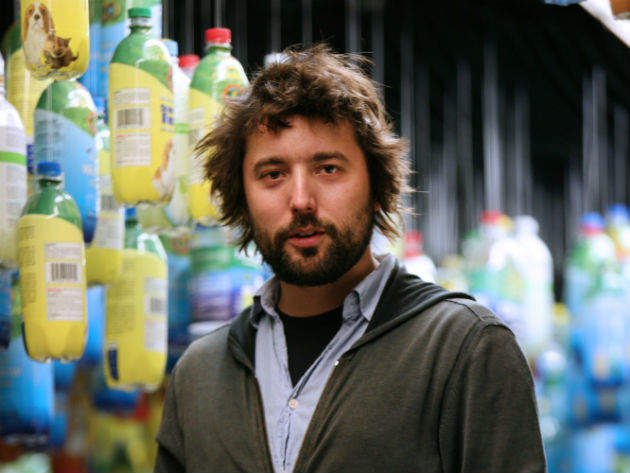 At the Davos 2017 World Economic Forum Procter and Gamble (P&G) announced that they were partnering with recycling and waste management companies TerraCycle and Suez to create the first recyclable shampoo bottle made with discarded plastic that has washed up on beaches.
The news comes in the wake of the Ellen MacArthur Foundation's Davos announcement that at the current rate, by 2050 there will be more plastic in the world's oceans than fish. The bottles, for shampoo brand Head & Shoulders, are made from 25% beach and ocean plastic, and P&G have committed to creating half a billion recycled-plastic bottles every year by 2018. Elliot Gardner spoke to TerraCycle CEO Tom Szaky about the project, and found out whether more companies should be using recycled beach plastic in their products.
Elliot Gardner: Tell me a little about the beach plastic programme and how you came to work with P&G
Tom Szaky: This started about a year ago. We were given the challenge by P&G to come up with a meaningful solution to beach plastic and marine plastic.
The macro issue here is that 25% of the world's plastic ends up in our oceans or our waterways. The numbers are staggering.
What we've done to try and create a solution here is coordinate with various non-profit groups and larger collection platforms to be able to collect marine plastic from rivers, lakes, directly from oceans, and from beaches. At no cost we picked up the collected plastic from them and shipped them to a local warehouse in the respective country across Europe, and this also expanding to Asia and North America.
From there, our team of scientists came up with a pretty amazing technical process to first take out all of the contaminants, then shred the material, clean it, and get rid of sand etc to be able to refine it into a high-quality, high-performance polymer.
55% of what was collected is HDPE, partly because HDPE floats, and that's what was made into the Head and Shoulders bottle. The other 45% that we can't make into Head and Shoulders bottles, we recycle into other things, like benches and picnic tables, which will then be donated to coastal areas that need them. 100% of what's collected will be recycled.
The bottle is also fully recyclable locally, so when you're done with it you can you can recycle it, in your local recycling system.
The important thing to note here is that this is the world's largest volume solution to ocean plastic so far, and this is just phase one.
EG: Does the process differ for beach plastic than it would do for any other form of recycled plastic?
TS: I would say so; there are certain steps in the process that simply don't have to occur if it's coming from curb-side recycling. For example the really aggressive cleaning wouldn't occur because there you don't have algae, you don't have the bacteria, you don't have seaweed and sand contaminate. All that contaminate has to be taken out.
EG: So why is only 25% of each P&G bottle is going to be made up of recycled beach plastic rather than all of it?
TS: Well it's because beach plastic has been floating in the ocean for a very long time before it rolls up on the beach and its very degraded, by UV light etc.
It's just technically impossible today to go any higher. Now are we endeavouring to go higher? Absolutely – but today this is effectively what our R&D team and P&Gs R&D team can get to. On its own it's pretty astounding, but of course 100% would be the goal in the end. It's just how challenging this particular type of plastic is.
EG: What would be the process in trying to get that percentage higher?
TS: Frankly, redesigning the shampoo bottle to not be squeezable. Just the effect of squeezing a bottle requires tremendous capability – if we could have made it in a completely rigid plastic, with thick walls, we could've probably have gotten to 100%. Can beach plastic be made into something at 100%? Yes – but the shampoo bottle is actually a pretty sophisticated object from a technical requirement point of view.
It can technically mould to 100%, or we wouldn't be able to make pellets from it, but the more requirements – that's when the percentage gets affected.
EG: For the P&G project, is plastic being used from all over the world?
TS: This specific deployment is EU plastic only. You will see this popping up in other markets, but it will always be localised. So if we launched it in North America, it would be North American marine spots.
It's a matter of both the environment factor of transporting the plastic, and we also want people to feel locally that they've made the bottle themselves.
EG: Is it feasible for other companies around the globe to use beach plastic for their products?
TS: Absolutely. I encourage them to give us a call and we'd love to help them – I can't imagine a category we couldn't do this in. As long as, and this is a critical point, the company is open to collaboration. It's not just plug and play, it needs some R&D work. The packaging supplier also needs to be open to cooperation.
The packaging supplier needs to be willing to run it in their production and give us feedback, and then maybe do multiple R&D runs. And if the company itself is also open to the R&D process then anything can happen.