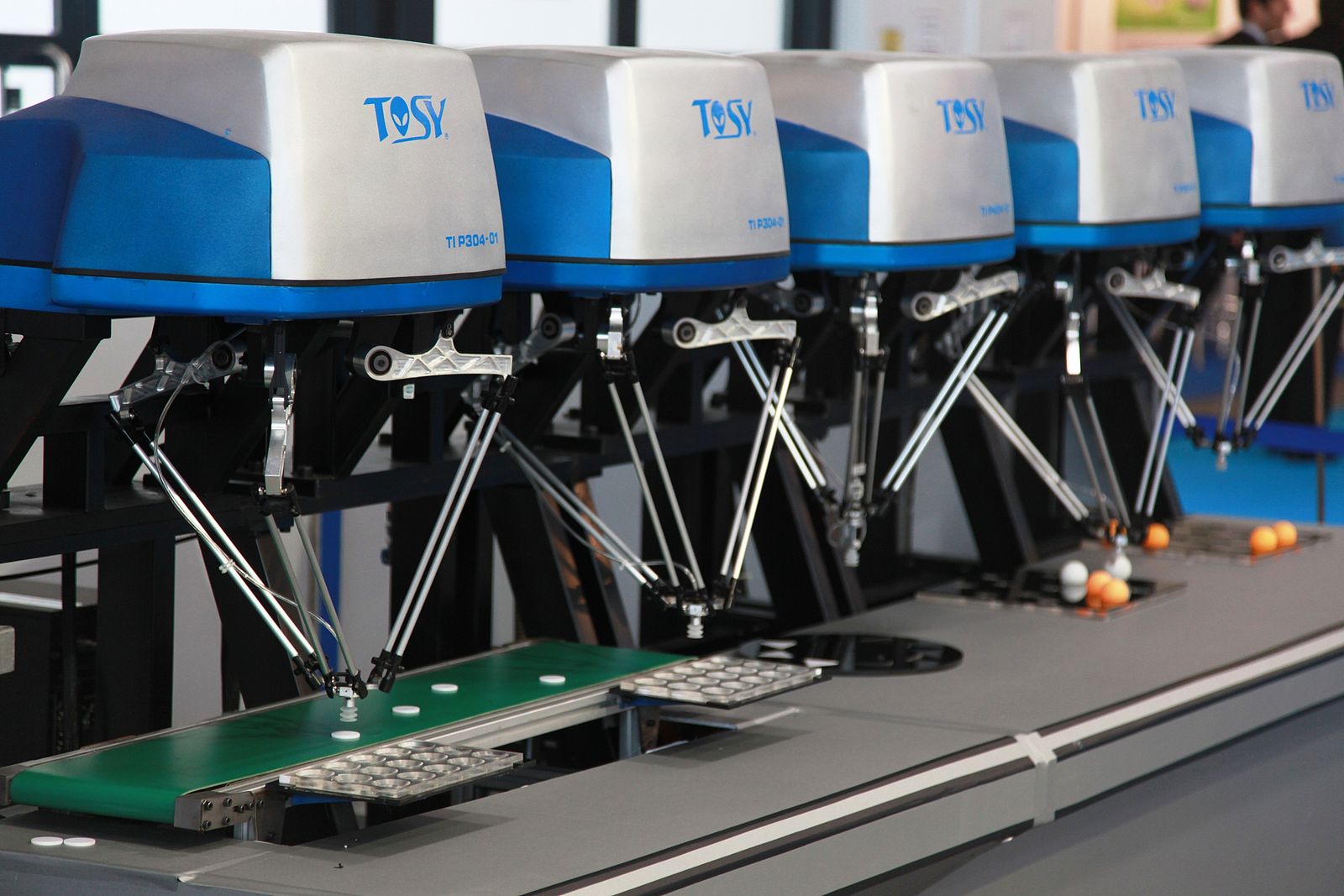 Technology has long been enhancing manufacturing and industrial robots are an important part of the packaging manufacturing process.
Robot-based automation offers flexibility and improved quality control in packaging manufacturing, especially in recent years as technology including artificial intelligence (AI) and Automated Quality Assurance (QA) systems have become adopted more widely.
Packaging robots are designed to handle materials, move or pack goods, seal and label, among other tasks enabling products to be packaged with consistency, quality, and accuracy.
These are the four types of robots most commonly used in the packaging industry.
Articulated robots
Articulated robots are classified as having rotary joints and are usually arm-shaped. The numbers of joints in the robotic arm range from two to ten. The most commonly used articulated robots in packaging manufacturing are those with six degrees of freedom, as this amount ensures maximum flexibility.
These types of robots are commonly used for welding, cutting, material handling, packaging, and assembly.
Articulated robots work at a fast speed and don't take up much floor space, though they are usually complicated in their programming and require a dedicated controller.
Cartesian robots
Cartesian robots, also referred to as gantry robots, can control heavier loads than that of the articulated robot and are more cost-efficient. They are limited in movement as they operate on three prismatic joints in a linear motion, sliding on three perpendicular axes.
These types of robots are commonly used for loading and unloading, assembly, and applying sealant.
Cartesian robots are accurate, strong, and simple to operate but are complicated to assemble and requires a large operational area.
SCARA robots
Selective Compliance Assembly Robot Arm (SCARA) robots are solidly mounted in a fixed position, with the arm fixed in the z-axis. SCARA robots arguably imitate the movements of a human arm more-so than any other types of robot.
These types of robots are commonly used for assembly applications, packaging, and palletising.
SCARA robots are fast and precise but require a dedicated controller and are limited to planar surfaces.
Delta robots
Delta robots, also called parallel link robots, consist of three sets of parallel arms and, unlike arm-like machinery, can move in a 360° circular motion. Delta robots were originally designed for pick-and-place functionality for lighter loads.
These types of robots are commonly used for pick-and-place functions across the packaging industry but can also be used product transferring, 3d printing, and assembly.
The benefits to delta robots are their range of movement and their ability to work accurately at a high speed. They are, however, complicated to operate and requires a dedicated controller.