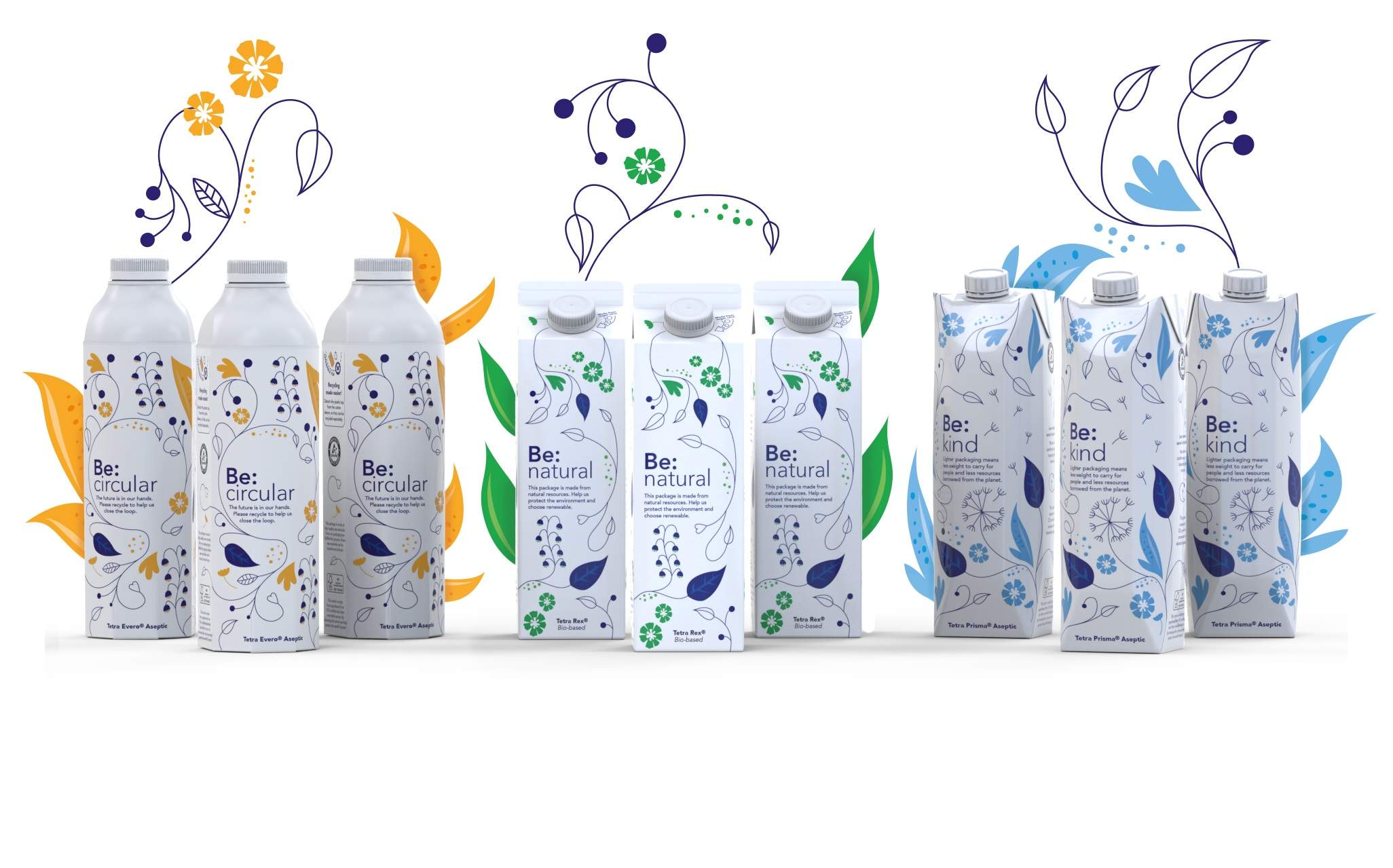 The need to move to more sustainable packaging solutions is well documented, with horrifying statistics in particular around ocean plastic and waste  increasing consumer awareness. Now, 43% of consumers say that environmental packaging can drive their shopping choices.
In response companies have begun to react, increasing energy efficiency, improving the sustainability of components and improving recyclability.
Tetra Pak is one such company, which over time has introduced a number of environmental updates to its packaging. Currently, over 60% of its packaging is made using Forest Stewardship Council (FSC) certified paper, as well as bio-plastics providing 10% of its plastic. It is aiming to run off of 100% renewable electricity by 2030 worldwide, as well as improving the efficiency of its manufacturing processes to reduce emissions.
Post-consumer, efforts have led to 430,000 tonnes of beverage containers recycled  last year alone in Europe. But challenges within individual countries and municipalities mean that currently only 25% of Tetra Pak packaging is recycled, with single-portion sachets popular in countries such as Indonesia and the Philippines a particular concern.
Progress is being made towards goals that will improve Tetra Pak's environmental footprint across its whole value-chain, as outlined in Tetra Pak's 2018 Sustainability Report. At Tetra Pak's headquarters in Lund, Environment VP Mario Abreu explains  energy efficiencies and sustainable packaging.
Molly Lempriere: How much of Tetra Pak's packaging is currently recycled?
Mario Abreu: It depends very much where you are in the world, so in Europe today about 47/48% of Tetra Pak cartons or beverage cartons are recycled, there are another 20+% that goes into energy recovery. In some markets like here in Sweden you have the option of putting your carton into a recycling bin or into the energy waste bin. So all in all it's about 70% are recycled or recovered for energy.
ML: Is there much of a financial incentive for recyclers to recycle Tetra Pak packaging?
MA: Yes, there is a financial incentive, but again it depends on where you are in the world and it depends on a number of things like density and so on.
I can give you an example, in countries like China or Brazil where I come from, there is no economical support to recycle and it's happening because the recyclers put a price on cartons, it might be  a price of about $150 a tonne/$180 a tonne, and that price makes the collection stream work. In Brazil we work a lot with cooperatives, where municipalities deliver the collected, post-consumer packaging to cooperatives to sort, and they get the revenue from what they sort. So the municipalities facilitate the collection of all materials, and the cooperatives sell and get the money for it. That's the same across Asia and across most of Latin America.
Then there are places where there is a need to get financial incentives for things to work. So here in Europe for instance, there is Extended Producer Responsibility in place, where collection and sorting is mostly financed by the brand owners.
ML: How challenging is it to source aluminium from sustainable sources?
MA: We always thought that [component sustainability] was a very important thing to have, we've had the FSC certification for many years but we also wanted to have a responsible sourcing standard for aluminium.
I joined the first meeting of something that went on to become the responsible aluminium initiative back in 2009, with the intention of getting different players together to create a standard for responsible aluminium production. Now that is the Aluminium Sustainability Initiative (ASI).
It's an open standard, and anyone can apply to become certified. It has been launched very recently, and we are going to be applying for certification, and we are encouraging our suppliers to apply as well. We don't think we're going to have a hard time, our suppliers are all on board, they are all committed so in the next couple of years we should see a lot of certification in that area.
ML: What do you have to show to get certified?
MA: Oh it's really across the whole value chain; it's anything from how you source bauxite, the biodiversity impact on creating a bauxite mine, the carbon footprint of the transformation, and all the way to how you recycle the materials. Everything is included in the standard.
There was a very thorough assessment on hotspots, to understand where the industry had to do something to improve sustainability, and these have become the different steps in this standard.
I think carbon footprint is one of the biggest challenges, so ASI has set a limit of how many kilograms per kilograms of product and someone can certify. The way that ASI will go is to gradually look at lower limits going forward.
ML: Lots of the energy savings you seem to have made, have been around technological developments making processes more efficient. Is this going to plateau?
MA: I think there's so much new technology coming that there's more to go. So in terms of our own factories for example, I think we've done a lot in terms of energy efficiency but the systems for energy monitoring have become so much more sophisticated.
To simplify, ten years ago or 20 years ago, you would have had two energy meters in a factory then. So you could see that this part of the factory uses this much and that part of the factory uses that much. Then you say, there's so much more consumption in that machine, so let's work on the efficiency of that. Now we basically monitor electricity all the time, everywhere.
We have got all the low-hanging fruit in terms of efficiency, so we've investing in energy monitoring so that we can understand throughout the 24 hours of the day, how does energy consumption of each specific machine change, and then we can have tailored solution's to that. We believe there's a lot of gains right there.
ML: You seem to be transitioning to renewable electricity really quickly, has that been a challenge?
MA: We believe that by providing renewable electricity into the grid that has a positive social and environmental footprint that is kind of helping to change the scope of energy around the world.
We're making our own contribution, we still believe that we have to do our own generation so we have been investing in renewable energy in our own factories as we go, but that is never going to be enough to power our needs because there's only so much roof that you have in your factory.
Very, very seldom do we have an opportunity to grow, but we have just announced that our facility in Denton, Texas, is adding solar arrays. There we have a situation where we actually have some space outside of the factory that we own, so we can put more solar panels in Denton because we're not limited to our roof, we actually have land that we can use.
But in most places the limitation is the roof and also geographical location limitations, such as how much sun do you have in that place. So here in Sweden we have made investments, but because of where we are it's never going to be as much energy as we need. So it's more to say that this is our home, Tetra Pak was born here, and we have to have renewable energy generated here, so we have panels, a large stream of solar panels here. But of course it's much more effective to make an investment in Thailand where we get much more sun, and a lot more electricity.
Free Report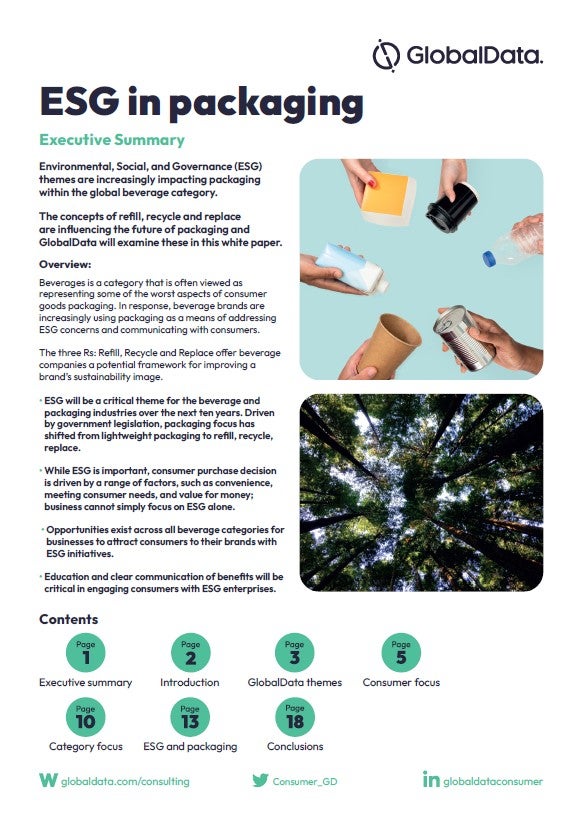 How is ESG transforming packaging in the beverages sector?
The beverages sector has already been re-shaped by increasing corporate and consumer consciousness of environmental, social and governance (ESG) issues around packaging. Now, amidst a raft of new regulations, those who get ahead of the curve may find new opportunities. Brands are increasingly using packaging as a means of addressing ESG concerns and communicating with consumers. Access GlobalData's new whitepaper, ESG in Packaging, to examine the challenges faced by companies, and understand how adapting to regulation around packaging, as well as appealing to ESG-conscious consumers, presents opportunities. The white paper covers:
Which regulations are governments looking to introduce?
How can beverage manufacturers get ahead of regulations?
How can packaging manufacturers help and how will consumers react?
What packaging and recycling innovations are required and what are the barriers to consumer engagement?
Zero in on how the industry operates in the EU and USA, exploring conclusions that remain relevant for other markets too, including Brazil, Canada, Russia and Turkey.
by GlobalData