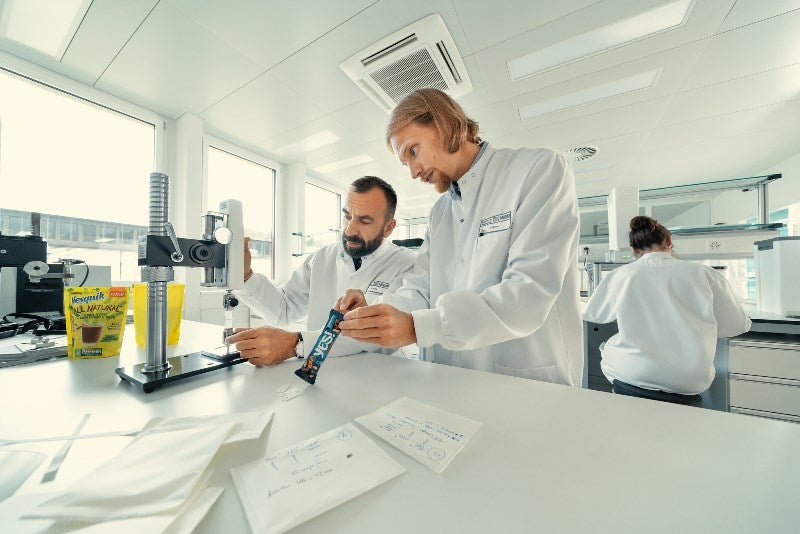 Nestlé strengthened its commitment towards sustainable packaging by opening a new Institute of Packaging Sciences in Lausanne, Switzerland.
The company will use the new facility to develop 'functional, safe and environmentally friendly packaging solutions' while addressing the plastic packaging waste challenge globally.
It is part of the company's Switzerland-based fundamental research entity Nestlé Research.
---
The British Plastics Federation (BPF) launched a sustainable plastic packaging design tool PackScore.
The PackScore tool was created for brands, designers and retailers to use at the earliest stages of packaging design to evaluate if it could be easily recycled and to modify its features if not.
PackScore was originally produced by the US plastic packaging and protective solutions company Berry International and was developed by the BPF.
It is supported by environmental charity RECOUP and is based on Plastics Recyclers Europe's Recyclass system, which requires users to answer questions to receive a recyclability rating from A to F.
PackScore also focuses on packaging features such as 'lightweighting' and recycled content.
---
Paper and packaging solutions firm WestRock revealed plans to reconfigure its paper mill in North Charleston, South Carolina, US.
The company expects the move to enhance the operational efficiency and long-term competitiveness of the facility.
As part of the reconfiguration, around 260 employees working at the paper mill are expected to lose their jobs over a five-month period, beginning in January 2020.
---
US-based Founders Brewing selected Ardagh Group Glass North America to create new glass bottles for its products.
As part of the deal, the metal packaging firm designed a customised 12oz Heritage bottle for Founders Brewing's Solid Gold premium lager and Canadian Breakfast Stout (CBS). The bottles are manufactured in the US.
Ardagh used 100% recyclable amber glass to produce the new bottles.
---
US-based consumer packaged goods (CPG) company SC Johnson announced that 94% of its plastic packaging is recyclable, reusable or compostable.
SC Johnson revealed the achievement in its new sustainability report. According to the report, the company is very likely to meet its 2025 commitments to reduce plastic waste and boost recycling.
The CPG manufacturer also eliminated more than 1.7 million kilograms of plastic from primary packaging during the 2018-2019 fiscal year.
---
The UK supermarket chain Sainsbury's launched a large-scale reduced-plastic packaging trial for its fresh floral ranges across 167 Sainsbury's stores, making it the first UK retailer to do so.
Starting this week for twelve weeks, the trial will see plastic sleeves and sticky tape removed from more than one million fresh florals and bouquets. The plastic packaging and tape will be replaced with recyclable paper packaging and recyclable paper tape, saving over ten tonnes of plastic.
Sainsbury's said it will closely monitor the supply chain process and customer feedback over the next 12 weeks to assess the overall performance of the trial before making a decision on next steps.
---
Budweiser Brewing Group UK & Ireland invested £6.3m in a new technology that will allow it to remove plastic rings from the beer can packaging.
The move will impact the brand's entire beer range produced in the UK by the end of 2020.
Budweiser is using the investment to renovate and upgrade three canning lines to enable the production of alternatives to plastic such as Keel Clips.
---
Flexible packaging company Licaplast Industries – Emballages (Licaplast) acquired Canadian polyethene product converter M'Plast for an undisclosed amount.
Licaplast is a portfolio company of Charter Oak Equity and Fonds de solidarité FTQ.
Established in 1988, M'Plast produces and converts polyethene film into bags or U-Film for horticulture, agriculture and other industrial uses.
---
PepsiCo pledged to decrease the use of virgin plastic in all of its beverage product packaging by 35%.
The company will implement the changes by 2025.
The beverage supplier said that the new target will result in the removal of 2.5 million metric tonnes of virgin plastic waste.
---
Coca-Cola European Partners (CCEP) announced its proposal to replace plastic shrink wrap of can multipacks with 100% recyclable cardboard across Western Europe.
Coca-Cola expects the initiative to reduce 4,000t of single-use plastic annually across the region.
The move complements the company's commitment to tackle packaging waste and eliminate all unnecessary single-use plastic from its secondary packaging.