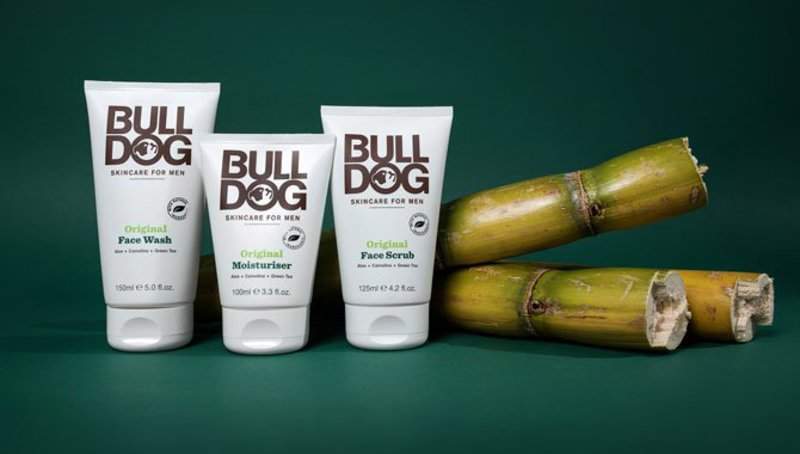 Most plastic varieties contain toxic chemicals and the very creation of plastic goods is often a harmful activity, making use of fossil fuel-based materials. Sustainable alternatives are in development, but often they come with a premium price, or don't perform adequately enough to encourage their uptake.
Now though, RPC M&H Plastics is offering a new form of plastic which has sugarcane has a core ingredient, creating a form of 'green' polyethylene (PE). While sugarcane plastic is still fairly new to the market, the changes it could offer the industry may well open up new avenues for sustainable plastic alternatives.
Bulldog cosmetics and green plastic
M&H's sugarcane plastic was first unveiled through a partnership with Bulldog, which claims to be the first men's skincare brand in the world to use sugarcane as a raw material. "Our relationship with Bulldog goes back to 2006," says key account manager at RPC M&H Plastics Andrew Thomas, "We supported them when they were very small and they kindly showed that loyalty back to us as they've got bigger and bigger."
The plastic is created by utilising sugarcane farmed in Brazil, and processing it into ethanol, which is then used in the creation of a sugarcane PE. M&H take this end-product and create a range of eco-friendly plastic goods. As most plastics products are created using a fossil fuel-based polymer, the carbon impact of their creation is considered damaging to the environment; however sugarcane plastic comes under the heading of a 'bio-polymer', which has the potential of being significantly less damaging.
As the sugarcane captures CO2 from the air as it grows, the plastic created from it is nowhere near as harmful to the environment. According to figures from M&H, every kilogram of the green sugarcane plastic produced results in 3.09kg of CO2 removed from the air.
For Bulldog, M&H developed a new plastic tube for their cosmetics. "We've had to change our recipe a little bit, so it is a slightly stiffer tube, but the whole tube is a sugarcane polymer. From a look and feel perspective you'd be fairly hard-pushed to notice a difference," comments Thomas.
While plastic tubes are part of the PE family, M&H initially ran into issues with making the hard plastic of the flip cap of Bulldog's cosmetic bottles. The plastic grades that can be developed from the sugarcane ethanol are all PE, while bottle closures, particularly flip top caps tend to be polypropylene (PP), to maintain the integrity of the seal. "No one wants to open a flip top only for the hinge to break," explains Thomas, "sugarcane PE doesn't naturally lend itself to a flip top cap, but we've also managed to process and put a percentage into the Bulldog cap. Quite a lot of work has been put into it."