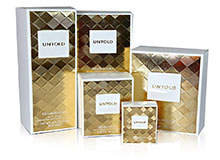 While new materials and techniques are constantly emerging for use in the premium packaging market, there are currently noticeable efforts in the industry to push for joined-up thinking and a smooth design to delivery process. This in itself is driving innovation and creating new possibilities for packaging specialists and agencies.
ASG, with its origins in manufacturing as Europe's largest DVD box manufacturer for the standard Amaray packaging, also has a print and packaging division, along with six design agencies worldwide. These three elements of the business mean that ASG can control the marketing, client process, printing and delivery. "Because of this, we can then generate more creativity and innovation, allowing us try new things and be ahead of the game," says Rudy Martinez, Head of Concept Packaging.
UK-based Cyberpac is also promoting a more joined up approach through its blog, Cyber FAQ, which is aimed at enhancing the technical knowledge of the design community. It offers weekly information about a different material or process so clients can be served better and for better concept to delivery solutions.
Emboss to impress: design techniques that stand out to the consumer
Cyberpac is behind one of the most exciting new products to come onto the current packaging scene: Cybercard 3D. "It's essentially a super-embossable card, says Ben Cijffers, Cyberpac's Sales Director. "Conventional card can maybe emboss to 1mm and after that it will tear, but Cybercard 3D's particular structure means we've achieved up to 10mm."
"It is unusual and inherently tactile and the first thing you want to do is pick it up. If your brand is a moisturiser on the shelf in John Lewis, there's 12 other boxes next to it and you've got the one people want to pick up, then you've won half the battle already," he says.
With a recent win at the UK's 2013 Packaging Awards for "Innovation of the Year" BillerudKorsnäs FibreForm® is a 100% virgin fibre product that also enables embossing and the creation of innovative shapes.
"This material is very new and we are starting to use it for our clients," says Martinez. "It is definitely going to hit the shelves within six months to a year as a lot of markets will be interested."
MicroMotion and foiling: the illusion of motion
ASG are always looking for new materials and processes and works regularly with MicroMotion, a new patented technique that creates an illusion of motion. "MicroMotion is the printing of extremely thin lines of a shaped varnish, and the technique is created by controlling the light reflection through those lines," says Martinez. "It's down to the quality of the printing, the substrate and the design, and that's why we can do it because we control all of these aspects."
MicroMotion has already been used on packaging for some of ASG's clients, such as 20th Century Fox, and Martinez says that this "proven technique" works best on dark and highly reflective materials. "A brand like Gucci, for example, which has a highly premium feel and where the branding is mainly black, is made for it," he says.
When ASG worked on Elizabeth Arden's packaging for fragrance, Untold, it simulated the MicroMotion technique, using special foil that was micro-embossed. The use of foils to add that luxurious feel to packaging is always popular with the premium market. Cifjjers says that foiling is "ever popular" at the moment and that it is "really cost effective on smaller runs". He also sees growing interest in photographic foils, particularly at the marketing stage, but says that many designs get "corporatised", so often they aren't used for the final design.
With around 40% of its business in the premium market, Cyberpac experiences a great deal of interest in striking foil block especially for its boxing designs. "It might be a black raised ink on a black background, or matt black foil on a glass background or vice versa," he says, adding that tactile materials are very sought after at the moment. Martinez concurs: "People need to touch and feel, and the tactile element is really important in the decision to purchase."
Boxing clever: memorable packaging designs
It was Martinez who was behind the memorable box design for Universal Picture's limited edition "Alfred Hitchcock: Masterpiece Collection". This super premium "coffee table" edition included various elements, such as a hardback book, 14 films, storyboards and costume sketches, all cased within a glass block featuring images of "the birds" that resembled a protected museum piece like an "object of history".
Martinez says there are always codes to work by when designing the packaging for luxury goods and products. "Anything that is compact and heavy is always premium," he says. "On Hitchcock we only used materials that were premium – the outer is a thick acrylic case and the idea was to make it look like it's in a museum, something very premium, protected by the glass cabinet, and using black and gold helped to make it really special. Here we haven't invented something, it's just part of the luxury code – it needs to feel classy, premium and luxurious."
Combining techniques is another way of innovating new looks in the premium market that can be very efficient, says Martinez, explaining that a few years ago they were looking for a way to simulate rain on the video game release of "Heavy Rain". "We used three simple techniques; matt lamination, 3D embossing and spot gloss. It really shows that you can push the boundaries onto every piece of packaging," he says.
Eco-packaging: natural materials engage consumers
One of the major products of Cyberpac's sub-brand, Harmless Packaging, is plastic films used for flow wrapping, which are made entirely from natural materials. Another is Harmless Dissolve. "This is a dissolving water soluble plastic, so if you imagine a polylope or mailer, if it's made from Harmless Dissolve you can put it in a bowl of warm water, stir for a couple of minutes and it will completely dissolve," says Cijffers.
"Clients are very interested in that, but I think it's got most value in consumer brand engagement. Not many of us have had that experience of unwrapping and melting the plastic in water. During those couple of minutes the consumer is engaging with the product and they will share the experience with someone, Tweet about it for example, which then it becomes a positive reflection on the company."
Cyberpac is currently working with a premier league football club on an environmentally friendly promotional pack for key stakeholders. "It's about showing innovation as a brand owner and connecting with a consumer on a different level, which isn't just commercial, but one that is a core value to the consumer."
Future trends: secondary cartons and attractive finishes
Adding a secondary carton to enhance the premium feel of the packaging is a technique that Benjamin Punchard, Global Packaging Insights Director at Mintel, has seen feature in recent attractive pack launches.
"Talisker Single Malt Scotch Whisky was recently repacked into a navy board rigid box with a textured finish that resembles fabric," says Punchard. "A 'by the sea' theme was enhanced with a white sailcloth label and 'rope' closure feature. In another example, Russian Standard Gold Vodka took the bold use of gold foil on the bottle label and replicated this on a rigid box secondary carton complete with detailed embossing."
Attractive finishes will always have a place in creating the perception of value in products, but increasingly consumers are looking for something more, says Punchard. "One trend we are now seeing is the emergence of 3D effects, some simply achieved through cut-outs, other using more complicated pop-up features."
Cyberpac is seeing a good response from some of the more advanced 3D plastics and "next generation lenticular" effects, but Cijffers, who's background is in corporate social responsibility, says that the area of eco-packaging is also on the rise.
Printed electronics already exist, but it hasn't really hit packaging yet, says Martinez, who says that ASG is developing this area because it is "the future". "Imagine everything you know about electronics, batteries, LEDs, lights and sensors. Little by little, we will see electronics printed on packaging – packaging is going to become more intelligent, it will give feedback to clients and make interactions," says Martinez. Packaging that lights up when a person walks down the aisle and RFID in packaging are two of the developments in premium packaging that Martinez says we will start to see on shelves in the near future.