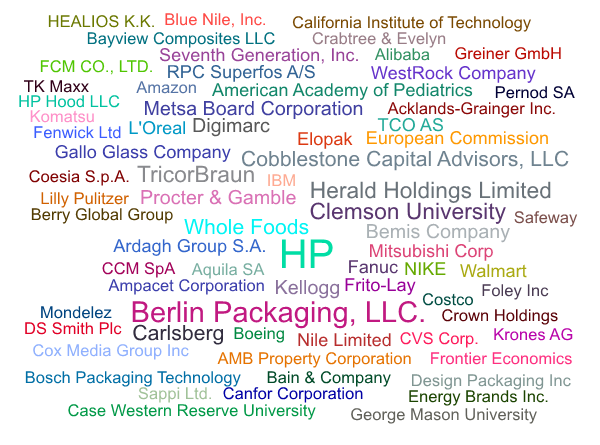 Here is a roundup of the top ten most influential companies in packaging and their key Twitter information, provided by GlobalData's Packaging Technology & Innovation Influencer Network.
1) HP
Hewlett-Packard (HP) is a US multinational information technology company which also provide business with packaging solutions including labels, flexible packaging, folding cartons, corrugated displays and value boxes, and corrugated high-volume boxes. Most recently, HP partnered with packaging printing solutions company Folienprint RAKO to make 3.2m unique water bottles.
Twitter: @hpindigo
Twitter followers: 13.3K
The brand spanking new 🎇HP Indigo 6900 Digital Press🎇 is here and it is bringing new levels of productivity and versatility to the labels market! Watch the video to find out more https://t.co/fBtL37NNhz pic.twitter.com/rZLrkmNugm

— HP Indigo Division (@hpindigo) May 1, 2018
2) Berlin Packaging
Berlin Packaging is a Chicago, US-based packaging services supplier covering the food, beverage, personal care, pharmaceutical, household care, industrial and coatings sectors.
Twitter: @BerlinPackaging
Twitter followers: 5,732
Berlin Packaging will be your brand's offense and defense when it comes to #packaging supplies. Whether it's stock packaging, sourcing, custom design, warehousing or financing, we'll break through the obstacles and carry your project into the end zone every time. #superbowl pic.twitter.com/7SiC2OVeY2

— Berlin Packaging (@BerlinPackaging) February 4, 2019
3) Clemson University
Clemson University is a US research university based in South Carolina offering majors in food, nutrition and packaging sciences alongside courses through its online portal, The Packaging School.
Twitter: @ClemsonUniv
Twitter followers: 109K
3️⃣ state-of-the-art additive manufacturing machines. 1,000 square feet of space 🏢Endless opportunities.  Click ⤵️ to read about how #Clemson and @GE_Powerare pushing manufacturing forward at the new Additive Manufacturing Lab.

— Clemson University (@ClemsonUniv) February 20, 2019
4) TricorBraun
TricorBraun is a US design and supply rigid packaging company specialising in glass and plastic packaging. Most recently, TricorBraun acquired flexible packaging solutions firm Pacific Bag.
Twitter: @TricorBraun
Twitter followers: 1,952
If it didn't take brute force to open your vitamins this morning, you can thank engineers such as ours. For each package design, engineers strive for optimal torque while providing proper sealing. Learn about torque guidelines and more: https://t.co/hzVwjY8dDH pic.twitter.com/15mCu01HyX

— TricorBraun (@TricorBraun) February 22, 2019
5) Carlsberg
Carlsberg is a Danish global brewery group predominately within the beer and beverage sector. Carlsberg has most recently put forward new innovations such as its Snap Pack to help reduce plastic packaging waste by more than 1,200 tonnes a year.
Twitter: @carlsberg
Twitter followers: 28.2K
Snap! Today we announce the world premiere of our new Snap Pack. An innovation that will reduce the use of plastic by of 60 million plastic bags. Find out more on https://t.co/4H5LKlRaLN #inpursuitofbetter #plasticwaste #innovations pic.twitter.com/Ry74m5GZ81

— Carlsberg (@carlsberg) September 6, 2018
6) Whole Foods
Whole Foods Market is a US supermarket chain specialising in artificially-free, organic products. Whole Foods recently removed packaging treated with cancer-linked chemicals from its stores.
Twitter: @WholeFoods
Twitter followers: 4.47M
No antibiotics ✔️Rigorous water quality monitoring ✔️Responsibly sourced feed ingredients ✔️Feel good about the seafood you bring home. Find out more: https://t.co/XH3hjtcPvK#ResponsiblyFarmed #MakesMeWhole

— Whole Foods Market (@WholeFoods) February 19, 2019
7) Digimarc
Digimarc is an enabling technologies innovator and provider for digital identities for sectors such as banking, retail and media. Digimarc is the maker of Digimarc Barcode, an invisible barcode technology for packaging, print, audio and video applications.
Twitter: @digimarc
Twitter followers: 1,352
Brands & retailers can now use @digimarc for Bioengineered Food Disclosures on packaging giving them an alternative to QR codes for digitally linking to product transparency content. Learn more about today's news: https://t.co/CbEYQQHXRr pic.twitter.com/Xm5jJBqbnp

— Digimarc (@digimarc) January 23, 2019
8) Kellogg
The Kellogg Company, commonly known as Kellogg's, is a US multinational food manufacturer based in Michigan. Kellogg has a zero-net-deforestation pledge, which includes making sure that 100% of its timber-based packaging comes from recycled or certified-sustainable materials. Most recently, Kellogg has reduced the weight of its US cereal liners by 17% and introduced traffic light labelling across its cereal packaging.
Twitter: @KelloggCompany
Twitter followers: 76.2K
We're committed to identifying food packaging designs that will help minimize waste and are announcing a goal of 100% sustainable packaging worldwide by the end of 2025. Read more: https://t.co/GkiK8xAlch #KelloggSustainability pic.twitter.com/aeM2jHEH74

— Kellogg Company (@KelloggCompany) October 25, 2018
9) Metsa Board Corporation
Metsa Board is a European producer of fresh fibre paperboards such as folding boxboards, foodservice boards and white kraftliner. Metsa Board aims to create better and lighter paperboard solutions for companies while keeping to its long-term quality and sustainability commitment.
Twitter: @MetsaBoard
Twitter followers: 2,961
What is sustainable #packaging? Read our expert's views on it https://t.co/p0x4xPJbH7 #paperboard #packagingdesign pic.twitter.com/ODP9UZiGGj

— Metsä Board (@MetsaBoard) February 4, 2019
10) Procter & Gamble
Procter & Gamble Company (P&G) is a US multinational consumer product organisation based in Ohio. P&G has several brands in its arsenal such as Pampers, Ariel, Charmin, Tampax, Head & Shoulders, Febreze, Gillette, Clearblue, Oral-B and SK-II. P&G reduced its packaging by 13% per customer use in 2018 and aims to reduce packaging by 20% per customer use and have 90% of its packaging recyclable by 2030.
Twitter: @ProcterGamble
Twitter followers: 197K
P&G invented a breakthrough technology that removes color, odor and contaminants from used polypropylene – to restore it to "virgin-like" quality resin, making it more affordable and accessible. Listen at https://t.co/GTmVmSV9um. #CAGNY19 $PG pic.twitter.com/BkCisfxBnP

— Procter & Gamble (@ProcterGamble) February 21, 2019