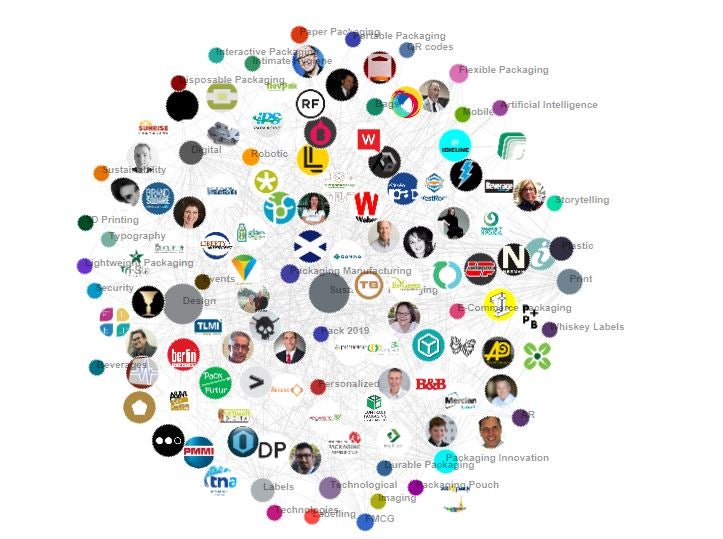 Packaging Gateway lists the top influencers and companies in packaging technology using research from GlobalData's Influencer platform, based on performance and engagement online in Q2 2019.
The top influencers are those tracked by the GlobalData Influencer dashboard which uses a series of algorithms to determine the 100 most important influencers within the industry, using an exhaustive list of keywords and key associated individuals.
Influencer scores are evaluated after a deep analysis on the influencer's relevance, their network strength and online engagement levels and how they drive the discussions on latest and emerging trends.
Biggest influencers in packaging technology for second quarter 2019: The top ten
1. Domino Printing UK
"No matter what product you are packaging, the label has a crucial role to play."📦 Find out the 5 ways UK businesses can benefit from EOL packaging automation https://t.co/gzx8sEK7Cw

— Domino Printing UK (@DominoPrint_UK) May 8, 2019
Domino Printing UK is a coding and printing technologies provider for the pharma, food, beverage, cosmetics, and tobacco industries. Based in the UK, the company offers a range of solutions for labelling and date printing applications
Twitter followers: 7,016
GlobalData influencer score: 100
2. Leading Futurists LLC
No plastics, no packaging. Lush expects you'll get product/labeling info by phone, app, and a few clicks https://t.co/dHw7Wv6Cd9

— Future of Packaging (@packfutur) May 6, 2019
Leading Futurists is a provider of insights, workshops, and training to corporations, trade and professional associations, government agencies, and non-profits on the future of packaging. Established by John B. Mahaffie and Jennifer Jarratt, the company also conducts invitation-only industry events.
Twitter followers: 22,286
GlobalData influencer score: 97
3. Packaging of the World
Packaging of the World is a design blog that covers the latest packaging design and developments across the world. It provides design ideas to various entities including large corporations and students.
Twitter followers: 21,307
GlobalData influencer score: 96
4. JoAnn Hines
The latest Packaging Diva! https://t.co/9hnkwxLPsF Thanks to @ErnestPackaging #packaging #foodpackaging

— JoAnn Hines (@packagingdiva) April 28, 2019
JoAnn Hines is a packaging writer with more than 30 years of experience in the packaging industry. Her expertise includes virtual global packaging industry including latest online tools/technology.
Twitter followers: 23,627
GlobalData influencer score: 94
5. A and M Tape and Packaging
The hot new product Amazon and Target are obsessing over? #Boxes https://t.co/5jhppqHj3U#packaging

— MRBOXonline.com (@AMTAPE) May 6, 2019
A&M Tape & Packaging is a distributor of shipping and industrial warehouse packaging products such corrugated boxes, shipping tape, custom printed tape, and pallet jacks. The company's products are sold through its website MrBoxOnline.com.
Twitter followers: 9,231
GlobalData influencer score: 90
6. Mark Spaulding
Visit the @AIMCALorg Pavilion at @ICEUSAEXPO 2019 in #Louisville, KY. #converting #coating #packaging #iceusa2019 #slitting #webhandling pic.twitter.com/zlckTErKTY

— Mark Spaulding (@CnvCurmudgeon) April 9, 2019
Mark Spaulding is a blogger for The Converting Curmudgeon blog and associate publisher and chief editor of Converting Quarterly, a technical magazine covering packaging technologies.
Twitter followers: 1,929
GlobalData influencer score: 84
7. Weber Packaging
Learn how custom pressure-sensitive custom craft beer, wine and distilled spirits labels can set your brand part from the crowd. https://t.co/pJ9shVgLIN #craftbeerlabels pic.twitter.com/FcITYVGtFf

— Weber Packaging (@WeberPackaging) May 7, 2019
Weber Packaging Solutions is a labels and labelling systems manufacturer and supplier based in the US. The company supplies pressure-sensitive labels, labelling systems, and continuous ink jet systems.
Twitter followers: 5,053
GlobalData influencer score: 84
8. Packaging Innovations
SC Johnson has unveiled plans to start producing one of its top home cleaning products in bottles made entirely from recycled plastics collected from the world's oceans. #Recycle #ocean #plastic #design #packaging https://t.co/15I6kdlw6D pic.twitter.com/6JmPQrFAC1

— Easyfairs Packaging UK (@EasyfairsPackUK) April 16, 2019
Packaging Innovations London is part of the Easyfairs portfolio of packaging events. Easyfairs is an organiser and manager of multi-format events, trade shows, conferences, and concerts.
Twitter followers: 16,481
GlobalData influencer score: 80
9. Berlin Packaging
Make every day #EarthDay with Berlin Packaging. 🌎 As the world's only Hybrid Packaging Supplier, we don't just sell #packaging; we analyze your entire supply chain to find efficiencies that lower both your carbon footprint and your operating costs. #PackageMoreProfit

— Berlin Packaging (@BerlinPackaging) April 22, 2019
Berlin Packaging is a full-service packaging supplier based in the US. The company provides design, manufacturing and distribution services for various types of packaging including glass, plastic, and metal.
Twitter followers: 6,073
GlobalData influencer score: 74
10. Liberty Packaging
Mosquitos find some blood types more appetizing than others, controlled study mosquitoes landed on people with Type O blood 2 times as often as those with Type A, while Type B blood in the middle @LibertyPkg whether items rust quickly or slowly, INTERCEPT packaging can protect it pic.twitter.com/eHcBipzKlA

— Static Intercept (@StaticIntercept) June 4, 2019
Liberty Intercept (Liberty Packaging) is a packaging company based in the US. The company's core product is its Intercept Technology™ line of low-density polyethylene packaging materials.
Twitter followers: 4,522
GlobalData influencer score: 72