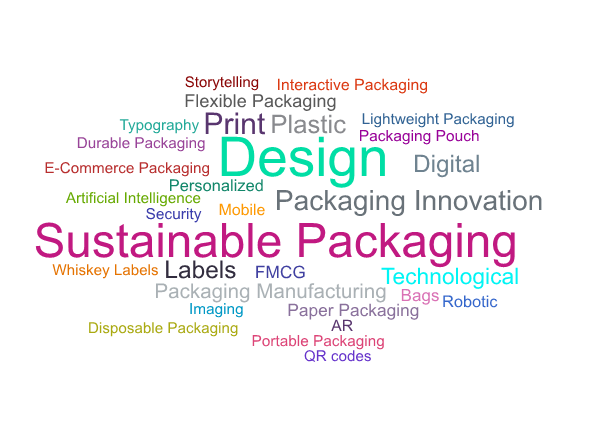 Here is a roundup of the top five trends in the packaging industry and their tweet mentions, provided by GlobalData's Packaging Technology & Innovation Influencer Network.
 1) Design
Packaging design is the top trend in this roundup and is the first element consumers notice when buying a product. From investments in new design technologies to handmade designs, cartons shapes, inks and colours, packaging design trends are the communication tool that draws consumers in to buy a company's products.
Paperboard stands as the top material in packaging design, with many searching for easily-recyclable designs for soft and alcoholic beverages. In terms of aesthetics, clear, bold and easy-to-understand designs are favoured amongst consumers along with custom lettering and natural textures.
Although looks in packaging design are important, the packaging industry is now focusing less on aesthetic design and putting more emphasis on packaging functionality. Companies are looking at how containers open and close, how they can make use of product quantity and shelving space and how packaging can become more durable in light of the reusable packaging trend. A recent example of this is Unilever's new reusable packaging for stick deodorants.
Tweet interaction: 988
 2) Sustainable Packaging
With the recent EU plastic waste agreement, many packaging companies and retailers are looking for more sustainable ways to package their products. From plastic-free packaging such as the new Iceland greengrocer produce aisle, through to Ben & Jerry's ditching single-use plastic straws and spoons, to compostable lids for beverages, companies are showing more concern over their product's post-consumer life.
However, sustainable packaging is also heavily driven by consumer demands. Now more than ever, consumers are challenging the packaging industry on its use of plastic due to the sector heavily relying on the material. Although plastic most likely will not be removed completely from the industry, companies are still answering consumer demands and become more eco-friendly such as using less plastic and creating targets to become fully recyclable.
Tweets interaction: 805
 3) Print
Print in packaging innovation is developing with many companies able to accelerate digitisation in print production. Self-propelled printing has grown within the sector along with digital printing technology such as the 3D printing market. Most recently, Printeos Group invested in the Durst Tau 330 RSC inkjet single-pass press.
Within the food sector, ink is a trend picking up more traction. Hubergroup recently launched a 'globally compliant' folding carton food packaging printing ink. The company developed its MGA NATURA ink series to create a single ink that complies with all Food and Drug Administration (FDA) standards and EC regulations for folding carton food packaging.
Other growing trends within print packaging are digital, laser, variable, high-resolution and label printing.
Tweets interaction: 373
4) Packaging Innovation
Packaging companies are always searching for new ways to innovate the industry. One of these innovative solutions is smart packaging. Although it is challenging for companies to integrate sustainability within their smart packaging, many have still been successful in this endeavour. Ultra-low-cost flexible electronics company PragmatIC successful did this with the launch of its ConnectIC range of low-cost radio-frequency identification (RFID) integrated circuits (ICs) for the smart packaging market.
In the pharmaceutical sector, the global pharma packaging market is predicted to double to $149bn in a decade. Most recently, US-headquartered multinational technology company Honeywell launched the Aclar Accel, a thermoformable barrier film.
Innovations to tackle black plastic packaging are growing due to its inability to be recycled. A four-way technology coalition was recently awarded £800,000 to develop PolyMet, a technique which can remove the black pigment from plastic.
Other packaging innovation trends to watch out for are beverage packaging snap packs and augmented reality, such as NextTech's online AR and Yili Weikezi's milk carton AR.
Tweets interaction: 323
5) Labels
With the 'Natasha's Law' proposal recently passed, to prevent fatal allergic reactions and the introduction of Prêt A Manger's full-ingredient labelling trial, the focus on food packaging labels is increasingly meticulous.
On the other hand, some companies are also removing labels from products. UK supermarket Tesco removed its 'best before' labels from fresh produce, while UK supermarket Iceland replaced produce labels with recyclable alternatives.
Smart labels are a rising trend in packaging. Pressure-sensitive labelling solutions supplier UPM Raflatac has been diligent in the advancement of smart labels. Most recently, the company completed a pilot of its smart label for e-commerce, RafMore and added new pharma security label materials to its portfolio.
Digital barcodes such as Digimarc Barcode a new-generation visually imperceptible barcode for product packaging, eliminating the need for QR codes, have also developed the smart label packaging market.
Other popular trends within label packaging are custom and pre-printed labels.
Tweets interaction: 234